JEWISH MEDIA MOGULS IN ACTION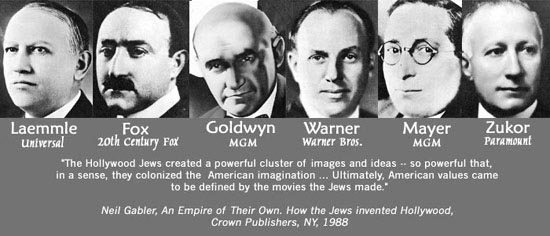 ---


"Four of the largest five entertainment giants are now run or owned by Jews. Murdoch's News Corp (at number four) is the only gentile holdout -- however Rupert is as pro-Israel as any Jew, probably more so."

-- Los Angeles Jewish Times, 'Yes, Virginia, Jews Do Control the Media,' Oct. 29-Nov. 11, 1999 p. 14




"Time-Warner, Disney, Viacom-CBS, News Corporation and Universal rule the entertainment world in a way that the old Hollywood studio chiefs only dreamed of. And, after all the deals and buyouts, four of the five are run by Jews. We're back to where we started, bigger than ever."

-- Jewish Week, 9-17-99, 12




"Jews have been statistically over-represented in both the financial and the creative aspects of the entertainment business. It is a short step from that observation to the vicious canard that the Jews, in some collective, conspiratorial sense, control Hollywood. One could also possibly construct a similar argument for the Canadian scene. People such as Izzy Asper, Garth Drabinsky, Harold Greenberg, Robert Lantos, Ed Mirvish, and Moses Znaimer are just a few of the Canadian Jews who have played innovative roles in the popular entertainment industry in Canada."

-- Morton Weinfeld, Jews and the Entertainment Business, Canadian Jewish News, March 26, 1998, p. 10





"The Royal Variety show takes place in a theatre owned by Associated Television (ATV), which is run by [Jewish mogul] Lew Grade -- who, just happens to be Bernard Delfont's brother. The proceeds from the shows go to a charity -- presided over by Bernard Delfont. Delfont is also a director of EMI, the largest record manufacturer in the world. Recently, EMI absorbed one of England's two big cinema circuits -- Associated British Pictures -- of which Delfont is also a director. Bernard Delfont is also deputy chairman and joint managing director of the Grade Organization, which is owned by EMI (of which Mr. Delfont is a director). Bernard Delfont thus owns himself -- twice. So, if you read the TV Times, buy Pye, Marble Arch, Regal, Columbia, Parlophone, HMV, Pathe, Music for Pleasure, or Odeon Records; if you watch ATV or Thames Television, go to Talk of the Town, the London Palladium, Victoria Palace, Hippodrome, Her Majesty's Globe, Lyric, Apollo, or Prince of Wales Theatres; if you go to one of ABC's 270 cinemas or twelve bowling alleys or one of Ambassador's ten bowling alleys, then Bernard Delfont has an interest in what you are doing."

- Peter Wicke. Rock Music: Culture, Aesthetics, and Sociology. Cambridge University Press, 1990, p. 120




In 1979, a Jewish screenwriter, Ben Stein, wrote a book about Hollywood, based upon his own experience in the city and interviews with nearly forty TV producers and writers. Such people, he concluded, "with a small number of exceptions ... are all white males. They are almost never younger than 35. They are almost never second-generation Californians. A distinct majority, especially the writing of situation comedies, is Jewish ... [STEIN, p. 10] ... The super-medium of television is spewing out messages of a few writers and producers (literally in the low hundreds) ... Television is not necessarily a mirror of anything but what those few people think. The whole entertainment component of television is dominated by men and women who have a unified, idiosyncratic view of life."

- Ben Stein, The View From Sunset Boulevard. America Brought to You By the People Who Make Television. Basic Books, 1975, p. xiii]

"The role of Americans of Jewish background in television dramas was equally pronounced. Michael Robinson and Ben Stein have pointed to the negative portrayals of businessmen, the military, and other 'establishment' groups that characterized dramatic series and soap operas during the 1960s, as well as the counter-cultural themes that were openly introduced in such dramas. Although Stein does not make the point directly, his interviews with television writers and producers suggest the importance of Jews in formulating the social imagery of television entertainment.

-- ROTHMAN/LICHTER, Roots of Radicalism, Oxford University Press, 1982, p. 107





"The greatest concentration of Jews, however, is at the producer level -- and it is the producers who decide which stories will go on the air, and how long, and in what order, they will run. In 1982, before a shift in assignments, the executive producers of all three evening newscasts were Jewish, as were the executive producers of CBS's 60 Minutes and ABC's 20/20. And Jews are almost equally prominent at the 'senior producer' and 'broadcast producer' levels as well as in senior management. When Reuven Frank stepped down as president of NBC News in 1984, for example, he was replaced by Laurence Grossman, who left the presidency of PBS to take the position."

- Charles Silberman, A Certain People. American Jews and Their Lives Today, Summit Books, 1985, p. 154





"In his famous study of television news in 1973, Daniel Jay Epstein interviewed thirty-six network news producers and editors -- twenty-one of whom turned out to be Jews."

- Zev Chafets, Double Vision. How the Press Distorts America's Views of the Middle East, Wiliam Morris & Co., 1985, p. 277

"The main complaint heard [in Israel] is that for some reason Jews are the imaginative leaders in this field [movies] almost everywhere except Israel, and guess why. The real 'why,' the truly stinging insinuation, is that in Israel there are too many Jews who have to deal with each other."

- Jay Gonen, A Psychohistory of Zionism, Mason/Charter, NY, 1975, p. 274

"In December 1997 [Jewish] Disney chairman Michael D. Eisner exercised company stock options that brought him $565 million in a single swoop. The notion of attaching such a sum to one man's job is both obscene and hilarious on its face, yet it's pointless to debate whether or not Eisner deserves it. He got the dough. It happened in the same month that Business Week chose Disney's board of directors as the worst in America. The reason: Many seemed to have been handpicked not so much for their business expertise as for their loyalty to the autocratic Eisner. Among the company's directors are his personal architect, his personal attorney, the principal of his children's elementary school, and seven current and former Disney executives 'Fantastic' is how Eisner has described his choices for the board. But critics say it's a meek and malleable group. That's precisely what was needed to sit still for the ludicrous $75 million platinum parachute given to Michael Ovitz [also Jewish] as compensation for fourteen whole months as president of the Walt Disney Company."

- Carl Hiassen, Team Rodent, How Disney Devours the World, Ballantine, NY, 1998




"It makes no sense at all to try to deny the reality of Jewish power and prominence in popular culture. Any list of the most influential production executives at each of the major movie studios will produce a heavy majority of recognizable Jewish names." [MEDVED, p. 1] ... Consider the well-publicized reshuffling that recently rocked the Walt Disney Company, involving some of the mightiest and most highly paid media moguls. In this game of corporate musical chairs, Disney C.E.O. and Chairman of the Board, Michael Eisner lost the services of his movie production chief, Jeffrey Katzenbaum, who became part of the much-heralded new "dream team" (formally incorporated as DreamWorks SKG) with Steven Spielberg and David Geffen. Meanwhile, Eisner created a new position at Disney for his omnipotent super agent Michael Ovitz and gave broader responsibilities to his fair-haired boy, Joe Roth, former head of 20th Century Fox ... These headlines underscored the ironic fact that the famous Disney organization, founded by a gentile Midwestern who harbored anti-Semitic attitudes now features Jewish personnel in nearly all its most powerful positions."

- Michael Medved, Jewish film critic and talk show host, Hollywood vs. America, Popular Culture and the War on Traditional Values, HarperCollins, 1992




"Now the Jew gets into show business. And he writes motion pictures, he's making the images -- he has the film industry knocked up -- he controls it! And the Jew naturally writes what he thinks is pretty, what he thinks is ugly -- and it's amazing, but you never see one Jewish bad guy in the movies. Not ever a Jewish villain, man. Gregory Peck, Paul Muni -- haha! It's wonderful! Who's the bad guy? The goyim! The Irish!"

- Jewish comedian Lenny Bruce, in Cohen, John. The Essential Lenny Bruce, Douglass Books, NY, p. 37-38]




"There have been rumors in New York for years that [Jewish mogul Laurence] Tisch took over CBS in 1986 at least partly out of a desire to do something about media bias against Israel."

- J. J. Goldberg, Jewish Power. Inside the American Jewish Establishment, Addison-Wesley Publishing, 1996, p. 297




"As early as 1938, the Justice Department's Antitrust Division had filed suit against the eight big motion picture companies -- Paramount, Loews, RKO, Warner Brothers, Twentieth Century Fox, Columbia, Universal and United Artists for 'combining and conspiring to restrain trade in the production, distribution, and exhibition of motion pictures,' in violation of the Sherman Antitrust Act ... Thurman Arnold, the head of the Antitrust Division charged that the motion picture business had become 'an industrial dictatorship and strictly unAmerican ... The danger in this country is the private seizure of power ... it is subject to no criticism and no attack because no one even knows about it.'"

- Dan Moldea, Dark Victory. Ronald Reagan, MCA, and the Mob, Viking, 1986, p. 46



"There's a kind of joke that you hear often in this business. The same people move in kind of a circle. It's a family. If I were fired tomorrow, I would get a job the day after ... I'm part of that group. Which has very little to do with whether I'm good or bad."

- Ethel Winant, Vice-President in charge of mini-series at NBC, in Gitlin, Todd. Inside Prime Time, Pantheon Books, 1983/85, p. 116]





"Since the 1990s there seems to be a deluge of Jewish women behind the [Hollywood] scenes. The following list, which is by no means complete, attests to the immense energy and talent of Jewish women who are now working in [film] production: Susan Arnold, Bonnie Bruckheimer, Laurie Schuler Donner, Connie Field, Wendy Fineman, Ellen Geiger, Litz Glotzer, Lynn Harris, Susan Hoffman, Gale Ann Hurt, Donna Isaacson, Gail Katz, Nana Levin, Rachel Lyon, Nancy Myer, Linda Obst, Polly Platt, Mimi Polk, Jane Rosenthal, Midge Sanford, Deborah Schindler, Sandra Schulberg, Arlene Sellers, Shelby Sherr, Sandy Stern, Shelby Stone, Roselle Swid, Anthea Sylbert, Paula Wagner, Paula Weinstein, and Laura Ziskin ... The real change in the past few decades has been in the number of Jewish women in positions of power and influence. Jewish women have always worked behind the scenes, most often as writers. More recently, and especially in the exponential leap of the early 1990s, they have moved into directing and producing, both independently, and as studio executives. For many, there is no question that Jewish women have gained higher access because of their connection to Jewish men in the industry."

- Paula Hyman/Deborah Moore, Jewish Women in America, Routledge, 1997, p. 447-448





"That this [film and TV] industry, more firmly associated with Jews than any other business in the world, is almost universally viewed as a destructive force in our society should be viewed with concern."

- Michael Medved, Hollywood vs. America, Popular Culture and the War on Traditional Values, HarperCollins, p. 42]




"All the leading magazines, ranging from Commentary, Esquire, Ladies Home Journal, New York Review of Books, New Yorker, and U.S. News and World Report have Jews in key positions as publishers, editors, or managing editors. No one is able to criticize Jews -- or even take Israel to task -- for fear of being out of line with the boss ... There is [also] the constant overriding concern of the media about losing advertising ... at times making a mockery of 'freedom' of the press ... [LILIENTHAL, p. 219] ... It would be futile to list the number of top Jewish editors and writers across the country. Many of the largest book publishers, including Knopf, Random House, Holt, Liverwright, Viking Press, Simon and Schuster, Van Nostrand Reinhold, and Lyle Stuart are Jewish-owned, directly or by Jewish-controlled interests (including CBS, RCA, Music Corporation of America [MCA], Litton's, and Gulf and Western. In other firms such as Macmillan and Grosset and Dunlap, one will find editors-in-chief or presidents who are Jewish."

- Jewish critic Alfred Lilenthal, The Zionist Connection II, Veritas Publishing, Australia, 1983, p. 220




"In Britain, until 1955, radio and television were a state monopoly ... In 1955, however, commercial television was launched and in time comprised three networks and several smaller regional companies. The networks, Associated-Rediffusion, Associated Television and Granada were headed by Emil Littler, Lew Grade, and Sidney Bernstein respectively, all of whom had spent a lifetime in show-business ... and all three were Jewish."

- Chaim Bermant, The Jews, Times Mirror, 1977, p. 105

This history parallels exactly the situation in American television where Jews built the three major TV networks to power: David Sarnoff at NBC, William Paley at CBS, and Leonard Goldenson at ABC.




"Hollywood is run by Jews; it is owned by Jews--and they should have a greater sensitivity about the issue of people who are suffering. Because...we have seen...the greaseball, we've seen the Chink, we've seen the slit-eyed dangerous Jap, we have seen the wily Filipino, we've seen everything but we never saw the kike. Because they knew perfectly well, that that is where you draw the [line]."

-- Marlon Brando on Larry King Live, (citation here)




"No Christimas haters should be put off by [Jody] Rosen's title [White Christmas. The Song that Changed the World]. Her book is much more than just 'the story of a song.' She cleverly uses 'White Chrismas' as a focus to explore the phenonenon of Jewish assimilation into Americn life in the first half of the twentieth century ... As Rosen shows, in the world of entertainment and culture, it was more a take-over than an assimilation. In that golden era of musical theatre and film, almost the only truly successful gentile was Cole Porter. The Jews owned most of the theatres and almost all of the movie studios. For the Jews there was truly 'No business like show business,' another Irving Berlin hit. America has always been the most comfortable place to be Jewish, and this fascinating book emphasizes [Irving] Berlin's contribution to this process of subtle Judaisation -- what Rosen calls a 'Yankee Doodle Yiddishkeit.' Rosen quotes, as follows, from Philip Roth's 'Operation Shylock': God gave Moses the Ten Commandments and then he gave Irving Berlin 'Easter Parade' and 'White Christmas,' the two holidays that celebrate the divinity of Christ -- and what does Irving Berlin do? He de-Christs them both! Easter turns into a fashion show and Christmas into a holiday about snow.'"

- Price, Stanley. There's Snow Getting Away from It [Book Review of White Christmas: The Song that Changed the World, by Jody Rosen], Jewish Chronicle (UK), December 6, 2002, p 32

Canada's Policy on Israel is Shameful. by Izzy Asper.
National Post. June 19, 2001
[Israel Asper owns half of the National Post, and he controls Can/World, one of Canada's biggest media dynasties, with holdings throughout the world]
"Israel, after 53 years of statehood, remains the only isolated island of democracy, human rights and rule of law -- a lonely outpost of Western civilization and its values in a sea of terrorism, corruption, dictatorship and human enslavement. Countries like Canada should therefore be in the vanguard of its support, for mutual economic, military and ethical reasons."

Canadian Media Giants Announce Landmark Convergence Deal,
Canada Newswire, July 2000
"[Israel Asper's] CanWest Global Communications Corp. today announced the largest transaction in the history of the Canadian media industry. CanWest, owners of Canada's most popular national television network, Global Television, has agreed to acquire 100% of the principal metropolitan operations of the successful Hollinger newspaper chain in Canada, together with all of its Canadian Internet properties, its magazine group, most of the community publishing operations and a 50% interest in the National Post. The merged company will have complete and unparalleled national and local coverage in both electronic and print media, plus the canada.com network, a leading group of national and local Internet sites ... With the addition of the Hollinger properties and the 50% stake in the National Post, CanWest will become Canada's most comprehensive multiple platform media company, with a strong national and local profile in news, publishing, conventional and specialty television and the Internet, as well as in the production and international distribution of television entertainment programming and feature films. - CanWest will have the largest electronic and print information and news gathering capacity in Canada, with more journalists, editors and news gathering personnel than any other media operation in the country." [Note here Asper's directly censorial policies about reporting on Israel.]

TV Venture By Cosmetics Heir Raises Questions.
New York Times, April 5, 1997 [posted at Ukraine net]
"Ronald Lauder and Vadim Rabinovich could scarcely be more different. An urbane former U.S. ambassador to Austria, Lauder [once the president of the Conference of Major American Jewish Organizations] is heir to a cosmetics fortune, chairman of the board of the Museum of Modern Art and a former candidate for mayor of New York. Rabinovich, a self-made Ukrainian millionaire, spent nine years in a Soviet prison for theft and has been linked to a suspected Russian criminal figure. But the two men are joined as partners in a television venture in Ukraine that has raised eyebrows among Western diplomats and businessmen in Washington and Kiev, the Ukrainian capital, both because of Rabinovich's background and because of the apparently favored treatment the venture received from the Ukrainian government ... U.S. government officials acknowledged that embassy officials had told Lauder and other company officials about Rabinovich's conviction and his links to Grigory Loutchansky, a Russian whose company, Nordex, is suspected of having ties to criminal organizations ... Rabinovich was jailed from 1982 to 1990 for theft from the state. He said in an interview that he had been chief of a construction brigade and had sold goods to private customers. He said he had committed no real crime and had been persecuted for being Jewish."

Lauder Media Company Faces US Inquiry. New York Times, June 12, 2000
"A company owned by Ronald S. Lauder, the cosmetic heir and former New York city mayoral candidate, is under investigation over allegations that it paid at least $1 million in bribes to Ukrainian officials for a valuable television license, according to lawyers and U. S. Justice documents." [Lauder was at the time the chairman of the Presidents' Conference of Major American Jewish Organizations.]

U.S. Mogul Czech-Mated. Variety, January 22, 2001
"When an American billionaire picks a $500 million fight with a small European country, whom would you put your money on? Ronald Lauder, scion of the Estee Lauder empire and chairman of Central European Media Enterprises, will launch a personal lawsuit March 5 in London against the Czech Republic for half a billion dollars in damages ... He is alleging the Czech government colluded with his former partner, Vladimir Zelezny [also Jewish, and "one of the wealthiest men in the Czech Republic"], in the hijacking of TV Nova, the hugely successful private web launched by CME back in 1994 ... From the Czech government's point of view, it's a test of their power to shape their own media destiny in the face of multinational corporate interests ... It's widely believed that Zelezny also covertly manages Prima TV, Nova's main commercial rival."

Hasidic Brahmin Revives a Family Business,
Haaretz [Israeli newspaper], June 22, 2001
"[Ira Korff] is a direct descendant of the Baal Shem Tov, the 18th century founder of the Hasidic movement ... About 10 years ago Korff decided to continue the family tradition by succeeding his deceased grandfather as 'Grand Rabbi' ... Korff says that the worst purveyor of violence and profanity on TV is Music Television (MTV), which is owned by Viacom. But, he adds, 'I have no interest in attacking Viacom, and MTV is an ethically run business.' After all, much of his own wealth was made while serving as president and later consultant to National Amusements Inc., a large movie-theatre chain which holds the majority of shares in Viacom, the world's second-largest media company (to AOL Time Warner Inc.) Furthermore, his first wife, Shari Redstone, is the daughter of [Jewish mogul] Sumner Redstone, chairman and CEO of Viacom, and Korff's three children from that marriage will like profit from their grandfather's fortune. Forbes recently estimated Redstone's personal wealth at $14 billion."

The Short, Winding Road of Brian Epstein. [Jewish] Forward, January 12, 2001
"The timing seems right for 'The Brian Epstein Story,' a documentary playing at the Jewish Film Festival (January 18 and January 21) about the gay, Jewish record-department manager — of the Liverpool store owned by his parents — who met the Beatles and in little more than a year turned them into the most successful musical act in the world. The life of the Beatles' first manager has been familiar to Beatles fans for decades, though always as one of the sideshows to the record-shattering main attraction. With the focus reversed, some arresting tidbits emerge, such as when Paul McCartney explains his father's immediate approval of Epstein. 'He thought Jewish people were very good with money,' Mr. McCartney says. 'That was the common wisdom. He thought Brian would be very good for us.... And he was right.... If anyone was the fifth Beatle, it was Brian.'"

Comcast Defends Bid for AT&T Broadband. Toronto Star, July 9, 2001
"Comcast Corp. executives defended their $41 billion US bid for top cable TV operator AT&T Broadband on Monday as investors pushed Comcast shares down seven per cent. Comcast president Brian Roberts [who is Jewish, and whose family controls Comcast] urged AT&T shareholders to support the merger because he said it carries less risk than a plan to spin off AT&T Broadband as a separate company -- and would be a tax-free deal ... The hostile offer by Philadelphia-based Comcast, the third largest U.S. cable TV provider, would create a cable TV and high-speed Internet access giant dwarfing all others. If the deal goes through, Comcast would have 22 million cable TV subscribers -- about a third of all U.S. cable users -- and leading positions in eight of the top 10 U.S. markets."

Ivy Day May 18: Comcast's Mr. Roberts,
Almanac (University of Pennsylvania), April 23, 1996
"Penn seniors have chosen as this years's Ivy Day speaker Brian L. Roberts, a Penn alumnus who is president of hte Comcast Corporation -- the Philadelphia-based telecommunications company that within the past month bought the Philadelphia '76ers, the Flyers, and the Sprectrum ... He joined Comcast Corporations' Board of Directors in 1987 and became president in 1990. He is a board member of three cable television networks -- Turner Broadcasting System, QVC, Inc., and Viewer's Choice -- and Chairman of the National Cable Television Association ... Roberts won silver medals [in squash] at the 1981 and 1985 Maccabiah Games in Israel." [Early Israeli prime minister David Ben-Gurion once noted that "Maccabi is without a doubt one of the most important offshoots of the Zionist movement." Maccabi "goals and objectives" include "1. To re-inforce Jewish Zionist Education, both for the youth and adults to enable the Jews to receive and explore their roots. 2. To fight Assimilation 3. To get the Jewish youth of the Diaspora more acquainted with the Jewish heritage and tradition. 4. To foster the relationship between the Jewish communities inter-globally and with Israel."]

Roberts Gain Power with Cable Merger, Yahoo! (from Associated Press,
December 20, 2001
"Roberts Gain Family Power With Merger of Comcast-AT&T Cable Companies ... Nearly 40 years later, the Roberts family, with Brian steering Comcast Corp. is set to become a giant of the industry with a planned $45 billion takeover of AT&T's cable division, creating a company with 22.3 million cable subscribers in 41 states. The company will have more than 30 percent of the cable market. 'They are creating a giant and setting themselves up for 50 years,' analyst David Goldsmith said Thursday ... The Roberts will only have a 1 percent equity stake in the combined company. But they will control one-third of the voting stock, far more than any other single block of voting shareholders."

A Feel for a Good Story. Mothers Who Think/Salon.com, March 17, 1998
"In 1991, reporter Mark Hertsgaard, author of 'On Bended Knee: The Press and the Reagan Presidency,' wrote an article for Rolling Stone magazine in which he documented [Jewish 60 Minutes producer Don] Hewitt's own serious problems with impulse control. Women who worked in the "60 Minutes" offices described to Hertsgaard a sexually charged environment that had more in common with a drunken frat party than a professional newsroom. Correspondent Mike Wallace [also Jewish] was singled out for bottom slapping, lewd comments and unsnapping co-workers' bras. While today no one would hesitate to call such behavior sexual harassment, Wallace's cheerful willingness to do it in public -- even in front of a stranger -- made him seem like a good (albeit unpleasant) old boy. But the charges against Hewitt make [President Bill] Clinton's alleged behavior look like clumsy courtship. One woman described to Hertsgaard how Hewitt slammed her against a wall, pinned her there and forced his tongue down her throat."

Putin's Choice. The Nation, July 24-31, 2000
"In June [Russian President] Putin briefly jailed [Russian Jewish mogul] Vladimir Gusinsky, a leading media tycoon ... The ultimate oligarch, Boris Berezovsky [also a major Russian Jewish media mogul], continues to exercise considerable influence. The US media treated Gusinsky's arrest as a crackdown on Russia's independent media, particularly the mogul's television network, NTV. But most Moscow journalists will tell you that a truly free press was largely lost when the tycoons carved up the national broadcasting and newspaper properties several years ago and that Gusinsky's arrest was primarily Putin's first move against the financial oligarchy. Certainly, that's how the oligarchs themselves saw it ... As for the great majority of Russians who live below or near the poverty line thanks to the nineties 'reforms'--and who voted for Putin--the new President has shown little concern ... If Putin has given ordinary citizens any satisfaction, it was with Gusinsky's arrest. Indeed, I have yet to meet anyone in Moscow who doesn't believe that most Russians would welcome the arrest of all the oligarchs, particularly the majority who are Jewish. (Nearly a decade of immiseration has strengthened anti-Semitism, always a factor here.)"

An Offer Forbes Can't Refuse? Warsaw Voice [Poland], March 2, 1997
"In its Dec. 30, 1996 issue, Forbes published an extensive article called 'Godfather of the Kremlin?,' in which it charged [Boris] Berezovsky with responsibility for the 1995 killing of popular television journalist Vladimir Listev. The magazine also accused Berezovsky of having numerous mafia connections and embezzling $50 million collected by his company from thousands of Russians who purchased AVVA shares-allegedly to start producing a new passenger car ... Berezovsky took control of Russian television's main channel; he also holds a 30-percent share in the Russian-American TV6 channel, the popular weekly magazine Ogonyok and the newspaper Nezavisimaya Gazeta (read in influential circles). He has set up his own bank, gains profits from Aeroflot, and last year took over most of the shares of Sibneft, a leading oil company. Berezovsky played a key role in last year's presidential elections. He financed Yeltsin's election campaign, as well as General Aleksandr Lebed's ... On Oct. 29, 1996 Yeltsin signed a decree appointing Berezovsky deputy secretary of the Security Council. Soon after, it turned out that the president had broken the law, which does not permit people with dual citizenship to hold top state positions. Berezovsky had held Russian and Israeli citizenship. Following the scandal which broke when this was disclosed, Berezovsky quickly renounced his Israeli citizenship ... The opposition in the Duma has demanded that Yeltsin remove Berezovsky, who is also accused by the Russian media of having mafia connections."

The Second Edition of the Sensational book about Boris Berezovsky Is Being Prepared in the U.S., Pravda [Russia]
"The sensational book by US journalist and historian Paul Khlebnikov about [Jewish Russian mogul] Boris Berezovsky, which is coming out in Russia in the Russian language, will see its second edition in August in the USA. The new edition will contain new materials about the Russian businessman, whom Khlebnikov called in his book 'the godfather of gangster capitalism' in Russia ... Explaining the reasons for publishing the book in the USA and preparing its second edition there, Harcourt Publishing House stresses that Boris Berezovsky's personality is unique in many respects. Just call any crisis or scandal and there will be a chance of Berezovsky being in the very midst of it, whether elections machinations, organized crime, misappropriation of IMF loans, money-laundering, assassination attempts, international contraband of arms and kidnapping during the war in Chechnya, notes the publishers' prospectus of the book."

CBS-Viacom Merger Redefines Jewish Role in Media.
Jewish Bulletin of Northern California. 9-17-99
"There was a telling moment, midway through last week's press conference announcing the CBS-Viacom megamerger, when one of the unmentionables of American entertainment peeked through the veils for an instant. It came when a reporter asked CBS president Mel Karmazin why he wanted this merger. His reply: 'This is the deal I've wanted to make, I think, from the time I was bar-mitzvahed.' The reporters laughed nervously. Nobody commented afterward. Nobody would have brought it up if Karmazin hadn't. It's one of those inside jokes you don't usually tell in public. Americans consider it downright rude to talk publicly about Jewish ownership in the media. Marlon Brando mentioned it two years ago on 'Larry King Live' and nearly got lynched. Three years earlier, journalist William Cash caused an international uproar with a scathing 1994 article about Jewish influence in Hollywood in the Spectator, a British newsweekly. It's just not something you discuss in conventional society ... Now, after all the deals and buyouts, four of the five mega-media companies are run by Jews. We're back where we started, bigger than ever. Does it matter? It does if you're an anti-Semitic conspiracy nut. You'd be wrong."

The Newhouse Way. Columbia Journalism Review. January/February 2001
"Ever since [Jewish media mogul] Samuel I. Newhouse Sr. bought the Staten Island Advance in 1922, the Newhouse family has given its editors great freedom as it went about building one of the country's largest and most prosperous privately held media empires. Today that empire, Advance Publications, is home to twenty-three daily newspapers of varying size, location, and quality; Condé Nast magazines, including Vanity Fair and The New Yorker; Fairchild Publications; Parade magazine; a chain of suburban weeklies; another of business tabs; a cable television partnership with Time Warner; and a growing online operation. Last year, Advertising Age ranked Advance the tenth largest U.S. media company, with estimated 1998 revenue of nearly $4 billion, more than half coming from its newspapers. One reason Newhouse newspapers can give editors such freedom and still make money is because most are dominant in their market. In Cleveland, for instance, Advance endured a 1985 grand jury investigation into allegations that it conspired to kill the Cleveland Press, which closed in 1982, giving The Plain Dealer what amounts to a metropolitan daily newspaper monopoly. Then, in 1998, Advance tightened its grip on northern Ohio with the purchase of Sun Newspapers, a chain of twenty-three zoned weeklies in suburban Cleveland. The Newhouses are clannish and tight-lipped about the family business. Family members are scattered throughout Advance, and each paper is assigned to a Newhouse overseer who visits monthly. Samuel I. Sr., who died in 1979, turned the operation over to his sons -- Samuel I. Jr., or Si, who handles the magazines, and Donald, who takes care of the newspapers. They are now gradually bringing in the next generation."

The Last Tycoon. Los Angeles Magazine [here at findarticles.com], April 2000
"Twenty years ago, [Arnon] Milchan, an unknown Israeli tycoon, pitched his hat into the Hollywood ring. Today he runs his own mini studio within a studio on Rupert Murdoch's 20th Century Fox lot. It is the reward for being one of the town's most prolific producers of successful quality movies, more than 60 in all, including Fight Club, L.A. Confidential, Entrapment, Pretty Woman, JFK, The King of Comedy, Brazil, Natural Born Killers, Heat, The Mambo Kings and The War of the Roses ... And notwithstanding Milchan's denials, dismissals and wafflings, arms dealing has surely contributed to his fortune. (He claims that his parent company, Regency Enterprises, is valued at more than $1 billion.) As the Los Angeles Times coyly put it, "Milchan has also worked in arms consulting." Throughout the 1970s, '80s and even up until the Gulf War in 1991, Milchan was Israel's foremost weapons procurer, brokering deals for such prized superweapons as the Hawk missile and the famous Scud-foil of the Gulf War, the Patriot--"everything from nuclear triggers to rocket fuel to guidance systems," according to NBC News."

Dark Victory: Ronald Reagan, MCA And the Mob.
moldea.com [Investigative journalist Dan Moldea is the author of a number of books: this excerpt from Dark Victory was published by Viking in 1986]
"President Ronald Reagan's professional life--his acting career, his personal financial fortune, and his rise in politics--has been interwoven with and propelled by a powerful, Hollywood-based entertainment conglomerate named MCA. For nearly fifty years, Reagan has benefited both personally and financially from his association with this sixty-two-year-old company--formerly known as the Music Corporation of America--as well as from his close association with the firm's top executives: Jules Stein, Lew Wasserman, and Taft Schreiber [All these men are Jewish]. Everyone involved has greatly profited from this relationship. MCA helped to make its client, actor Ronald Reagan, a multimillionaire; and the favors that were returned by Reagan, the former president of the Screen Actors Guild (SAG) and the former governor of California, have helped to transform MCA into a billion-dollar empire and the most powerful force in the entertainment world today ... Today, MCA is still 'the Octopus,' even though it is out of the talent agency business and now the owner of the largest motion picture and television production companies in the United States, Universal Pictures and Universal-Television ... The brains behind MCA was Jules Stein, a Chicago ophthalmologist who discovered that he could make more money booking bands ... The rise of MCA and its move to Hollywood paralleled the rise of the Chicago Mafia and its infiltration of the motion picture industry. Chicago's new liaison in the motion picture industry became attorney Sidney Korshak, [also Jewish] ... Charles Gioe, a top Chicago Mafia figure, had told [Mafia agent Willie] Bioff that Korshak was 'our man . . . any message he may deliver to you is a message from us.' A close friend of Stein's and Wasserman's, Korshak quickly became one of the most powerful influences in the entertainment industry and in California politics. One of his key political connections was another former Chicagoan, Paul Ziffren [also Jewish], who at one point was California's delegate to the National Democratic Committee."

Lew Wasserman and MCA: A Star-Spangled Octopus.
New York Observer, December 7, 1998
"Mr. Wasserman was the protégé and partner of Jules Stein, who founded the original M.C.A., a talent booking agency which by the 1930's had a control of the market that first staggered and then swiftly wiped out its rivals. Once M.C.A. had mastered the balance of kid-glove client control with iron-fist contract negotiation, its expansion into movies was inevitable. During the following decades, the corporation in its various incarnations dominated almost every aspect of the entertainment business: live music, radio, television, cinema and talent management ... M.C.A. expanded inexorably; the Saturday Evening Post, with a delightful lack of poetry, called it the 'Star-Spangled Octopus' ... The only script Mr. Wasserman ever asked to read was The Sting, the 1973 smash hit about small-time Chicago gangsters. Perhaps [Producer David] Brown would have been less surprised had he known of M.C.A.'s long record of association with the mob, from labor negotiations to alleged murder threats. Apparently, the company even lent an office to [Jewish mobster] Meyer Lansky for a secret meeting."

Lizzie Grubman. Yahoo! News [from the Washington Post], July 25, 2001
"Let us feel for Lizzie Grubman. Miss Grubman is the daughter of Allen Grubman, a very rich music biz attorney. She is 30, a college dropout, and an entertainment industry publicist ... According to press reports, club bouncer Scott Conlon asked her to move the car from a fire lane. Miss Grubman allegedly riposted: '(Expletive) you, white trash." She then allegedly drove the SUV fast, about 35 feet in reverse, striking and injuring 16 people, including Conlon ... What, Miss Grubman might say, about Jeff Zucker? Mr. Zucker is the very role model for us. He is the president of NBC Entertainment. As such, he is responsible for 'Fear Factor,' NBC's 'reality show' in which people who are desperate enough for money are induced to risk bodily harm and endure national humiliation ... Mr. Zucker mocks those who find something wrong in this. 'We're having fun, we're having a great summer,' he told reporters this week. 'Get a life.'"

Godfather of Latin Rap. Los Angeles Business Journal [at findarticles.com], February 19, 2001
"In a former IRS office building in the Rampart district of Los Angeles, an eight-month-old record label is germinating what it claims will be the next phenomenon to sweep the nation's pop culture scene. It's Latino rap, and Hit A Lick Records is positioned to be its leading force. Lending credence to that bold claim is that the founders of Hit A Lick have enticed record industry legend Jerry Heller out of retirement to lead their effort ... If Heller is convinced that Latin rap will emerge as the next big thing, it probably will be, said other music industry veterans ... Indeed, Heller is widely acknowledged as one of the key forces behind gangsta rap's crossover into the music mainstream. He co-founded Ruthless Records with rap star Eazy-E, was the manager and marketing force behind the group NWA [Niggas With Attitude] (which to date has sold in excess of 100 million records) and introduced such rap legends as Dr. Dre and Ice Cube to mainstream American audiences ... While Heller has the second-tier title of chief operating officer [of Hit a Lick], he acknowledges that the other partners 'generally run everything by me because of my experience and expertise.'"

Little Lansky and the Big Check. Rolling Stone, June 6, 2001
"[Israeli-born Lyor] Cohen has risen and fallen with the company, from hits by LL Cool J and Public Enemy to the label's short, debt-ridden stint as part of Sony Music. In these years, he has grown into perhaps the most powerful white executive in an African-American business. The history of rock & roll is, of course, riddled with pioneering white record men who built careers recording and, sometimes, exploiting black artists: Morris Levy, that burly, cigar-smoking product of the Brill Building, allegedly stealing writing credits from Frankie Lyman; Herman Lubinsky, the founder of Savoy Records in Newark, New Jersey, throwing around nickels as if they were manhole covers ... 'Lyor is probably the coolest white dude in the game,' says Irv Gotti, a black record producer who works with Jay-Z and DMX. 'He's a white Jewish guy, but I think everybody respects him like he's black. He's knows how to carry it, too. He knows how to get gangster, how to fall back, when to shut the fuck up, when to say something. That's why other white executives are scared of him. He knows how to deal with the hoods, the criminal element.'"

One Live Jew. New Times, August 10, 2000
"The owner [Joe Weinberger] of the hip-hop label Lil' Joe Records pulls up to his northwest Miami-Dade offices most mornings in a true player's ride, an aquamarine Jaguar S-2000. He wears the right accessories for his role. A diamond-crusted Rolex jangles from his right wrist. Fat gold rings glisten on both hands. He even carries a 9 mm automatic pistol tucked into a pants pocket. If this were the beginning of a movie, a deep bass track would announce his arrival."

Sexy, Sophisticated, or Smutty? Alberta Report [Canada], April 28, 1997
"A recent decision by the Canadian Broadcast Standards Council suggests that if Ellen [the American lesbian-oriented TV series] were produced here, the only controversy would be whether she would be shown naked in bed with her lesbian lover ... Nudity is not yet common on Canadian sitcoms, but the diaphanously-clad models featured on such haute couture 'news' programs as CBC Newsworld's Fashion File and the syndicated Fashion Television often resemble Salome stripped to her last veil ... Two weeks ago the industry-funded CBSC (which had earlier dismissed two previous claims against Fashion Television) dismissed this complaint as well. The CBSC cited a response from series producer CITY-TV--owned by [Jewish mogul] Moses Znaimer, who also co-owns Alberta's ACCESS-TV--'We do not equate nudity with pornography. Fashion and photography to our mind are art' ... The unnamed complainant had argued in a January 1995 letter, 'These are prime time family viewing hours and it is highly inappropriate for such sexually explicit material to be shown on television.' Ron Cohen, CBSC national chairman, rejects this argument as irrelevant, contending that the specialized nature of the program appeals to adults only ... Jay Levine, Fashion Television's producer, adds that nudity is to be expected from a show covering an industry where 'being sexy is to be provocative.' He adds, 'We're doing something that obviously a lot of people don't have a problem with ... a few years ago it would have been inconceivable that producer-writer Ken Finkleman could utter 'the f-word' on his hit CBC sitcom The Newsroom.'"

U of T: Moses Mags Useful to Scholars. Toronto Sun, July 7, 1998
"The University of Toronto says the media are unfairly 'trivializing/ its Moses Znaimer collection because it includes soft-porn magazines and T-shirts .... The collection became controversial because it includes issues of Penthouse, Oui, Elite and Hustler magazines as well as MuchMusic [Znaimer's company] T-shirts. But Gayle Garlock, the university's director of development and public affairs, said the soft-porn magazines are an important part of the Znaimer story. He said the magazines were used to illustrate community standards when CITY-TV faced obscenity charges in its early days. 'Moses Znaimer is a major figure in Canadian broadcasting and we're delighted to have a collection that we think will be used by scholars for years to come,' Garlock added."

Concentrated Rock. Worcester Phoenix, March 20-27, 1998
"As the atomic bomb changed the world, so the explosive emergence of a new concert-business conglomerate threatens to transform the $1.3 billion live-music industry. A half-billion-dollar spending spree has made SFX Entertainment a superpower -- the first nationwide concert promoter. And when the mushroom cloud of its birth clears and the giant begins flexing its muscle, the shock waves may affect everyone from booking agents to artists to competing promoters and -- most important -- you. The man behind SFX Entertainment is power broker Robert Sillerman [who is Jewish], an entertainment-biz wizard who amassed a fortune's worth of radio stations, sold them off last year, and then began systematically buying a half-dozen of the country's best-run, most powerful independent concert-promotion companies. When those acquisitions were completed this month, SFX was suddenly in control of a national web of 42 major concert venues and more than 100 clubs and small theaters. Now SFX indisputably dominates the concert market ... During 20 years of acquisitions, Sillerman had amassed 71 [radio] stations, which he sold in August 1997 to the Dallas-based investment company Hicks, Muse, Tate & Furst. The price tag: $1.1 billion. With his coffers filled, Sillerman went on a carefully orchestrated buying spree. By the time the year was up, he'd spent $449 million on seven companies."

Death of a Tycoon. Index Online. April 1, 1998
"In what amounts to a public execution, Hungary's leading print media tycoon, Janos Fenyo (44) [who was Jewish], was shot dead in his car on 11 February, while caught at traffic lights in Budapest's evening rush hour ... Although the media have treated the murder as a gangland vendetta, in private journalists admit that the assassination was almost certainly commissioned within Hungary, either by the criminal underground or by someone in authority. At the time of his death Fenyo is reported to have been facing about 30 court cases. He had connections in all walks of life, and his friends also included a number of prominent liberals ... His media empire, VICO Rt. ... is currently the biggest print media-owner in Hungary, controlling the popular, middle-of-the-road daily Nepszava, along with three colour weeklies. It is also former owner of the television channel TV 4, and has additional interests in real estate."

Brazilian Jewry: A Concise History. JewishGen: The Home of Jewish Geneology.
"There is a TV personality in Brazil known as Silvio Santos. His real family name is Abravanel, and his family came from Salonika in Greece. Abravanel is an important Jewish Sephardic family that came from the Iberic peninsula and Italy in the 15th century. Santos is widely known because he conducted a four-hour long TV variety show on Sunday nights. It offered music and half-clad dancing women. Its objective was to sell merchandise. It did, and Mr. Abravanel now owns SBT, his own TV network encompassing 98 stations throughout the country. In addition, the Silvio Santos Group is now a conglomerate that operates a number of businesses, including a travel agency. When I told a non-Jewish Brazilian friend that I was going to mention Silvio Santos in my presentation, he objected. My reply was that Santos proves Jews aren't always purveyors of good taste or culture." [SBT is the second largest -- albeit distant second -- TV company in Brazil]

Jayme Sirotsky. Chairman of the Board of RBS. The Brazilian-American Chamber of Commerce of Florida.
"Sirotsky has been a partner in Rede Brasil Sul (RBS) since 1962. He has held top management positions within the group, and in1991 was nominated Chairman of the Board. RBS is a communications giant with 18 broadcast stations, 19 radio stations, 5 daily newspapers (Zero Hora, Diário Gaúcho, Pioneiro, Diário Catarinense and Jornal de Santa Catarina), cable television systems and internet operations. RBS has 4,600 employees. In addition to his many accomplishments within RBS, Sirotsky is the former president of the World Association of Newspapers (WAN) and President of the Advisory Board; former president of the Brazilian Newspaper Association (ANJ) and member of the advisory council and board."

Mr. USA. Los Angeles, March 1998
"No question about it: [Barry] Diller had been a master of the Hollywood universe. At just 26, he participated in the birth of that hallowed art form, the movie-of-the-week, at ABC; by his thirties, he was running Paramount Pictures, overseeing decade-defining hits like Saturday Night Fever and Beverly Hills Cop; and in 1986, he confounded skeptics by creating a fourth network, the Fox Broadcasting Co., with such nose-thumbing shows as Married ... with Children and The Simpsons. Challenging his subordinates every bit as much as questioning the status quo, Diller earned a reputation as a hard-driving taskmaster: His compact but powerful physical presence and bullet head suggested a hair-trigger bomb--he could explode into a tirade one minute, break into a gap-toothed smile the next. One bit of Hollywood lore had him hurling a videocassette at Fox exec Stephen Chao, who commemorated the moment by leaving the resulting hole in the wall and surrounding it with a frame."

The Operator: David Geffen Builds, Buys, and Sells the New Hollywood.
Gay Book World, [Book Review of The Operator. Undated]
"Complex, contentious, and blessed with the perfect-pitch ability to find the next big talent, David Geffen has shaped American popular culture for the last three decades. His dazzling career has included the roles of power agent, record-industry mogul, Broadway producer, and billionaire Hollywood studio founder. From the beginning, though, Geffen's many accomplishments have been shadowed by the ruthless single-mindedness with which he has pursued fame, power, and money ... The extent of Geffen's accomplishments is extraordinary. As a manager in the 1960s, he made the deal for Crosby, Stills, Nash & Young to appear at Woodstock. He discovered 1970s superstars Jackson Browne and the Eagles and masterminded Bob Dylan's famed 1974 tour; Joni Mitchell, Geffen's roommate for a time, memorialized him in her song 'Free Man in Paris.' He produced Risky Business, the movie that made Tom Cruise a star, and was the moneyman behind Cats, the longest-running musical in Broadway history ... One of the most brilliant dealmakers ever to work in Hollywood, he became a billionaire shortly after selling Geffen Records in 1990, and he made movie history when he founded, with friends Steven Spielberg and Jeffrey Katzenberg, DreamWorks SKG, the first new Hollywood studio in fifty-five years. And Geffen's influence has extended far beyond show business and into the worlds of Wall Street, art, real estate, and politics.Geffen's personal journey is as compelling as his business machinations. Although he knew from an early age that he was gay, he hid his true sexual urges and for years attempted to lead a heterosexual life ... Geffen learned from his earliest days in the William Morris mailroom that he could cheat and lie his way to the top, and he has ever after lived unconstrained by traditional notions of right and wrong."

Velvet Mafia, by Taki Le Maitre. [Review of The Operator, by Tom King]
New York Press, Vol. 13, Issue 10, 2001
"I'm not at all surprised to read that Hollywood is dominated by a Velvet Mafia of rich homosexuals who demand sexual favors in return for work in the movies. In fact I would have been surprised if it were the other way round. Those old Mittel-Europa Jews who ran Tinseltown in its heyday established the casting-couch practice long ago; but, as they say, at least they did it with style and with the opposite sex. The Operator: David Geffen Builds, Buys, and Sells the New Hollywood is the title of an upcoming book by Tom King, a respected Wall Street Journal reporter who it seems has hit pay dirt–and it's dirt, all right–with his exposé of the unspeakable [David] Geffen. Actually it's poetic justice. Geffen invited King to write a book about his amazing rise to the top, and allegedly named dozens of former boyfriends, many of them now famous stars. Indiscretion aside, Geffen is a lowlife sans pareil ... Geffen, of course, denies there is such a thing as a homosexual cabal, and, typically, charges anti-Semitism. According to King's book, friends like Barry Diller, Sandy Gallin and Calvin Klein [all Jewish], among many others, keep a lower profile but apparently indulge in the sexual bacchanals that go with the territory. Alleged weekend-long orgies fueled by drugs at which Geffen and his powerful buddies run a 'meat market' selecting young men for sex are apparently described in detail in King's opus. Here is one of Bill Clinton's close supporters, one who had a free run of the Lincoln bedroom, and was, I believe, once even called an adviser to the Draft Dodger, pushing a gay agenda of promoting stars and directors who make movies and records sympathetic to the gay lifestyle. Geffen is a natural for the Clinton White House. Sleaze is the operative word."

Whatever Would Uncle Walt [Disney] Say? Guardian [London], April 18, 1999
"Walt Disney Corporation chairman Michael Eisner ... [has] a crisis over Spike Lee's Summer of Sam - which uses the real-life serial killings of David Berkowitz [who was of Jewish heritage], aka the Son of Sam, as a backdrop to a fictional story. But also Kevin 'Clerks' Smith's controversy-plagued [Catholic] religious satire, Dogma, was unloaded by Disney-owned Miramax (co-chairmen Harvey and Bob Weinstein) to the Weinsteins as individuals - they paid $10 million for the film. Buying it outside of their deal with Disney means that they don't have to conform to Disney strictures. Or as the noble Weinsteins put it, they spare Disney any embarrassment ... 'The ratings board said that this work [Summer of Sam] would not be released with an R rating,' said Walt Disney Studios chairman Joe Roth ... In truth, Miramax has made Disney an even bigger target than it already was. The problems with hardline Catholics started with a small British film, the Jimmy McGovern-scripted Priest, in which Linus Roache plays a gay priest. Although the film made a negligible impact among US audiences, Miramax - and by implication Disney - were branded as 'Catholic bashers'."

Owning Media as a Story in Its Own Write.
Jerusalem Post, October 7, 1999 [Book Review]
"Scandal is right at the center of the Annenberg story and is indeed a large part of the legacy that Moses Annenberg left his son Walter ... Moe Annenberg soon brushed up against the illegal gambling industry as well, eventually planting the seeds of his fortune in the rich manure of horse racing news. While virtually still a youth, Moe all but monopolized the tipsheets and wire services that were indispensable throughout the country to legal handicappers and backroom bookies alike ... Nothing short of a financial wizard - Annenberg sold all of his stock four days before the crash of 1929 - he eventually would control some 80 companies. The jewel in the crown was The Philadelphia Inquirer. Annenberg ultimately pleaded guilty to one charge of income tax evasion and had the book thrown at him - a huge fine and a three-year prison sentence. The authorities even cast doubt on his citizenship and considered trying to have him deported - this in the midst of World War II ... . [Son Walter] continued to build up The Inquirer, greatly increased the family fortunes with the launch of Seventeen, and after TV Guide became by far the best selling magazine in America, Walter and each of his seven sisters were billionaires."

Selling Off Seagram. Forward, June 23, 2000
"The passing of The Seagram Co. out of the hands of the Bronfman family this week -- the beverage and entertainment conglomerate is being sold for about $34 billion to a French firm, Vivendi -- is an occasion for reflection and nostalgia for many in the Jewish world. Acquired in 1928 by Samuel Bronfman, who was born at sea to Jews fleeing tsarist Russia for Canada, Seagram once functioned as a bootlegging operation; it is said to have produced half the liquor drunk in America during Prohibition. Today, the company, which later broadened into stakes in DuPont and Tropicana, represents a distinguished chapter in Jewish economic history, and it manufactures what, to our taste at least, are some mighty superior products. The movie and music acquisitions of Edgar Bronfman Jr., who took the company in an entirely new direction in the 1990s by buying MCA and Polygram, showed the willingness of the younger Bronfman generation to take risks and enter different ventures ... As president for the past 20 years of the World Jewish Congress, Edgar Bronfman has earned himself a place in history as a champion of Soviet Jews and as the leader who jump-started the issue of restitution of Holocaust-era property in Europe."

Edgar's Hollywood Ride. US News, March 29, 1999
"Seagram CEO Edgar Bronfman Jr. recently wrapped up an informal talk on the $19 billion dynasty he heads with this insight into his success: 'You just have to be real smart,' he told a heavily pinstriped crowd in New York, 'and choose the right father.' By that measure, of course, Bronfman is a genius. A decade ago, his father, Edgar Bronfman Sr., handed him the presidency of the family-controlled liquor empire; five years later, he was named CEO. Bronfman Sr. also stood behind his son in 1995, when he cashed in nearly all of Seagram's lucrative 24.5 percent stake in DuPont to buy 80 percent of MCA/Universal ... Last year, for example, Bronfman spun off Universal's TV assets to Home Shopping Network boss Barry Diller–a move that flabbergasted the content-hungry entertainment industry. A few months later, Bronfman seemed to reverse course: He spent $10.4 billion for Polygram NV, making Universal the world's largest music company."

Air Time. Replaying the Good Old Days of Radio. Forward, March 12, 1999
"The halcyon days of radio broadcasting ... reigned from the mid-1920s until the early 1950s, when television seduced audiences away. Radio was then the dominant medium, the first to offer live entertainment in the comfort of American homes, a shared culture so powerful it became known as 'the empire of the air.' Jews played a pivotal role in creating that empire ... The story begins with the fathers of broadcasting, David Sarnoff and William Paley, competing forces who fueled radio's meteoric rise ... "I realized I couldn't compete with gentiles in a gentile industry if I were merely as good as they were,' Sarnoff once said. 'But if I were, say, twice as good, they couldn't hold me down' ... As an impresario, a corporate head who loved playing talent scout, Paley went where the talent was. And more often that not, the talent was Jewish. Radio was soon stacked with vaudeville headliners like George Burns, Eddie Cantor, Milton Berle, Danny Kaye, Fanny Brice and George Jessel; they had played the same ratty theaters in the boroughs and worked the Borscht Belt together. Other Jewish personalities, like the gossip columnist Walter Winchell, hungry as always for new opportunities, gravitated toward radio, just as they had to movies and just as they would to television in later years." [From radio roots, the three major television networks were built to power by Jewish overseers: Sarnoff at NBC, Paley at CBS, and Leonard Goldenson at ABC].

Just What Does Michael Ovitz Want? New York Times Books, June 8, 1997
"Michael Ovitz, the most powerful agent in Hollywood, who runs Creative Artists Agency, is not only fond of making deals but of making waves as well. This time, though, the latest Ovitz wave has knocked over some rivals who have stood up and vowed to wage combat ... Mr. Ovitz, who has spent the last few years expanding the reach -- and indeed the very definition -- of the agency business. Mr. Ovitz had, after all, helped broker the $7 billion sale of MCA to the Matsushita Electric Company in 1990. He also advised the Sony Corporation on its $3.5 billion purchase of Columbia Pictures Entertainment. Within recent months, Mr. Ovitz has also thrust his agency firmly onto Madison Avenue, creating a new advertising campaign for the Coca-Cola Company and teaming up with Nike to promote sportswear events. These moves impressed Mr. Ovitz's rivals and, while they wouldn't quite acknowledge it, provoked envy. Mr. Ovitz was leapfrogging over his competitors. In fact, he was no longer just an agent but a powerful fixer whose worlds reached far beyond Hollywood ... Jeff Berg, who heads C.A.A.'s major rival, International Creative Management, which represents such superstars as Eddie Murphy, Arnold Schwarzenegger and Mel Gibson (while C.A.A.'s roster includes Madonna, Kevin Costner, Barbra Streisand, Michael Jackson, Robin Williams and Prince), raised the potential for a conflict of interest. And Jerry Katzman, the chairman of the William Morris Agency, another major agency, has also discussed the conflict-of-issue matter with lawyers."

Wenner's World. Salon.com, April 20, 1999
"[This story is about] the evolution of Jann Wenner: How the ultimate '60s rock groupie built his fantasy into a media empire ... Beyond the door to his office suite stretches the bustling Wenner Media headquarters ('almost the size of a football field,' he says with characteristic immodesty), where the young, the slender and the hip march about in platform shoes performing the mundane tasks of running Jann's empire. This is where the music went. It's strange, but if the entire cultural explosion from the 1960s could be drawn down to just one guy, it would be this compact energy ball right here -- the quintessential baby boomer, our own Peter Pan, a chubby adolescent who would never grow up. Wenner was an entrepreneur long before it was cool. And if, as the venture capitalists like to say, entrepreneurs usually have only one good idea, at least his was a doozy. Wenner was, to put it plainly, the star-fucker who always traded up -- the ultimate name-dropper who finally became a bigger name in the tabs than many of the stars he worshiped. These days he oversees three successful magazines (Rolling Stone, Us and Men's Journal), and if that doesn't provide enough fodder for Wenner-watchers, there are plenty of other angles for the wags to whisper about -- his much younger boyfriend, designer Matt Nye; [and] his many Hollywood buddies, including David Geffen, Barry Diller and Richard Gere ... [In San Francisco] Rolling Stone magazine, which would become the voice of a generation, was born."

Mike Leads the Way to Utopia By Example. The Age [Australia], March 22, 1999
"Michael Bloomberg was entirely ignored by his parents. They kept him in a leaky shed at the bottom of their garden until he was 15. He wasn't shown a mirror until he was 18. Or so you could be forgiven for assuming. When you enter the Bloomberg building in London's Finsbury Square, you see the man's name on everything: the furniture, the disposable coffee cups, the computer mats, the bottled water, the magazines. It's called cross-branding, apparently. His autobiography is, of course, called Bloomberg by Bloomberg (John Wiley, 10.95, about $A28.50). The chrome-and-glass office is open-plan and uplit, with vases of tulips everywhere, rows of television sets suspended from the ceiling and, for a dividing wall, a map of the world in frosted glass. Several large tropical fish tanks are bubbling away - designed, I am told, to create an atmosphere of calming rationality. If you examine the electric-yellow-and-blue fish closely enough, you'll find they, too, have been branded with the name Bloomberg. Probably ... Mike Bloomberg is estimated to be worth $US2 billion to $3billion ($A3 billion to $4.8billion). He has made his fortune providing 'real-time pricing, data and analysis' to the world's financial markets - in direct competition with those long-established news agencies Reuters and Dow Jones (publishers of The Wall Street Journal) ... So ubiquitous has the Bloomberg's e-mail system become that investment bankers and stockbrokers around the world no longer 'message' each other with gossip: they 'Bloomberg.'"

Zuckerman Unbound. Extra!, Jan-Feb 1993
"News consumers also have reason to be wary of [Morton] Zuckerman, who already owns U.S. News & World Report and The Atlantic, taking over another media outlet [the New York Daily News]. As an owner, he has a history of imposing his views on news content, sometimes in defiance of journalistic standards or in pursuit of personal interests. Zuckerman declined to discuss his history as a media owner with Extra! ... Zuckerman has never been shy about promoting a political line in his publications, particularly on the issue of the Middle East. After buying The Atlantic, he issued a ban on articles that, in Zuckerman's estimation, 'challenge Israel's right to exist.' Prior to his move toward neo-conservativism, he had reneged on a commitment to invest $10,000 in The Nation after taking offense at an article about Israel's military and commercial ties to South Africa (New York Times, 2/14/82) ... Under Zuckerman, U.S. News had a contract with a dubious Israeli news service called Depth, drawing criticism from the Columbia Journalism Review (5-6/88). Part of the reason Zuckerman used Depth, one U.S. News staffer told Washington Journalism Review (10/92), was so he 'could get stories that would say the kinds of things he wanted them to say' ... When Zuckerman tried to build on a piece of land near Walden Pond in Massachusetts, provoking major opposition led by singer/songwriter Don Henley, U.S. News was the only one of the three major newsweeklies that didn't do a story on the controversy (Newsweek, 4/30/90; Time, 8/27/90). Richard Lingeman of The Nation (10/28/91) pointed out the irony of the owner of The Atlantic, which first published some of H.D. Thoreau's most memorable essays, attempting to build an office complex on one of Thoreau's favorite spots." [In 2001, Zuckerman was elected to be the chairman of the Conference of Presidents of Major Jewish Organizations, probably the most influential and prestigious position in the Jewish American community.]

Is This the Most Hated Man in Hollywood? Los Angeles, September 2001
"[Peter] Bart, the editor-in-chief of Variety, the entertainment industry's dominant newspaper, is accustomed to being in charge. Studio heads woo him; strivers kiss his ass. Everyone wants his insight and his wisdom--or prominent placement in Variety's big, glossy pages. In his weekly column, 'The Back Lot,' he alternately strokes and scolds moguls and movie stars, addressing them by their first names. When Bart telephones the powerful, he is put right through ... [He is] among the most despised and feared people in Hollywood ... There are two keys to success in Hollywood: relationships and information. Bart traffics in both. He lunches almost every day with a studio chief, a marketing executive, a top manager or talent agency head, an entertainment lawyer or lobbyist ... But there's another commonality [with 'Harry Cohn, the producer and movie-studio founder whom Bart likes to call 'the mean-spirited czar of Columbia'] that Bart does not wish to talk about. Cohn, like many of Hollywood's founding fathers, was Jewish. When I ask Bart about his own ethnicity, he turns elusive. It's peculiar, to say the least. Of all American industries, Hollywood has historically been a place where Jews have not only achieved acceptance but thrived. But following his parents' dictum, Bart keeps his ancestry a secret ... . 'He was brought up a Quaker, wasn't he?' asks Evans. It's an honest mistake. You can't spend more than an hour with Bart without hearing about his attending Friends Seminary and Swarthmore College--both Quaker institutions. 'I don't want to talk about it,' Bart says of his religious heritage, as one of his knees begins bouncing up and down. 'I resent people's militancy on these issues. Everyone wants to peg everyone else because everyone is predictable. And I'm not.' Over several months he will volunteer that he has never once dated a Jewish girl, never attended a seder, and has been inside a synagogue only once, for the bar mitzvah of then-agent Michael Ovitz's son. ('I wanted to see what one was like.') 'Listen, I got berated by the vice president in charge of business affairs at Paramount,' he says, 'because I did not take off Jewish holidays. And I was affronted. I basically told him to mind his own damned business.'" [As a consequence of revelations in this article, Bart was suspended as the editor of Variety].

Israel Theaters Plan Eastern Europe Expansion. Jerusalem Post, February 27, 2000
"IT International Theaters, a subsidiary of Israel Theaters Ltd., said yesterday it would invest $200 million on expanding its presence in Central Europe. The company, which is the largest motion picture exhibitor in Israel, said it intends to use more than half the sum to develop its activities in Poland. As part of the plan IT will open 100 to 150 new screens in 10-15 new multiplexes throughout Poland over the next three years ... Moshe Greidinger, the company's president and chief executive officer, said in a statement that the move marks another step toward pursuing IT's strategy of aggressive expansion throughout Central Europe ... [IT] is the largest operator of multiplex cinemas in Hungary. It started operating in Hungary in 1997, when it opened its first multiplex theater in a shopping and entertainment center in Budapest, which was built by Israeli entrepreneurs Eli Papouchado and Motti Zisser. IT said that it now operates over one third of its 165 screens outside of Israel. In addition to Hungary and Poland, the company intends now to focus on expanding its activities in the Czech Republic."

Hard-Charging Hank Greenspun Created Lasting Legacy and Ongoing Tradition, Las Vegas Sun [this is a puff-piece by the newspaper Greenspun founded, today edited by his son]
"In 1947 [Las Vegas Sun founder and publisher Hank] Greenspun assisted the Haganah [the early Israeli army] in its efforts to create the nation of Israel as a homeland for the survivors of the Nazi holocaust. It was a move that would have a profound impact on his life. With war on the horizon and Israel short on weapons, Greenspun bought machine guns and airplane parts in Hawaii and accompanied them through Mexico to ship to the Israeli freedom fighters who were fending off the Arab invaders. But Greenspun was caught and pleaded guilty to violating the Neutrality Act in 1950. He was fined $10,000 but received no prison time. Greenspun called it one of his proudest moments because his cause was just and he played a role in the founding of Israel, where to this day he is remembered as a hero. President John Kennedy pardoned Greenspun in 1961 ... In the 1950s, while trying to get his newspaper established, Greenspun ventured into other forms of media and started Las Vegas' first television station, which he later sold to [Howard] Hughes. Later, Greenspun brought cable television to much of the Las Vegas Valley. That company was known as Community Cable TV and later Prime Cable. Today it is Cox Communications -- by far the largest provider of cable television in Southern Nevada. Greenspun also is remembered as one of the valley's top land developers."

The Hollywood Question, Washington Post [book review of Hollywood and Anti-Semitism], September 10, 2001
"[Author] Steven Alan Carr calls [it] 'the Hollywood Question.' It's not really a question so much as a recognition that the American film industry had been founded by men such as Jesse Lasky, Marcus Loew and Carl Laemmle, and was run by men such as Louis B. Mayer, Samuel Goldwyn and the Warner brothers, and that all of these men were Jewish. Carr's book examines how the perception that the Jews controlled Hollywood shaped not only the movies but also American culture in general ... But the Hollywood Question played on specific prejudices, as Carr points out. One was sexual -- the notorious 'casting couch': 'The Jew was seen as threatening Christian culture through the sexual degradation of aspiring female starlets.' Another was the ancient calumny of the Jew as usurer: The Jewish mogul was charged with an 'implacable disregard for fair business ethics' and with degrading 'the delicate art of the motion picture with his knowledge of credit and discount.' And a third was a presumed cultural inferiority: 'The Jew threatened national identity through his ability to access the American mind and appeal to its lower tastes and values.' Carr shows how Hollywood's sensitivity to these stereotypes shaped the films it made."

Making the Grade, BBC News, Decembe 13, 1998
"Lew Grade was a showbiz mogul of the old school. Larger than life and hardly ever without a cigar between his lips, he dominated the post-war entertainment business in theatre, film production and as one of the pioneers of ITV ... His nephew, Michael, the son of brother Leslie, became Chief Executive of Channel 4 ... Under Lord Grade, ATV came to dominate television from the 1950s into the 1970s."

Hollywood's Disdain for Democracy, by John W. Cones,
FIRM (Film Industry Reform Movement)
"I merely conducted an organized study that allowed me to determine that some 60 to 80 percent of these individuals who had greenlight authority over Hollywood films actually shared a common background. And, based on the literature of the industry and using specific descriptions already offered by many other Hollywood observers, that shared background could most accurately be described as politically liberal, not very religious, Jewish males of European heritage. Now, for some people, this was going too far! But for me, it was merely a logical progression leading to a factual and sociological observation. And, I've seen no study by academics or others offering persuasive evidence that the Hollywood control group could be accurately described in a significantly different manner. It seems that some of the Hollywood apologists simply can't handle the truth ... Aside from those few who have chosen to utilize the false accusation of anti- Semitism (what I call the anti-Semitic sword) in their effort to chill my free speech, others have simply taken the position that inquiries into the backgrounds of studio executives is for some reason inappropriate. On the other hand, these same Hollywood apologists readily admit that it is appropriate for the studio executives to utilize the enormous communications power of feature film to make bold, emotionally charged and sometimes outrageous or misleading statements about religion, politics, culture, ethnicity, race, regional populations, sexuality and all manner of other topics. If we accept the fundamental concept that movies, to a large extent, tend to mirror the values, interests, cultural perspectives and prejudices of their makers, then it is completely appropriate to study whether there are positive correlations between what we see on the screen and the backgrounds of those who have the power to determine what is portrayed in movies."

The FILM INDUSTY REFORM MOVEMENT's investigation into the gender and ethnicity of past Hollywood film studio executive hiearchies. The listing is not exhaustive, but it points the obvious direction: COLUMBIA (near the bottom of page), MGM, PARAMOUNT, 20TH CENTURY FOX, WARNER BROTHERS, MCA/UNIVERSAL, DISNEY

The Emperor Miramaximus, by David Carr, New York, December 3, 2001
"[Harvey] Weinstein is often compared to the moguls of old—the doughty Jew among Wasp elites—but the analogies don't do justice to his broader cultural horsepower. Neither indie hustler nor studio boss, Weinstein is a different beast altogether, a New York City behemoth with avid fingers in all corners of the pie. He and his brother run a company that released more movies than any other in the U.S. in the year 2000 and had the eighth-largest box-office receipts. To say that the barbarian is at the gate is to miss the fact that he's already behind the velvet rope and iterating access. Indie movies, once a quaint province of grad students and industry losers, became a cash machine for the Weinstein brothers. His competition credits him with nothing more than being a skanky bargain shopper backed by gobs of Disney's money. They suggest that after Disney paid $60 million for Miramax in 1993, Weinstein spent his time buying his way to the Oscar platform and getting in touch with his inner thug by screwing over far more delicate artistic sorts ... '[Weinstein] owns you guys, all of you,' bitches one West Coast film executive. 'All media is controlled out of New York, and he is the king. He has the kind of Teflon none of us can understand."

New Software Improves Internet TV,
Canadian Jewish News, September 7, 2000
"As a strictly observant Orthodox Jew, Herbert Becker does not have a television in his home. That has not stopped him, however, from developing software that allows TV to be broadcast live on the Internet. Becker, founder and CEO of BEE Multimedia, has created the tools by which networks and cable companies can reach audiences through their computers the same way they now do through their TV sets. He claims to be the first to make this technology a reality."

Conrad Black and Pals to Launch The New York Sun,
New York Observer, 12.3/01
"Conrad Black [the Gentile pro-Israel mogul married to Jewish Zionist Barbara Amiel], the owner of the Chicago Sun-Times and the Jerusalem Post, finally has at least a piece of a New York newspaper. A group of investors including Mr. Black intends to spend up to $15 million to launch a new daily newspaper expected to appear sometime early next year, a source familiar with the venture told Off the Record. The paper, likely to be called The New York Sun, will be edited by former Forward editor in chief Seth Lipsky along with his protégé, Ira Stoll, the editor of Smartertimes.com ... Backing the new paper, sources said, is a group of nine or 10 investors that includes Mr. Black—chairman and chief executive of Hollinger International Inc.—as well as Michael Steinhardt, a former hedge-fund manager and prominent Democratic Party donor, who up until mid-2000 owned half of The Forward but is still the paper's vice chairman. Since Mr. Lipsky was pushed out as editor in chief at The Forward, he and Mr. Steinhardt have maintained close contact, sources said. In the ideological battle between Mr. Lipsky and The Forward's board of directors—Mr. Lipsky's neoconservative leanings did not sit well with the more liberal board—Mr. Steinhardt offered to buy the other half of the Jewish weekly in order to keep Mr. Lipsky at the helm. Rebuffed by the board, Mr. Lipsky ultimately left the paper in April 2000, and Mr. Stoll, who had been managing editor, followed later that summer."

Do Jews Run Hollywood? by Ben Stein, E! Online
"At mighty Paramount, the controlling stockholder is Sumner Redstone. Head of the studio is Jon Dolgen. Head of production is Sherry Lansing--all members of the tribe. At titanic Disney, the CEO is Michael Eisner, the world's most assimilated Jew, who might as well be a Presbyterian. Deputy head is Michael Ovitz, karate champ but also a Jew. Head of the studio is Joe Roth. At newly energized ICM, the top dogs are Jeff Berg and Jim Wiatt. At still overwhelming CAA, Jack Rapke and other members of my faith predominate. At William Morris, Jon Burnham and other Jews are, by and large, in the power positions. This has always been true in Hollywood."

Vivendi OKS $10 Billion Deal to Buy Diller's USA,
Los Angeles Times, December 16, 2001
"French conglomerate Vivendi Universal has approved a $10-billion purchase of the entertainment assets of Barry Diller's USA Networks in a complex stock deal that puts the veteran entertainment mogul at the helm of one of Hollywood's hottest studios ... Diller would head a new Vivendi-controlled company that would combine its Universal Studios theme parks and movie studio with his cable networks, television production unit and film company. Vivendi, the world's second-largest media company, is betting that Diller can expand its presence in the U.S. to compete with the likes of AOL Time Warner, Walt Disney Co. and Viacom. The brilliant but combustible operator is credited with being an architect of the modern media world ... Much of Hollywood is led by Diller proteges from his days at Paramount, including longtime friend Disney Chairman Michael Eisner and [Jeffrey] Katzenberg, said Marty Kaplan, associate dean at the USC Annenberg School for Communication ... 'He always brings an enormously probing, challenging, creative environment,' said David Kissinger, president of USA Television Production Group. 'Nothing is sacred. Nothing assured. Everything is up for debate.' Said Joe Roth, who ran Twentieth Century Fox Studios under Diller, 'I didn't find him to be erratic. Explosive, yes.'"

Ivan Reitman. Biography, hollywood.com
"What Lucas and Spielberg did for fantasy adventure, [Ivan] Reitman did for comedy. He took the kind of quasi-disreputable material once geared to teens in second-string low budget fare, made it mainstream and big budget, and reaped megabucks. While one may quibble about the artistic merit of some of his product, no one can deny its impact ... As a producer and/or director, Reitman played a significant role in the film careers of several Second City (Chicago and Toronto-based) performers who first gained fame on 'Saturday Night Live'--Bill Murray, Dan Aykroyd, and John Belushi."

Has Eisner Lost the Disney Magic?, Fortune, January 7, 2002
"So it's no surprise that [Michael] Eisner's reputation, which rocketed to the sky with Disney's stock, has come crashing down lately as the company has stumbled. He has been so widely criticized for his ego, his arrogance, his outsized pay packages, his inability to keep key people, his control-freak predilections, and his weak board that it's easy to forget that only a few years ago he was lionized--no pun intended--and deservedly so. When Eisner took command at Disney in 1984, the company had lost its way; he and his team of gifted executives proceeded to dazzle even the cynics in Hollywood ... Along the way everyone made gobs of money. Disney shareholders certainly did--the stock grew by 27% a year during Eisner's first 13 years as CEO, and the company's market capitalization climbed from less than $2 billion to a peak of $90 billion in 2000. Eisner did too: He cashed in more than $750 million worth of options during the 1990s, enjoying some of the richest paydays in American corporate history. But, hey, as we said--he's a star. Then, sometime around the mid-1990s, it all started to come apart. There were the people problems: the ugly Katzenberg divorce, the Ovitz-as-president debacle, the defections of numerous top executives."

Movies Are More Than Popcorn for Karp,
Canadian Jewish News, January 7, 1999
"When Allen Karp sits down to watch a movie in his corporate screening room, he mixes business with pleasure, a luxury few can indulge. 'I enjoy my products,' he said, a serene smile creasing his face. Karp, who usually screens three to four movies a week, is chairman and chief executive officer of the Toronto-based Cineplex Odeon Corporation, Canada's largest film exhibitor. With Karp at its helm, Cineplex has been in a gung-ho expansionist mode of late ... .Within five years, he estimates, Cineplex will have about 1,000 screens in six provinces, compared to 800 in 133 locations today. 'It's a growth industry,' allowed Karp, a 57-year-old lawyer who joined the company in 1986 and who rose to his present position in May 1998, following a merger with Sony's Loews Theatres Exhibition Group. The amalgamation created Loews Cineplex Entertainment Corporation, which operates 2,900 screens in more than 450 locations in major North American cities and in Spain, Hungary and Turkey. As a result of the merger, Cineplex Odeon Corporation became a Canadian subsidiary of the new entity, about one-third of which is controlled by the [Jewish] Bronfman family".

Bubba Bully Steps Up, Page Six / New York Post, January 20, 2002
"One of Bill Clinton's worst enemies - and Monica Lewinsky's step-sister to boot - is getting a city-wide bully pulpit from which to lambast the former president. Diane Straus Tucker has just been named publisher of Manhattan Media's weeklies Our Town, West Side Spirit, The Westsider and (appropriately) the Chelsea Clinton News. Tucker's dad is Peter Straus, who's married to Monica's mom, Marcia Lewis. Both Tucker and her husband, Carl, have vigorously attacked Clinton in print. Diane even lost her job running the Westchester Wag supposedly because she was too pro-Monica and anti-Bill. Diane, a cousin of [New York Times owener] 'Pinch' Sulzberger, was reportedly up for a big job with the yet-to-launch daily New York Sun, but apparently decided the established community papers were a better bet."

Movie Madness (Book review), Weekly Wire, August 4, 1997
"As a youngster in Hollywood during the period covered in this novel -- the author's father and uncle, who act as wisecracking funnymen throughout Pandemonium, wrote the screenplay for [Humphrey Bogart's] Casablanca -- Leslie Epstein may have grown up amid tantrum-throwing grown-ups. But when it comes to his portrayal of Jewish dominance in the film industry, satire this savage begins to look like unworked-through self-loathing. Let's hope, then, he's got some things out of his system. I shudder to think of Epstein following Hollywood's suit by invading television and supplying us with Pandaemonium II: The Next Generation."

Baron of Philanthropy, Jewish News of Greater Phoenix, August 21, 1998
"Like most of Russia's nouveau riche, [Vladimir] Goussinsky, a 45-year-old former theatrical director, made his money quickly and mysteriously. From a modest start in 1986 with a small company specializing in metal works, he expanded his holdings to include a bank and, later, a financial-industrial group called Most. Today, his empire includes an influential television channel, a satellite television network, a radio station and a company that provides programming and finances for some 50 regional television stations throughout Russia. Goussinsky's media empire also includes a leading daily newspaper and a weekly magazine published in cooperation with Newsweek. His personal wealth is believed to have topped $1 billion ... Like many of his fellow moguls, the publicity-shy Goussinsky rarely gives interviews in Russia, and his face - which he says, with a laugh, is the most important part of his Jewishness - is not familiar to most Russians. Contributing to his shadowy image, Goussinsky rides in a dark-blue, bullet-proof Mercedes, usually accompanied by a convoy of bodyguards. When he plays tennis, as many as 15 armed guards patrol the courts. And like many members of Russia's business elite, Goussinsky is involved in politics. Experts credit much of Goussinsky's meteoric financial rise to his close ties with Moscow Mayor Yuri Luzhkov - and when it appeared possible that Communist Party candidate Gennadi Zyuganov would defeat Yeltsin in the 1996 presidential election, Goussinsky and six other key financiers banded together to fund Yeltsin's victorious re-election campaign. But Goussinsky is more than just one of Russia's wealthiest men. As the president of the Russian Jewish Congress, he is the public figurehead of Russian Jewry and the leading Russian sponsor of Jewish communal projects."

TV Jews: How Jewish Is Too Jewish? Jewsweek, 2001
"Bob Hope once quipped, 'Hollywood is the only town where they give up matzah balls for Lent' — a line written by one of his many Jewish writers. The point being that everyone in Hollywood is Jewish, whether they were born into it or not. Hollywood has been shaped by Jewish culture — by now that's a sociological truism — but the only place you'd know it on television is in comedy. From 'Seinfeld' to 'Mad About You' to 'Dharma and Greg' to 'The Larry Sanders Show,' Jewish humor has infiltrated popular culture. On television, Jewish humor is the Trojan horse sneaked into the living rooms of non-Jewish America to acquaint them with the fact that Jews are pretty much like them, only more so."

Caslon Analytics. Profile: Media Groups: Viacom,
caslon.com
"[Viacom's] brands include CBS, MTV, Nickelodeon, Paramount Pictures, Infinity, Showtime, Blockbuster and Simon & Schuster. A chronology of its development is here. Viacom was originally created by CBS in 1971 to get around a FCC ruling that prohibited television networks from owning cable systems and TV stations in the same market. It then began buying cable systems around the United States. In 1978 it formed Showtime and in 1981 an all music station called Music Television. In 1987 it was acquired by Sumner Redstone's [originally Murray Rothstein] National Amusements Inc, one of the larger cinema operators (with theatres in the US, Canada, South America and the EU). Viacom then bought Paramount (a conglomerate based on one of Hollywood's original movie studios and including the Simon & Schuster publishing group) and Blockbuster Video. In 1999 it swallowed CBS." [This site itemizes Viacom's vast corporate holdings].

Limited Media Ownership Voided,
Washington Post, February 20, 2002
"A federal appeals court yesterday nullified two long-standing government rules limiting the size of the world's largest media companies, opening the door to a new wave of mergers among cable television conglomerates and broadcast companies. The U.S. Court of Appeals for the District of Columbia invalidated a Federal Communications Commission regulation that had prevented one company from owning TV stations and cable franchises in the same market. The court also ruled that the FCC had acted arbitrarily in limiting the number of television stations that a single company can own ... Consumer advocates, meanwhile, worried that yesterday's rulings will allow a few huge media companies to tighten their grip on the flow of information on radio, television and the Internet. 'This is earth-shattering,' said Gene Kimmelman, co-director of the Washington office of the Consumers Union. 'The end result could be the most massive consolidation in media this nation has ever seen.'"

Nixon, Graham anti-Semitism on Tape,
Chicago Tribune, March 1, 2002
"Rev. Billy Graham openly voiced a belief that Jews control the American media, calling it a 'stranglehold' during a 1972 conversation with President Richard Nixon, according to a tape of the Oval Office meeting released Thursday by the National Archives. 'This stranglehold has got to be broken or the country's going down the drain,' the nation's best-known preacher declared as he agreed with a stream of bigoted Nixon comments about Jews and their perceived influence in American life. 'You believe that?' Nixon says after the 'stranglehold' comment. 'Yes, sir,' Graham says. 'Oh, boy,' replies Nixon. 'So do I. I can't ever say that but I believe it.' 'No, but if you get elected a second time, then we might be able to do something,' Graham replies. Later, Graham mentions that he has friends in the media who are Jewish, saying they 'swarm around me and are friendly to me.' But, he confides to Nixon, 'They don't know how I really feel about what they're doing to this country.'"

Nixon Tapes Candid About Jewish Media Dominance,
nilemedia.com, March 2, 2002
"The release of a few more of Nixon's tapes reveals that the late president believed that Jews dominated the media. Well, if an ethnic group owns the New York Times, which owns over thirty papers, including the Boston Globe. If that same group had great influence on the Washington Post, which owns NewsWeek. Again, If that same ethnic group also owns Time magazine along with CNN, The Warner Studios and AOL. If the President of the Major Jewish Organizations, owns the third largest weekly magazine, US World and News Report and the Daily News. If [E]isner owns Disney which owns ABC. Than if Nixon was wrong in 1972, he is certainly not wrong today. So why the fuss? ... Because the mass media domination by Jews, many of them avowed Yiddish supremacists, is something no one is supposed to notice. For in noticing such an obvious thing, one can be labeled an anti-Semite. So, even an American President was left to state 'I can't ever say that but I believe it.' Now, I am assuming that Stalin got to say what he believed, Pol Pot also said what was on his mind, Sharon can lie and kill and lie and kill. Even in dictatorships, at least the dictator has freedom of speech. But an American President couldn't say the obvious in 1972 and can say less today. So, you are not supposed to notice that so many 'infomedia' barons are Jewish. You are not supposed to notice the Israeli Lobby and its virtual monopoly of the State Department during the Clinton Years. You are not supposed to notice that major campaign donors are Jewish and that the Democratic party functionaries are Jewish. If you do happen to notice, you are not to question why the fourth estate is basically an ethnic industry."

Rabbi: ADL 'Defamed' Billy Graham, World Net Daily, March 8, 2002
"'Stranglehold' on Hollywood 'no lie,' says Jewish activist. A prominent American rabbi insists the Anti-Defamation League has defamed Rev. Billy Graham in its criticism of remarks the Protestant evangelist made about Jews 30 years ago in the Oval Office. Rabbi Daniel Lapin, president of the activist group Toward Tradition, maintains ADL director Abraham H. Foxman's characterization of Graham as a purveyor of 'age-old classical anti-Semitic canards' is unfair. The 'canard' in question, notes Lapin, is that Jewish people are disproportionately represented among Hollywood and other media powerbrokers. In secretly recorded remarks to President Nixon that recently were released to the press, Graham spoke of a Jewish 'stranglehold' on the media. 'The unfairness of this ADL attack was highlighted by the week's news that the producers of 'A Beautiful Mind' deliberately left out any references to the genuinely anti-Semitic beliefs and comments of their protagonist, mathematician John Nash, amply documented in Sylvia Nasar's biography on which the film is based,' said Lapin, author of 'America's Real War,' a book that encourages a return to Judeo-Christian principles. Lapin pointed out that according to published reports, the film's director, Ron Howard, did this at least partly because he hoped to garner Academy Award recognition. 'Given that the Hollywood establishment indeed includes a considerably greater proportion of people of Jewish ancestry than does the American populace as a whole, Mr. Howard was concerned that the Academy would justifiably spurn a film that lionized an anti-Semite,' Lapin explained. 'To call that a 'stranglehold' may not be polite, but it is no lie, either.'"

Telecommunications: On Top at Last, Forbes, March 11, 2002
"More than 30 years after he started out at Ma Bell as a cable splicer's assistant, Ivan Seidenberg finally has discarded the 'assistant' label and spliced his way to the top of the telecom heap. He has pledged to 'invent the future,' but critics fear that he really is trying to reinvent the past by assembling another dominant telecom behemoth. Seidenberg has had a busy time of it since Bell Atlantic bought Nynex in 1997. As the former head of Nynex, Seidenberg served as second banana to Raymond Smith of Bell Atlantic. Smith retired after Bell Atlantic announced in 1998 that it would buy GTE to create Verizon Communications, but then Seidenberg had to share the chief executive officer title with GTE's Charles Lee--and it was Lee who held the chairman's title. But today's announcement that Lee will surrender his executive duties at the end of this month means that Seidenberg finally stands alone as CEO of the nation's biggest telephone company."

Dateline Winnipeg, Economist, March 15, 2002
"[Izzy Asper is] Canada's most powerful media mogul ... Mr Asper controls the country's most profitable television network and a chain of more than 100 newspapers across the country, which he bought 18 months ago from Conrad Black. But he has resisted moving the headquarters of his company, CanWest Global Communications, to Toronto, Canada's media capital. The company remains in Winnipeg, 2,100km (1,300 miles) to the west. As a result, Mr Asper has brought jobs to the city, as well as being a generous donor to local causes. But there is a more controversial aspect to Mr Asper's devotion to making Winnipeg great again. All of his family's papers, from British Columbia to Newfoundland, are now obliged to print company editorials, on national and international issues, written in Winnipeg. No subsequent deviation from the line they set is allowed in the local papers, which include the market leaders in most of Canada's big cities. This has provoked howls of protest, and not just because the papers concerned were used to substantial editorial independence before the Aspers took control. Canada is a country of several distinct regions. But ownership of its media is now highly concentrated. And nobody has as much control over what Canadians read and watch as the Aspers. Mr Asper has strong opinions. He is a former leader of the Liberal Party in Manitoba, and a friend both of Jean Chrétien, Canada's prime minister, and of Israel. Journalists fear that there is now no room for dissenting views: one columnist has been fired, another suspended and several stories killed because they expressed points of view the Aspers disagreed with."

Dems' 'Teenage Mutant' Moneyman,
New York Post, March 21, 2002
"Just call it the Teenage Mutant Ninja Democratic Headquarters. Dems wanted to keep it secret, but the moneyman behind their high-tech new headquarters - being built with soon-to-be-illegal 'soft' money - is Hollywood's Haim Saban of 'Teenage Mutant Ninja Turtles' fame. Saban, who made a fortune on children's TV shows like the Turtles and the 'Mighty Morphin Power Rangers,' won't say exactly how much he coughed up, except that it's no more than $10 million. But that's a record for the unregulated soft funds that would be banned under a Democrat-sponsored bill passed yesterday in the Senate. Until now, the record was a mere $1.7 million Amway gift to Republicans. The Dems are so grateful they've invited Saban to name their new building after himself. 'I don't know if I'm going to name it after me,' he told The Post. 'They gave me that option, but I haven't decided yet.' Democratic party chief Terry McAuliffe might be startled to hear Saban praise President Bush for a 'terrific job' on terror. The Israeli-born Saban also likes Bush's Mideast policy. He disagrees with the president only on domestic issues."

Do Jews Control the Media?, by Jude Wanniski,
supplysideinvestor.com, March 6, 2002
"Memo To: Mortimer Zuckerman, publisher, New York Daily News, US News&World Report, former publisher, The Atlantic Monthly, Chairman of the Conference of Presidents of Major American Jewish Organizations. From: Jude Wanniski Re: The Rev. Billy Graham's 1972 comment. Now don't get me wrong, Mort. I'm not saying just because you own a significant slice of the American news media and that you are a prominent Jewish leader means that Rev. Billy Graham was right in 1972, when he complained to President Richard Nixon that Jews control the media. I actually do think Jews dominate the news media when it comes to issues related to Israel, and I think that fact was what Nixon had in mind when he concurred. He mentioned the dominance of Jews in the Democratic Party, those who would never vote for him, but by 1972 Jewish cohesion was already most pronounced on the Arab/Israeli front. On Billy Graham's mind was the entertainment media, where he worried that the dominance of secular Jewish owners going back to the earliest days of Hollywood led the culture toward Sodom and Gomorrah."

Indecent Exposure. The Sordid Saga of How a Nice Girl from L.A. Is Bringing Hollywood to Its Knees, by Dana Kennedy, Entertainment Weekly,
"Call it a midsummer nightmare. The last thing Columbia Pictures needed after the resounding flop of Arnold Schwarzenegger's $75 million Last Action Hero was a woman named Heidi Fleiss. But the 27-year-old alleged madam-to-the-stars has given two of the studio's chieftains-executive vice president Michael Nathanson and executive vice president of production Barry Josephson-leading roles in the ever-widening Hollywood sex scandal. Yet the publication of their names in the Los Angeles Times and elsewhere has reportedly prompted Sony CEO Peter Guber to launch an internal investigation into the rumors that Fleiss' services were charged to the studio's coffers. 'It's like sleeping death around here,' says a Columbia development executive. 'Nothing's getting done. They're mounting investigations. It's all in the accounting department, that's what they're concerned about.' How did Columbia become embroiled in the biggest controversy to hit Hollywood in years? How did high-priced prostitution-long a traditional but discreet industry perk-become the topic du jour from L.A. to London?"

Hollywood Jews and the FTC Report,
Jewish Journal of Greater Los Angeles, September 22, 2000
"Leading Jewish Hollywood executives and directors responded with a sense of shame this week to the Federal Trade Commission's (FTC) report criticizing the marketing of media violence to minors. Reached by phone, they spoke with The Jewish Journal about how they struggled to reconcile their sense of social and moral responsibility with the demands of the marketplace ... Jeff Sagansky, CEO of Paxson Communications and former president of TriStar Pictures and CBS Entertainment, was outspoken in his criticism of the media for injecting children on a daily basis with what he dubbed 'a very toxic cocktail of violence and general irresponsibility.' He pointed to a score of studies over the past 20 years that link media violence with violent behavior. 'You can quibble with any single study,' Sagansky stated, 'but the net effect, if you read all these studies, is a direct correlation between violent behavior and the amount of violence the kids consume in the media' ... Even getting executives to speak about the issues as Jews proved difficult, as most of the executives reached preferred not to comment. 'One, they're a part of the system that propagates all this,' Sagansky said. 'And two, I think everyone in Hollywood is very, very afraid of government censorship. Which, by the way, they should be.'"

The Lady and the Racist Historian,
This Is London (Evening Standard), March 28, 2002
"Among London's intellectual elite there are few more glamorous than Michele Renouf, former wife of the late Sir Frank 'the Bank' Renouf, the wealthy New Zealand financier. As a former beauty queen turned model and actress, with a serious bent - she is studying for a University of London Masters degree in the psychology of religion. Lady Renouf moves easily among academics, captains of industry and media figures at parties hosted by the likes of Carole Stone, the salon queen, and at the prestigious Reform Club in Pall Mall, where she is a member ... Now, an email from Lady Renouf to her friends and fellow campaigners, has been passed to the Evening Standard. In it she encloses a study entitled Jewish Control Of The British Media. The document is a breathtaking work of anti-Semitism, maintaining that leading figures in the British media have deliberately sought powerful positions in order to further the Jewish cause. The author of the 11-page analysis is said to be Thomas Sparks. The Evening Standard has been unable to find any trace of Mr Sparks and, when asked if she could put the paper in touch with him, Lady Renouf declared she had no idea who he was. Mr Sparks's work claims to be 'an overview of the almost total Jewish control of the media in Britain at the end of 2001.'"

Mounting Evidence Links TV Viewing to Violence,
Christian Science Monitor, March 29, 2002
"For much of the past half century, the link between watching violence on television and violent behavior in everyday life has seemed an open question – embraced by one study, rejected by another, and largely left unanswered by years of congressional inquiries. That, however, is rapidly changing. To a growing number of scientists and psychiatrists, the correlation between the two is no longer a point of debate, it is an established fact. A study released today in the journal Science adds to a large body of work that suggests some sort of connection. Already, six major pediatric, psychiatric, and medical associations have said that the evidence of a link is overwhelming, citing more than 1,000 studies in the past 30 years."

Intractable Foes, Warring Narratives. While Much of the World Sees Mideast Conflict Through Palestinian Eyes, in America, Israeli View Prevails, by Eric Alterman,
MSNBC, March 28, 2002
"In most of the world, it is the Palestinian narrative of a dispossessed people that dominates. In the United States, however, the narrative that dominates is Israel's: a democracy under constant siege. Europeans and other Palestinian partisans point to the fact that the Israel lobby in America is one of the strongest anywhere, and Jewish individuals and organizations give millions of dollars to political candidates in order to reward pro-Israel policies and punish those who support the Palestinians. Another reason, however, is the near-complete domination by pro-Israel partisans of the punditocracy discourse. Some Jewish groups in America like to harass news organizations like The Washington Post or National Public Radio for what they believe to be coverage insufficiently sympathetic to Israel's plight. But even Ariel Sharon and Benjamin Netanyahu would not be able to complain about the level of support their actions typically receive from the members of the punditocracy. For reasons of religion, politics, history and genuine conviction the punditocracy debate of the Middle East in America is dominated by people who cannot imagine criticizing Israel. The value of this legion to the Jewish state is, for better or worse, literally incalculable, particularly when push — as it inevitably does in the Middle East — comes to shove."

In U.S. Media, Palestinians Attack, Israel Retaliates,
FAIR (Fairness and Accuracy in Reporting), April 4, 2002
"U.S. media coverage of the conflict has been intense in recent weeks, as the Israeli Defense Forces (IDF) mounted a large-scale invasion of the West Bank and Palestinian militants carried out several major suicide bombings. Amnesty International (4/3/02) has condemned the targeting of civilians by both sides, voicing concern over 'flagrant human rights abuses' by the IDF, including looting, mass detentions, the targeting of medical personnel and possible extrajudicial executions. Israel has tried to exclude the press from the entire area where the abuses are occurring; the Committee to Protect Journalists has expressed alarm (4/2/02) over the apparent targeting of reporters in 'ongoing incidents in which IDF forces have opened fire on, or in the direction of, journalists attempting to cover events in the West Bank.' With thousands of lives at stake and reporters risking their own lives, it's increasingly difficult-- but perhaps more urgent than ever-- to step back and examine how U.S. media have framed the story. To this end, FAIR has surveyed how the language of 'retaliation' has been used on the nightly news shows on ABC, CBS and NBC. From the start of the Intifada in September 2000 through March 17, 2002, the three major networks' nightly news shows used some variation of the word 'retaliation' (retaliated, will retaliate, etc.) 150 times to describe attacks in the Israeli/Palestinian conflict. About 79 percent of those references were to Israeli 'retaliation' against Palestinians. Only 9 percent referred to Palestinian 'retaliation' against Israelis. (Approximately 12 percent were ambiguous or referred to both sides simultaneously.) Both sides of the Israeli-Palestinian conflict routinely present their attacks as being retaliation for previous attacks or actions. Both sides portray their struggle as essentially defensive. Whether one regards these justifications as credible explanations or self-serving rhetoric, the fact is that reporters make choices about whether to report them. The network news shows have characterized Israeli violence as 'retaliation' almost nine times more often than Palestinian violence."

Media Picks Sides in Mideast, by Norman Solomon,
Working for Change, April 8, 2002
"In times of crisis, many policymakers and journalists pay special attention to the editorializing from America's most influential papers. The spin of news coverage and the mix of individual opinion pieces usually indicate the outlooks of the media establishment, but the editorials by powerhouse newspapers convey more direct messages. With carnage a daily reality in Israel and the West Bank, some editorials have been entirely predictable. The Wall Street Journal, true to ideological form, applauds Israel's iron fist and urges the White House to stand firm behind Israeli leaders ... Typically, both the [Washington] Post and the [New York] Times fixate on the strategic efficacy of the Israeli military offensive rather than its flagrant illegality and fierce cruelty ... Most editorial writers seem determined to detour around obvious parallels with apartheid-era South Africa. Evasions and apologetics for basic elements of Israel's policies dominate so much of the U.S. media landscape that insightful comments by Brzezinski were conspicuous: 'The Israelis are becoming increasingly like the white supremacist South Africans, viewing the Palestinians as a lower form of life, not hesitating to kill a great many of them.' Parrot-like, highly selective media use of the 'terrorism' label is providing top U.S. and Israeli officials with invaluable propaganda cover."

Israel's War Is Our War, Editorial, National Post, April 8, 2002
[The National Post is one of the many news organizations owned by avid pro-Israel activist Izzy Asper]
"Israel's campaign to destroy terrorist cells and weapons labs in the West Bank has produced results: hundreds of wanted terror suspects have been seized, as have thousands of illegal weapons and truckloads of documents that prove the complicity of Yasser Arafat's Palestinian Authority in the terrorist campaign that precipitated Israel's invasion ... Notwithstanding the poisonous anti-Israeli bigotry of the European media -- bolstered as it always has been by naive faith in Mr. Arafat's good intentions -- most Israelis believe their military campaign is every bit as justified as the U.S.-led campaign in Afghanistan. And they are right ... Which brings us to the Q&A with all five federal political parties published in today's Post. Their responses to questions about Israel's right to self-defence, the forms such self-defence may legitimately take, and the moral distinction between terrorism and counterterrorism betray a double-standard. Party spokespersons offer vague answers, and take cover behind UN resolutions."

How Free Is Our So-Called Press?
Toronto Star, April 26, 2002
"There are facts, and then there is the truth. When we consider media convergence in Canada — and, in particular, our biggest media conglomerate, CanWest Global Communications — it is important to understand that facts and truth are not always the same. Here's a fact: Several columns that once appeared in CanWest Global newspapers, including one by Stephen Kimber in the Halifax Daily News, have been killed, either for unspecified inaccuracies, or because they challenged corporate policy. All decisions, according to head office, have been made by local editors. Here's the truth: In a remarkable act of integrity, Daily News editor Bill Turpin resigned this week, but not before saying that he killed Kimber's column after being advised by Murdoch Davis, his CanWest boss in Winnipeg. 'I and other editors had been urged repeatedly by Mr. Davis to get his advice on any prospective commentary that might run contrary to Southam Publications' rapidly changing editorial policies,' Turpin said in an unpublished letter. 'To my profound regret, I did so in Mr. Kimber's case. Mr. Davis told me in colourful terms that publishing the piece would be a career disaster.' Issues of editorial control raised by his letter, and the sheer size of CanWest Global's influence over news, have raised legitimate questions about how free our so-called free press is. CanWest Global owns 27 daily newspapers. That's a fact. They include the National Post and major newspapers in Ottawa and six of 10 provincial capitals. They distribute 11.4 million copies every week. This is dwarfed by Global's television network, which beams itself to 94 per cent of English-speaking Canada (Source: CanWest Global). The company's radio, film, Internet and entertainment holdings give it unprecedented control over the information Canadians use every day ... CanWest's corporate motto is: "If you can watch it, read it, hear it, or download it, we want to be the source." Fair enough, but its owners want Ottawa to help by giving them more tax money, and emasculating the CBC. These are important public policy issues, but can we count on CanWest to allow a full debate of the pros and cons in its newspapers? It already orders its 14 largest papers to print identical, weekly editorials on national issues, and forbids any dissent. We are therefore right to ask: Do we want our newspapers edited by people who are afraid to publish strong opinions until they are cleared with head office? Do we want what Doug Creighton, founder of the Toronto Sun, called Wizard of Oz journalism — with no brains, no heart and no courage? Concerns about the effects of convergence are growing. Something must be done."

The AOL Time Warner Black Hole,
FoxNews, April 29, 2002
" The verdict is finally in: The AOL Time Warner (AOL) merger should not have happened. That's the message from last week's latest balance sheet convulsion to shake what was once known reverentially in certain parts as the House Of Luce. Specifically, the balance sheet net worth of the largest media conglomerate on earth has now been slashed by more than one-third in a biblical-sized tidal wave of losses, even as the man who presided over the drowning - Mr. Gerald M. Levin - heads for the exit door, a $1 million per year 'consulting' contract stuffed in his briefcase. His new mission, after trading the crown jewel of the American media for $95 billion worth of dot-com hype? To reconnect with his feminine side and 'write poetry' as he eases into early retirement. What a colossal disgrace, topped only by the pathetic efforts of the company's brass to spin the fiasco - which amounts to the largest balance sheet evisceration in American corporate history - as nothing more than a kind of accounting hiccup that affects nothing. No, I don't think so ... Finally last week, after more than fifteen months of bloodletting that has knocked 60 percent off the price of the combined companies' stock, the company announced that it was writing off $54 billion of its net worth as being completely unsaleable and without any value whatsoever. In fact, there's more of this certainly to come because the slide in the company's stock price since the merger has wiped out more than $160 billion of the company's market value, whereas last week's write-off has only thrown $54 billion of it into the trash bin. In other words, perhaps as much as $100 billion more could disappear before the carnage is complete."

Top Executive at ABC Television Leaves After One Year in the Job,
New York Times, May 1, 2002
"After what numerous executives described as a long period of uncertainty and even dysfunction at the highest management level of ABC, the network announced yesterday that Steven M. Bornstein was stepping down as president of ABC Television, the top executive position at the company. The move is the second change in senior management in the last several months at ABC, which is suffering through one of the worst television seasons in the company's history. Stu Bloomberg, a longtime creative executive who had been the co-chairman of ABC Entertainment, was ousted in January."

US, European Press Stand Divided Over Israel, Palestine,
Boston Globe, May 1, 2002
"The refugee camp in the West Bank town of Jenin, which was the site of furious fighting between Israelis and Palestinians, is now the focus of an equally intense battle for world opinion. It is also a classic example of the profound differences between US and European media coverage of the conflict in the Middle East. Much of the press in this country, while taking note of the physical destruction after the combat, was cautious in its treatment of Palestinian claims of a massacre. The Washington Post reported that interviews turned up ''no evidence' of 'large-scale massacres or executions by Israeli troops.' The New York Times said a visit to the refugee camp showed 'more destruction than death.' And Monday, the Globe reported that allegations of a massacre appeared to be 'crumbling under the weight of eyewitness accounts.' Across the Atlantic, the tone has been decidedly different. The Economist, a British magazine, said 'evidence of the Israeli army's absolute negligence in trying to protect civilian life is everywhere.' London's Independent made reference to 'grisly evidence of a war crime' and led one story by noting that 'the world finally got to see what Israel has done in the Jenin refugee camp yesterday.' The Guardian, also based in London, produced an April 17 story asserting that 'the outcry in the European press over the killings of civilians in Jenin has not been echoed in US newspapers.' These variations in style and substance reflect divergent views not only between the European and American press but between the two populations. A recent Pew Research Center poll indicates that by a 3-to-1 margin, Americans have more sympathy for Israel than for the Palestinians. But the Palestinians enjoy significantly more support than Israel in Italy, France, and Britain, the Pew researchers found, and marginally more in Germany, a nation still riddled with guilt over the Holocaust. It is a reality that partisans on both sides acknowledge."

Bill: TV or Not TV?
New York Daily News, May 3, 2002
"Former President Bill Clinton has rejected a pitch from NBC to front his own daytime talk show — but he isn't hitting the mute button on Bubba TV just yet. He sat through a presentation by top executives from the peacock network in California this week, and a spokeswoman said he'll listen to other television gabfest proposals ... NBC had no comment. But sources said NBC President Andrew Lack and NBC Entertainment President Jeff Zucker [both Jewish] were in the meeting. Ed Wilson, head of NBC's program syndication arm, is said to have also been involved in the discussions. One source at the network described the meeting as informal. 'If this was to happen, it would be happening out of syndication,' an executive said. 'It wouldn't be out of NBC News.'"

[Pridevision: Canada's Gay TV Network]
pridevision.com
"John Levy - Chairman & CEO. Armed with an LL.B. degree from the University of Toronto (and a member of the Law Society of Upper Canada since 1978), John Levy has been a player on the Canadian broadcasting scene for years. Until September, 1999, he was the President and CEO of Cableworks, one of the first cable systems in Canada to launch high-speed internet access over cable and considered a leader in the deployment of digital technology. Mr. Levy successfully spearheaded new CRTC license applications for both The Score, headline sports network, and PrideVision TV. He is the majority shareholder in Headline Media Group Inc., the company that owns PrideVision TV."

Citizen Annenberg So Long, You Rotten Bastard,
by Jack Shafer, Slate, October 2, 2002
"Obituaries for Walter H. Annenberg in the Los Angeles Times, New York Times, and Washington Post barely scrape the festering keratosis that was his career in crime, journalism, and politics. 'Media Tycoon Gave Fortunes to Others,' soft-pedals the Los Angeles Times. 'Walter Annenberg, Philanthropist and Publisher, Dies at 94,' intones the New York Times. 'Publisher, Philanthropist Walter Annenberg Dies,' echoes the Post. I'd prefer the headline, 'Billionaire Son of Mobster, Enemy of Journalism, and Nixon Toady Exits for Hell—Forced To Leave Picassos and van Goghs at Metropolitan Museum1 ... [Annenberg's father] Moe's bribery, blackmail, and mobstering career ended when he was indicted for tax evasion in 1939. Walter, a company VP, was indicted on charges of 'aiding and abetting.' Moe pleaded guilty, agreeing to pay the $9.5 million in back taxes and fines. Prosecutors offered to dismiss Walter's charges if Moe went directly to jail, which he did. Moe served two years and died 39 days after his release. Assuming control of his father's shattered company, Annenberg launched the phenomenally successful Seventeen magazine in the '40s and TV Guide in the '50s and acquired several radio and TV stations. Annenberg habitually turned his head to the right to obscure the disfigured ear he had been born with. His politics usually followed his ear after his second marriage, to Leonore Cohn Rosenstiel. Like his father, he used the Inquirer and his media empire as his bully pulpit, punishing enemies real and imagined."

Faces Of The Week,
Forbes, Oct. 8, 2002
"[Israeli citizen and] billionaire Haim Saban, looking to invest his newfound wealth, is in talks to buy Muppet-maker Jim Henson Co., at a steep discount to what Germany's EM.TV & Merchandising AG paid for it, according to people close to the situation ... Jim Henson produces movies, such as 'Muppets in Space,' and its world-famous creature shop makes well-known puppets such as Miss Piggy and the Cookie Monster, and creates special effects ... Saban, impresario of the popular and successful children's characters 'Mighty Morphin Power Rangers,' landed a $1.4 billion windfall last year when he and his partners sold cable station Fox Family Worldwide ... Saban is also bidding for insolvent German media group KirchMedia, Leo Kirch's eponymous--and insolvent--German media empire."

Larry Ellison's Golden Age; Profiteers of the Warfare State,
Chronicles Magazine, October 2002
[Jewish mogul] Larry Ellison has an idea. The relentlessly self-promoting CEO of Oracle Corp., a Silicon Valley software company famous for its ability to grab government contracts, envisions post-September 11 America as a country where everyone walks around with a 'smart card.' Days after the terrorist attacks, the opportunistic Ellison was all over the media claiming that 'We need a national ID card with our photograph and thumbprint digitized and embedded in the ID card.' Naturally, it would all be backed up by an Oracle database. And, of course, he will do it for free—at least until the first inevitable 'upgrade.' The only way to protect ourselves from terrorists is to 'ensure that all the information in myriad government databases was integrated into a single national file,' says Ellison. Oh, and we should not worry about the government intruding where it is not supposed to, because privacy is so pre-September 11: 'Well, this privacy you're concerned about is largely an illusion,' Ellison told news anchor Hank Plante of San Francisco's KPIX-TV shortly after September 11. 'All you have to give up is your illusions, not any of your privacy. Right now, you can go onto the Internet and get a credit report about your neighbor and find out where your neighbor works, how much they [sic] earn and if they [sic] had a late mortgage payment and tons of other information.'"

NBC Changes Top Executive at 'Today,'
Yahoo! News (Associated Press), Oct 10, 2002
"NBC's top-rated "Today" show is replacing its top executive, Jonathan Wald, amid reports of behind-the-scenes friction, according to an NBC executive who spoke on the condition of anonymity. A former producer at the competing ABC show, 'Good Morning America,' is one of the top candidates to replace Wald. Wald, former producer of NBC's 'Nightly News,' joined the morning show in May 2001, replacing the highly regarded Jeff Zucker, who was promoted to president of NBC entertainment.

CBS scores lowest grade for TV network diversity,
Yahoo! News, (from Reuters), July 17, 2002
"A multiethnic coalition gave the four major TV networks mediocre to near-failing grades on Thursday for their efforts to boost racial diversity on the air and behind the camera, blasting CBS as the slowest to embrace reforms. Seeking to turn up the heat on CBS, the coalition sent letters to board members of CBS' parent company, Viacom Inc. [Top two executives, Sumner Redstone and Mel Karmazin, are Jewish] , and eight of the network's leading advertisers, including General Motors Corp. and Procter & Gamble Co. , urging them to press CBS to do more for minorities. 'We're asking corporate America to join us in a partnership to make this happen,' said Karen Narasaki, the head of the consortium of civil rights groups, who singled out CBS President Leslie Moonves [also Jewish] for especially scathing criticism. 'Leslie Moonves was never that interested in significantly increasing opportunities for Latinos, Asian Americans and Native Americans. Now he appears to have lost interest altogether,' she said.

Europe Top historian attacks Hollywood over Nazis Films that glamorise the Third Reich distort children's view of the past,
Independent (UK), October 13, 2002
"Antony Beevor, the distinguished military historian and best-selling author of Stalingrad, has warned that Hollywood war movies are so historically inaccurate they could create a new generation of Nazi sympathisers. He believes that 'true story' war films such as U-571 and Enemy at the Gate have made the Third Reich dangerously appealing. Alienated young men could even sympathise with the concentration camp commandant in an openly anti-Nazi film like Schindler's List ... Fellow historians David Starkey from Fitzwilliam College, Cambridge and Niall Ferguson from Jesus College, Oxford told the conference which took place behind closed doors at Dartington Hall in Devon that school history is in now in 'crisis'. According to Professor Ferguson, sixth-formers applying to university know little of the past aside from Hitler and Stalin, thanks to the dominance of the Second World War in the national curriculum, GCSE and A-level courses - which he said should be scrapped. But his suggestion that the Holocaust was too complex an issue to be studied in detail by teenagers met with a hostile reaction from the Board of Deputies of British Jews. 'The lessons of the Holocaust are easily absorbed by children of 13,' said the Board's senior vice president Henry Grunwald QC. 'There is still too much intolerance, bigotry and prejudice in our society to allow the industrialised murder of millions of people to be glossed over.'"

Mitchell slates music industry,
BBC News, October 15, 2002
"Veteran singer-songwriter Joni Mitchell has hit out at the music industry, saying she is 'ashamed' to be part of it. The 58-year-old folk rock artist, who releases her new album Travelogue next month, told American magazine Rolling Stone that she may stop recording altogether. 'I just think it's a cesspool,' Mitchell said of the music business ... 'It's tragic what MTV has done to the world,' Mitchell said ... The musician, once described by her friend David Crosby as being 'about as humble as Mussolini,' has also attacked David Geffen, the head of her former label Geffen Records. She accused him of never paying her any royalties." [Who runs the "music industry," and always has? Do a "Find" search of "Kenneth Kanter" at this link-page; this name starts the music section]

Dell trumps HP for top PC spot,
Earthlink (from Associated Press), October 17, 2002,
"Dell Computer [founded and headed by Jewish mogul Michael Dell] has surpassed Hewlett-Packard to take the lead position in the global PC market, according to a new survey by research firm IDC. Based on unit shipments during the third quarter, the direct PC seller just topped its rival with 16 percent of the global market, compared with HP's 15.5 percent, according to IDC analyst Roger Kay."

Maxwell Killed by Mossad: New Book,
New York Post, October 25, 2002
"'Robert Maxwell, Israel's Superspy,' to be published in December by Carroll and Graf, claims Mossad decided to get rid of Maxwell because he was threatening to expose his knowledge of Israeli secrets unless he received Israeli help in propping up his failing businesses. Maxwell's sudden death at sea in November 1991 off the Canary Islands brought about the collapse of his worldwide publishing empire and triggered theories ranging from suicide, murder or accident. Maxwell - who owned the Daily News at the time - disappeared overboard just as the complex web of financial deals keeping his businesses afloat was beginning to unravel and a few weeks after U.S. investigative journalist Seymour Hersh published a book claiming Maxwell had close ties with the Israeli secret services. The new book, by British thriller writer Gordon Thomas and Irish journalist Martin Dillon, is based on interviews with former Mossad agents and chiefs."

Winona Jury Shocker,
Slate, October 28, 2002
"A Jury of Her Peers: How dumb were prosecutors to let Peter Guber, former head of Sony Pictures, on to the Winona Ryder [both Guber and Ryder, originally Horowitz, are Jewish] shoplifting jury? They must not have read Nancy Griffin and Kim Masters' Hit and Run: How Jon Peters and Peter Guber Took Sony for a Ride in Hollywood. If the lawyers in the D.A.'s office do get hold of a copy, they perhaps should pay special attention to the pages cited in the index entry: 'Guber/Peters ... and greed, 9, 108, 109, 119, 142, 148.' Can the prosecutors seriously think Guber is someone who's about to get all moralistic over a few missing hats and hair bands? ... "

On Eve Of Merger, Comcast Says It Can Play,
Forbes, October 29, 2002
"Comcast stands out as a port of sanity in a sea of mad overbuilding and overreaching. Yesterday, on the eve of closing its massive $46 billion acquisition of AT&T Broadband from AT&T, the company reported a quarterly profit of $75.6 million, or eight cents a share ... The QVC home shopping network, the least glamorous side of Comcast's business, posted a 13% increase in revenue, to $1.01 billion. Beyond QVC, Comcast owns E! Networks, Comcast-Spectacor, the Golf Channel and other channels. Advertising revenue increased nearly 12% to $93.2 million, reflecting in part a stronger local ad market. 'As we prepare to complete the merger with AT&T Broadband in the fourth quarter, we are building from a position of strength. Each of our businesses are financially and operationally strong and we have a solid balance sheet and liquidity position to support our growth,' [Jewish mogul] Brian Roberts, Comcast president, said in a prepared statement. As of today, Comcast is the third-largest U.S. cable company. After it merges with AT&T Broadband, which has seen its subscriber rate declining, it will be the largest."

Paint It Black,
by Max Hastings, Toronto Globe and Mail, October 19, 2002
Focus, p. F3
"For nine years as editor of the [British] Daily Telegraph, Max Hastings had to navigate the politics and personal passions of the paper's Canadian-born proprietor. In this exclusive excerpt from his compelling new book [An Inside Story, by Max Hastings (Macmillan, 2002), he offers an inside look at how [non-Jewish media mogul] Conrad Black does business ...As the years went by, [Black] also developed increasingly strong views on the Middle East question, and thus on our coverage of it. Especially after his purchase of the Jerusalem Post, Conrad showed himself an energetic supporter of the Israeli cause against that of the Palestinians. Conrad and I had several sharp exchanges, after pieces appeared in the Telegraph which he deemed anti-Israel or even anti-Semitic. One of Conrad's favourite terms of approbation was to describe a friend or colleague as 'giving me a high comfort level.' Conversely, when one of our writers erred in his eyes, I knew it was time to hoist storm signals when the chairman declared - with only a nod toward irony or conscious extravagance - that 'this snivelling product of some pinko journalism school administered by the John Pilger/Christopher Hitchens Trust for the propagation of liberal mendacity does not give me a high comfort level, Max.' It was ironic, therefore, when one of the major rows of our time together descended on Conrad because he was accused of publishing anti-Semitic material in one of his own organs. In November, 1994, a Los Angeles 'stringer' for the Telegraph, William Cash, wrote a piece for The Spectator - which the Telegraph had purchased from Algy Cluff in 1991 - suggesting that Hollywood was a Jewish town. In the wake of its publication, the roof fell in. A long roll-call of Hollywood luminaries headed by Tom Cruise, Steven Spielberg, Barbra Streisand and Kevin Costner wrote letters to Conrad and an open letter to The Spectator, and delivered diatribes to anyone who would listen, denouncing the Cash piece as a disgraceful piece of journalism. 'We have seen it all before, from the Inquisition in 13th-century Spain to the Holocaust of 20th-century Germany,' ran one of the less hyperbolic passages of their Spectator letter. 'When, to the editors of magazines like the Spectator, racist cant becomes indistinguishable from thoughtful commentary, it should sound a loud warning that we have not progessed so far after all.' I was sitting in Conrad's office while he took a call from an enraged Jack Valenti, speaking on behalf of the Hollywood Motion Picture Association, about the piece. They were demanding space not only in the Spectator, but also in the Daily Telegraph, to denounce the author. It was one of the few moments in my time with Conrad when I saw him look seriously rattled. I did not think the Cash piece represented memorable - perhaps not even tasteful - journalism, but nor did I believe that it deserved the ludicrous overreaction of the Hollywood community. Their demands, especially for space in the Telegraph, seemed absurd. I urged that they should be given a right of reply in The Spectator, but otherwise told to take a running jump.' Conrad said: 'You don't understand, Max. My entire interests in the United States and internationally could be seriously damaged by this.' The complaints eventually subsided. So too did the row, as I was growing to understand that all rows eventually do. [Note: the assertions by William Cash in The Spectator are, of course, true -- see here for more about the Cash incident, and a long, documented investigation about Jewish hegemony in Hollywood]

'Let's talk about anything but our movie.'An intimate conversation about spirituality and Judaism with Hollywood heavyweights David Levien and Brian Koppelman,
Jewsweek, October 2002
"From the moment the door closes behind me, I know this interview is going to be different. Film director Brian Koppelman, sporting a 'Hoops is religion' t-shirt, escorts me into his suite at the swank Ritz Carlton hotel in midtown Atlanta. Seated at the table, relaxed and drinking a cup of coffee, is his writing/directing partner David Levien. We all sit down and this is the first thing Koppelman says: 'Jewsweek -- now that's a cool name.' The two Hollywood heavyweights, both Jewish, are in town to promote their new film, Knockaround Guys, but it seems like that's the last thing they want to talk about. 'Is there a large Jewish population here?' Levien asks, genuinely interested. A short game of Jewish geography ensues. 'Are you married? Did you grow up religious?' Koppelman asks me. And here I thought I was interviewing them. It seems they've spent the last 24 hours discussing their film, a mob comedy starring A-list stars Dennis Hooper, John Malkovich, and Vin Diesel, cast as perhaps the strongest looking man ever to sport a Star of David tattoo. When a fellow Jew walks into the room, it seems, the last thing they want to do is self-promotion. Koppelman and Levien are proving a point that becomes clear over the next hour: They have their priorities in order. While making movies is how they make a living, it's being Jewish that dictates their life. 'It's a real part of our lives,' Levien says, leaning back in his chair. 'It shapes who you are' ... I tell them about a recent Time magazine article that said that 'show business is a homophobic, anti-Semitic industry dominated by homosexuals and Jews.' I ask if they encounter a lot of self-hating Jews in their business. 'Being a Jew in Hollywood, you're not looked at as scant in any way,' Levien says. 'It's not a handicap. Maybe it's even a help in some ways.'"

Doers and doings in business, entertainment and technology: Michael Eisner says there's no broader strategy with Microsoft,
Forbes, October 24, 2002
"[Jewish mogul] Michael Eisner's Walt Disney and Microsoft's MSN [Microsoft is headed today by Jewish mogul Steve Ballmer] announced they are banding together to launch a family-friendly Internet service in a bid to challenge embattled industry leader America Online, a unit of AOL Time Warner. The new service will offer items such as parental controls and new start-up pages for kids that are filled with Disney characters like Mickey Mouse and Donald Duck, as well as a separate start page for adults, the companies said in a statement."

The cat's whiskers,
Guardian (UK), February 3, 2002
"As last week's figures show, BBC radio is now drawing in an as many listeners as it ever has, and it's all down to Jenny Abramsky ... But Abramsky is something more than a competent technician. She is credited with a revival in the fortunes of British radio, a medium that doom-mongers insisted 25 years ago might not survive into the new millennium ... Abramsky is untypical of BBC managers, many of whom until recently came from the mould of Lord Reith. She was educated at Holland Park Comprehensive. One of her grandfathers was a rabbi in Moscow, imprisoned by Stalin. Her father, Chimen, was a professor of Jewish studies. Her mother, Miriam, a leading social worker and former communist, was in Brick Lane during Oswald Mosley's fascist marches ... After a university education at East Anglia, Abramsky landed a coveted place as a BBC radio trainee in 1969. In those days, it was considered a Rolls-Royce career opening. 'We just thought it was an incredible privilege to do a job like that and get paid for it,' said Alan Yentob, now in charge of drama and entertainment of the BBC, who joined at the same time ... Jonathan Ross now has an audience of three million younger people on a Saturday morning and 12.3 million people tune in every week."

What's Really Going on In Hollywood,
Film Industry Reform Movement, 1997
[A book-length examination of Hollywood discrimination by John Cones]
"This book is dedicated to all of the African Americans, Hispanic/Latinos, Native Americans, Asian Americans, German Americans, Italian Americans, women, gays/lesbians, Christians, Muslims, Arabs and Arab-Americans, White Southerners and others who have been victimized by Hollywood employment discrimination and patterns of bias on the screen for some 100 years ... Hollywood is, in fact, controlled by a small group of Jewish males of European heritage, who are politically liberal and not very religious; a narrowly-defined group that is either making the kinds of movies its members want to see, and sometimes producing movies it is being pressured into making by various segments of the broader so-called 'Jewish community'".

Who Really Controls Hollywood,
by John W. Cones, Film Industry Reform Movement
[Cones has researched the ethnicity of the power hierarchy of Hollywood. He lists individuals, cites bibliographic sources about their ethnicity, and evidences that Jews overwhelmingly dominate the Hollywood power structure]

American Jews and the Efforts to Reform Motion Pictures, 1933-35,
by Felicia Herman, American Jewish Archives Jounral,
http://huc.edu/aja/Article-FeliciaHerman.pdf
"This concern for the public image of American Jews has always been an essential component of the American Jewish releationship to the film industry. Throughout the twentieth century, various elements of the American Jewish community sought to influence the content and message of American motion pictures ... The Jewish relationship to the film industry is a particularly valuable area in which to understand the Jewish quest for status and concern for appearances, for here Jews were forced to articulate quite concretely -- indeed, even visually -- the way they wanted to be perceived by the outside world ... Between 1930 and 1934, American debates over film content reached a fevered pitch, and would-be film reformers -- primarily Protestant and Catholic clergy and lay leaders -- accused the motion picture industry of intentionally corrupting the morals of the film audiences by foisting a seemingly endless stream of salacious motion pictures on the American people. Because 'Hollywood' had long been synonymous in many film reformers minds with 'Jews,' attacks on the industry in this period often revealed disturbing, antsemitic undertones. Drawing on a rhetoric that stretched back for at least two decades -- and on a much older antisemitic theme associating Jews with sexual immorality -- many reformers argued that immoral films were the result of the inherent immorality of the Jews who made them."

Asper's charges of media bias 'bizarre,'
Globe and Mail (Toronto),by Doug Saunders, November 1, 2002
"After a long, angry speech by Winnipeg media mogul Izzy Asper, which accused most of the world's media of being insufficiently pro-Israeli and implied that reporters are anti-Semitic, bewildered journalists yesterday struggled to respond. Mr. Asper's Wednesday night speech, which was reprinted prominently in his city papers and the National Post, effectively positioned Mr. Asper and his newspapers to the far right of most of the world's major media. As with speeches he delivered last month with former Israeli prime minister Benjamin Netanyahu, it repeated the Israeli Likud party's conservative and aggressively anti-Arab views. This time, though, he named names, accusing the CBC, The New York Times, The Washington Post, the Associated Press and Reuters wire services, ABC, CBS, NBC, CNN, BBC, the British Guardian, Independent, Evening Standard and Daily Mirror newspapers, as well as ITV and Sky News networks, and other outlets of being 'lazy, or sloppy, or stupid . . . [or] plain and simple, biased or anti-Semitic.' He singled out the CBC and its former Middle East reporter Neil MacDonald, accusing them of providing 'the most slanted and biased information' and of routinely practising 'dishonest reporting.' In particular, he demanded that reporters in the Mideast, such as Mr. Macdonald, refer to all Palestinian militants as 'terrorists.' Tony Burman, head of the CBC-TV news division, said yesterday that he considered Mr. Asper's opinions 'bizarre,' and that he would be demanding space to respond to the accusations in the Asper-owned papers. 'To suggest that most of the world's media are involved in a conspiracy against Israel, it's just a totally extreme conception on Asper's part.' ... 'There is something profoundly ironic about being told off about media bias by someone like Izzy Asper,' said Mr. Burman, apparently referring to Mr. Asper's former practice of forcing his city papers to print company-written editorials that expressed the owner's views."

The Secret History of Television Corporate power, patent law, and lone inventors,
Reason, November 2002
"Here's a story for you. Inspiration strikes a Mormon farmboy, the improbably named Philo T. Farnsworth, as he plows a potato field in Idaho. Armed with his new insight, he moves to L.A., finds investors and assistants, and on a shoestring invents television. A corporate giant tries to steal his creation, and a long, expensive legal fight ensues. Farnsworth wins the battle but loses the war, successfully defending his claim to the patent but nonetheless watching most of the credit -- and most of the profits -- accrue to the Radio Corporation of America (RCA) and its self-aggrandizing chief, [Jewish mogul of RCA and NBC] David Sarnoff. Farnsworth spends his last years chasing the dream of nuclear fusion, then dies poor, depressed, and virtually forgotten. It's not a bad tale. Drain out the melodrama and sprinkle in some nuance, and you'll find it's actually true. The saga of Philo Farnsworth may have a special resonance in the dot-bust era, as battles rage over intellectual property and corporate turpitude dominates the headlines. Or perhaps it's just a coincidence that two books about Farnsworth have been published this year: Evan Schwartz's The Last Lone Inventor: A Tale of Genius, Deceit, and the Birth of Television (HarperCollins) and Daniel Stashower's The Boy Genius and the Mogul: The Untold Story of Television (Broadway)."

The Overachievers: Viacom's Clear Signal,
Forbes, November 5, 2002
"In a year when media companies large and small have been absolutely pummeled by cutbacks in advertising, Viacom is an amazing anomaly. The company, led by Chairman and Chief Executive Sumner Redstone [born Murray Rothstein], has seen sales grow for all of its divisions ... But one of the reasons Viacom has prospered is that it has little exposure to areas where advertising has been hit the hardest--print publications and on the Web. Rather, Viacom has significant television assets that include the CBS network, which is pulling in big audiences with some of its prime-time shows like Everybody Loves Raymond and Survivor. Its cable networks include MTV and the hugely successful reality show The Osbournes and Nickelodeon, whose children's cartoon show SpongeBob SquarePants is emerging as a cultural phenomenon. Viacom's other television properties include UPN, Black Entertainment Television and TV Land, all of which have relatively small but growing audiences. The other gem in Viacom's gold mine is Blockbuster Entertainment , of which it owns 81% ... Next up, Redstone and President Mel Karmazin [also Jewish] say they are on the prowl for cable networks. The Comedy Channel, which Viacom already half owns--AOL Time Warner owns the other half--and the Discovery Channel have been mentioned as potential targets."

The Berman Bill The representative from Hollywood wants to create an online corporate vigilante posse to wipe out peer-to-peer file sharing,
Digital Speech Project
"On 25 July 2002, US Rep. Howard Berman (D-CA) introduced a bill to allow copyright holders to engage in otherwise illegal network vandalism against P2P network users that share copyrighted materials. The copyright holders (such as record companies) would be empowered to act as prosecutor, judge, and jury, and to use familiar cracker tactics such as spoofing and interdiction (also known as 'distributed denial of service') ... Representative Berman's district includes North Hollywood, San Fernando, and surrounding areas near Los Angeles. This area is home to many of the most influential (and wealthy) figures of the movie industry. Furthermore, if you examine the corporate affiliation of Berman's donors, you'll find that the largest group represents Disney, with the top ten including media giants AOL Time Warner, Vivendi Universal, Viacom, Dreamworks, and Sony. Clearly Berman is representing both his district and his donors by introducing a bill that would give media companies the power of law enforcement."

Knight on the wrong horse,
Arab News (Saudi Arabia), November 13, 2002
"The US entertainment industry and media (which we all know is not, cannot be, controlled by Zionists and pro-Zionists — the Aarons to Zimmermans are surely coincidence) stereotype and vilify Arabs and Muslims day-in, day-out, in movies, books, mainstream publications and talk shows, with no regard to history, actuality, or factuality. Spin this way, spin that way, distort, convolute, improvise, bastardize, it's all there. Let's not even get into what is said and portrayed in the darling ally, the only regional democracy of democracies, about their neighbors. Heck, they teach their own kids that there was nobody around a few decades ago, right as they sit in the very usurped homes of the ghost people who purportedly were never there. But, then, the Palestinians took a different evolutionary approach. They didn't evolve the way the rest of us did. It seems that they metamorphose directly from cells in the soil. Darn! Darwin, where art thou? Where do you get off trying to smother the freedom of speech, expression, opinion, and artistic work of a local TV production, whether factual or fictional, while decades-worth of productions demonizing, stereotyping and vilifying "Red Injuns," "Japs," "Gerries," "Vietcong," "Arab Shieks" and on, and on, live in the memories of millions and are on video shelves for the renting? And please don't give us the sob story about the Elders of the Protocols of Zion being used as the basis for pogroms and the Holocaust, not when those very events (sad as they were, and promoting of egalitarianism as they should have been) were the pretexts for repeat brutality, eviction, murder, plunder, and apartheid by the Zionists against Palestinians. By perpetuating injustices done to them, Zionists have unwittingly (perhaps not) legitimized original sin. No one is surprised that the Israelis would object to this work. They're prone to barking. Besides, if they object to something, there's got to be at least some right in it. But for the US State Department to take it up on their behalf? Especially when it flies in the face of the very freedoms the US purportedly stands for? ... It's no surprise when Zionists attempt to portray Arabs or Muslims as being 'anti-Semitic.'"

Canada: CanWest 'muzzles' staff, Corporate Censorship, CanWest-owned papers across Canada have pulled and censored not only any articles which criticise the corporation, but also those that simply fail to toe its line, the principal tenets of which are support for Israel and for the government of Prime Minister Jean Chrétien,
Index on Censorship, April 2002
"Canadian Journalists for Free Expression (CJFE) published a report on 15 April giving a balanced but firm view of the controversy surrounding allegations of corporate censorship in the CanWest Global media conglomerate. The report made it clear that 'freedom of expression includes the right of proprietors of news organisations to publish what they want in the media they own', but condemned CanWest for trying to 'muzzle its employees'. Since absorbing Hollinger, in the largest media take-over deal in Canadian history, the corporation, run by the Asper family, owns over 130 newspapers in Canada, including 14 major metropolitan dailies and a 50% stake in one of the country's largest national papers, the National Post. CanWest Global also has a television network in Canada and media interests in Ireland, Australia and New Zealand. CanWest-owned papers across Canada have pulled and censored not only any articles which criticise the corporation, but also those that simply fail to toe its line, the principal tenets of which are support for Israel and for the government of Prime Minister Jean Chrétien. CanWest's contempt for editorial independence was formally expressed in December 2001, when it introduced a policy of imposing three centrally-produced editorials a week on all its major publications, through its subsidiary, Southam newspapers ...In January, Halifax Daily News columnist Stephen Kimber resigned (after fifteen years on the paper) when his column criticising CanWest was spiked. Two colleagues followed suit after they were not permitted to report on the resignation. Bill Marsden, an investigative reporter for the Montreal Gazette, has been monitoring CanWest's interference and directives: 'They do not want to see any criticism of Israel. We do not run in our newspaper op-ed pieces that express criticism of Israel and what it is doing in the Middle East. We even had an incident where a fellow, a professor wrote an op-ed piece for us criticising the anti-terrorism law and elements of civil rights. Now that professor happens to be a Muslim and happens to have an Arab name. We got a call from headquarters demanding to know why we had printed this.' Various international Press organisation have condemned CanWest's behaviour. According to Robert Cribb, president of the Canadian Association of Journalists, there have been many other cases of journalists on CanWest papers getting into trouble. He warned though that the real worry is the self-censorship that ensues: 'It's not the four or five we've heard about, it's about the dozens of journalists who self-censor as a result of this very public policy.' The management of CanWest remained defiant. 'I can say to our critics and to the bleeding hearts of the journalist community that it's the end of the world as they know it, and I feel fine,' declared David Asper, publications committee chairman, gleefully misquoting the REM song. The CJFE report said that media companies should defend freedom of expression because they are among its chief beneficiaries, and urged CanWest to cancel all pending disciplinary action against its employees, and to invite those who have left their posts to return to them. It also called for an Independent government enquiry look into the potential impact on free expression of media ownership concentration." [The Canadian Journalists for Free Expression Report about Asper and CanWest is here.

A New Cable Giant. AT&T Comcast will be unprecedented in size and influence--but must win over skeptical investors and sell unproven services, Business Week, November 18, 2002
"You would never know that [Jewish mogul] Brian L. Roberts was about to be catapulted into the media elite. In mid-November, his company, cable operator Comcast Corp., is expected to close its $54 billion acquisition of AT&T Broadband, the biggest deal in the industry since the AOL Time Warner (AOL ) merger in 2001 ... Roberts practically grew up in the cable business (his father, Ralph, founded Comcast in 1963) and has a reputation as one of the best operators and toughest negotiators around, but he has never faced a challenge like this. In fact, no one in the industry has. Roberts' new company, AT&T Comcast Corp., will be unprecedented in size and influence. Before the merger, he could count a respectable 8.5 million customers in four major cities. Now, 21 million customers in 17 of the top 20 cities will be hooked up to his systems. That's nearly twice as many as the next biggest operator, Time Warner Cable. Put another way, it's in one of every five homes in America that has a television. AT&T Comcast could bring in some $24 billion in 2003, more than Time Warner and Charter Communications combined ... Even more daunting for Roberts is that AT&T Comcast will be so big that it is certain to shift the dynamic of power in the media business. Roberts, who likes to say his favorite TV show is the midnight special on his own QVC shopping channel, will effectively be the nation's top entertainment gatekeeper. Think about it: Nobody will have more control over which TV channels, Internet services, and movies are piped into U.S. homes--not News Corp.'s Rupert Murdoch, not Sumner Redstone at Viacom Inc. Right from the start, Roberts will have the clout to do what cable executives have wanted to do for years: dictate what shows will reach a mass audience and at what price ... Consumer advocates, though, worry about how thoroughly Roberts will dominate the industry. 'AT&T Comcast will be the single most powerful media company in the U.S.,' says Jeffrey Chester, executive director of the Center for Digital Democracy, a public-interest group that is a staunch critic of the Comcast-AT&T deal. 'They will most certainly determine everyone's digital destiny' ... [Roberts has] bought big stakes in several cable channels, including QVC Inc. and E! Entertainment Television, as well as two Philadelphia sports teams (not for vanity, either--the unassuming Roberts has only met the 76ers All-Star point guard Allen Iverson twice in six years) ... Even Brian's mother, Suzanne, an actress, has a weekly half-hour show about 'living well' that airs on a Comcast channel ... At a recent industry dinner honoring Roberts, AOL Time Warner's Parsons said his ascension to the head of Comcast was his birthright: 'The crown prince has assumed the throne.' Then he joked that the mohel at Roberts' bris [the traditional Jewish circumcision] had used cable splicers."

The one serious subject Hollywood doesn't avoid More than 170 films about the Holocaust have been made since 1989. Six more are out this fall,
Christian Science Monitor, November 22, 2002
"At a time when fantasies, comedies, and frivolous fare dominate the movie marketplace, films on serious subjects often seem like an endangered cultural species. Yet one utterly serious event - arguably the gravest of the past century - retains strong relevance for filmmakers and audiences. This is the Holocaust, with the evidence it contained of a bestial inhumanity lurking at the heart of contemporary life. One sign of ongoing interest in Holocaust films is the arrival of four new movies on the subject in American theaters during the next two months: 1The Pianist' and 'Amen' dramatize true experiences; 'Max' is historical fiction; and 'Blind Spot - Hitler's Secretary' is a documentary. Another sign is the publication of Annette Insdorf's definitive book 'Indelible Shadows: Film and the Holocaust' in a new edition next month. The author discusses no fewer than 170 films that have been made or rediscovered since the last edition in 1989. 'I could have devoted a whole new book to the recent titles alone," said Ms. Insdorf in a recent interview ... Hollywood began tackling the subject in earnest with Stanley Kramer's epic 'Judgment at Nuremberg' in 1961, and Steven Spielberg renewed its impact for a new generation with 'Schindler's List' in 1993, earning his first Oscar for best director. Filmmakers have taken on Holocaust themes for many reasons, including personal ties to the subject or a wish to explore their own Jewish roots ... 'Movies made during or just after the war often show a belief in interfaith solidarity,' she observes. By contrast, Holocaust movies of the '50s and '60s usually focus 'on Jewish victims and Nazi villains, establishing basic facts of deportation and extermination.' Later releases like 'Schindler's List' tend to concentrate on 'resistance and rescue,' in Insdorf's words."

Robert Maxwell Was a Mossad Spy. New claim on tycoon's mystery death,
By Gordon Thomas And Martin Dillon, Mirror, (UK), Decemer 5, 2002
[Robert Maxwell, born Ludwig Hoch, was a Jewish immigrant from Czecheslovakia to Great Britain]
"Eleven years after former Daily Mirror owner Robert Maxwell plunged from his luxury yacht to a watery grave, his death still arouses intense interest. Many different theories have circulated about what really happened on board the Lady Ghislaine that night in May 1991. Some believe the 67-year-old tycoon simply slipped into the sea, perhaps after a few drinks. Others think Maxwell took his own life amid increasing troubles in his business empire - after his death investigators discovered he had been secretly diverting millions of pounds from two of his companies and from employee pension funds in an effort to keep solvent. But now, after two and a half years of investigative journalism, we believe we have unearthed the true story of Maxwell's death and can reveal how he was murdered by the Israeli secret service, Mossad. Our work, supported by documents, including FBI reports and secret intelligence files from behind the Iron Curtain, shows Maxwell had worked as a secret super spy for Mossad for six years. The Czech-born millionaire and former Labour MP died the way he had lived - threatening. He had threatened his wife. Threatened his children. Threatened the staff of this newspaper. But finally he issued one threat too many - he threatened Mossad. He told them that unless they gave him £400million to save his crumbling empire, he would expose all he had done for them. In that time, he had free access to Margaret Thatcher's Downing Street, to Ronald Reagan's White House, to the Kremlin and to the corridors of power throughout Europe. On top of that he had built himself a position of power within the crime families of eastern Europe, teaching them how to funnel their vast wealth from drugs, arms smuggling and prostitution to banks in safe havens around the globe. MAXWELL passed on all the secrets he learned to Mossad in Tel Aviv. In turn, they tolerated his excesses, vanities and insatiable appetite for a luxurious lifestyle and women. He told his controllers who they should target and how they should do it. He appointed himself as Israel's unofficial ambassador to the Soviet Bloc. Mossad saw the advantage in that. Having learned many of the key secrets of the Soviet empire, Maxwell was given his greatest chance to be a super spy. Mossad had stolen from America the most important piece of software in the US arsenal. Maxwell was given the job of marketing the stolen software, called Promis. Mossad had reconstructed the software and inserted into it a device which enabled them to track the use any purchaser made of the it. Sitting in Israel, Mossad would know exactly what was going on inside all the intelligence services that bought it. In all, Maxwell sold it to 42 countries, including China and Soviet Bloc nations. But his greatest triumph was selling it to Los Alamos, the very heart of the US nuclear defence system. The more successful Maxwell became the more risks he took and the more dangerous he was to Mossad. At the same time, the very public side of Maxwell, who then owned 400 companies, began to unwind ... The group of Mossad plotters sensed, like Solomon, he could bring their temple tumbling down and cause incalculable harm to Israel."

Who Owns What,
Columbia Journalism Review
[Lists of which media companies own which others]
"Media companies continue to grow, and a shrinking number of them shape what we view and read. What does that mean for journalists -- and for the nation?"

CURRENTS: POLITICS Can Bloomberg Cover Bloomberg?,
Columbia Journalism Review, January-February 2002
"When the owner of Bloomberg News [Michael Bloomberg] ran for New York City mayor [an election he won], the press reported on the billionaire candidate's unorthodox remarks, his daily calls to his ninety-two-year-old mother, and the $69 million he spent on the campaign. But Bloomberg News ran tepid summaries of these stories, penned by reporters not on Mike Bloomberg's payroll ... On January 1, this short-term ethical dilemma became a way of life. Bloomberg News, which in 2000 assembled a fourteen-member team to cover general New York news, has to figure out how to cover the boss ... 'Are people going to accept that we're not an agent of Mike Bloomberg?' asks one Bloomberg journalist. "After the election a lot of people made jokes like 'Will you be the new press secretary?' It was bothering me. I began to fear that my credibility was going to go down the tubes. These things really have not been addressed' ...Bloomberg News hired Tom Goldstein, dean of the Columbia School of Journalism and former press secretary of Mayor Ed Koch, as arbiter ... The staff, like much of the city, was surprised that Bloomberg won. He had never held office, and he ran as a Republican in a city that is five-to-one Democratic. City hall reporter Henry Goldman, a Bloomberg employee since 1999 who once covered New York for The Philadelphia Inquirer, has grown tired of the mock post-election 'congratulations.' He says he is just eager to get back to the business of covering a mayor, and is confident he can do so fairly. 'I told Bloomberg a long time ago, 'I'm not related to you. I don't owe you anything except honesty and fairness,'" says Goldman. 'I don't feel that I have a conflict.'"

Canada: CanWest 'muzzles' staff, Corporate Censorship, CanWest-owned papers across Canada have pulled and censored not only any articles which criticise the corporation, but also those that simply fail to toe its line, the principal tenets of which are support for Israel and for the government of Prime Minister Jean Chrétien,
Index on Censorship, April 2002
"Canadian Journalists for Free Expression (CJFE) published a report on 15 April giving a balanced but firm view of the controversy surrounding allegations of corporate censorship in the CanWest Global media conglomerate. The report made it clear that 'freedom of expression includes the right of proprietors of news organisations to publish what they want in the media they own', but condemned CanWest for trying to 'muzzle its employees'. Since absorbing Hollinger, in the largest media take-over deal in Canadian history, the corporation, run by the Asper family, owns over 130 newspapers in Canada, including 14 major metropolitan dailies and a 50% stake in one of the country's largest national papers, the National Post. CanWest Global also has a television network in Canada and media interests in Ireland, Australia and New Zealand. CanWest-owned papers across Canada have pulled and censored not only any articles which criticise the corporation, but also those that simply fail to toe its line, the principal tenets of which are support for Israel and for the government of Prime Minister Jean Chrétien. CanWest's contempt for editorial independence was formally expressed in December 2001, when it introduced a policy of imposing three centrally-produced editorials a week on all its major publications, through its subsidiary, Southam newspapers ...In January, Halifax Daily News columnist Stephen Kimber resigned (after fifteen years on the paper) when his column criticising CanWest was spiked. Two colleagues followed suit after they were not permitted to report on the resignation. Bill Marsden, an investigative reporter for the Montreal Gazette, has been monitoring CanWest's interference and directives: 'They do not want to see any criticism of Israel. We do not run in our newspaper op-ed pieces that express criticism of Israel and what it is doing in the Middle East. We even had an incident where a fellow, a professor wrote an op-ed piece for us criticising the anti-terrorism law and elements of civil rights. Now that professor happens to be a Muslim and happens to have an Arab name. We got a call from headquarters demanding to know why we had printed this.' Various international Press organisation have condemned CanWest's behaviour. According to Robert Cribb, president of the Canadian Association of Journalists, there have been many other cases of journalists on CanWest papers getting into trouble. He warned though that the real worry is the self-censorship that ensues: 'It's not the four or five we've heard about, it's about the dozens of journalists who self-censor as a result of this very public policy.' The management of CanWest remained defiant. 'I can say to our critics and to the bleeding hearts of the journalist community that it's the end of the world as they know it, and I feel fine,' declared David Asper, publications committee chairman, gleefully misquoting the REM song. The CJFE report said that media companies should defend freedom of expression because they are among its chief beneficiaries, and urged CanWest to cancel all pending disciplinary action against its employees, and to invite those who have left their posts to return to them. It also called for an Independent government enquiry look into the potential impact on free expression of media ownership concentration." [The Canadian Journalists for Free Expression Report about Asper and CanWest is here.

Alleged Jewish 'Control' of the American Motion Picture Industry,
Anti-Defamation League
"For the better part of this century, anti-Semites have alleged that American Jews have conspired with their co-religionists to 'control' the motion picture industry in the United States. The assertion that Jews 'control' Hollywood, the media, banking and finance, among other things ... As late as 1921, [Henry Ford's] the Dearborn Independent still proclaimed: 'The motion picture influence of the United States -- and Canada -- is exclusively under the control, moral and financial, of the Jewish manipulators of the public mind.' The publication asserted that 'the picture business, on its commercial side, is Jewish through and through' and that 'the American Public is as helpless against the films as it is against any other exaggerated expression of Jewish power' ... To the present day, anti-Semites have continued to allege that Jews are engaged in a conspiracy to 'control' Hollywood ... Even a reputable British magazine in 1994 revived the stereotype of Hollywood in which an alleged 'Jewish cabal' controls the industry. The article, in The Spectator, authored by William Cash, a Hollywood correspondent for the conservative British newspaper The Daily Telegraph, contended that Jews have created an 'invidious and protective culture' that denies employment to non-Jews ... In an essay headed 'Who Says Jews Control Hollywood?' published in the February/March 1995 issue of Midstream magazine, Steven G. Kellman, a professor at the University of Texas in San Antonio, wrote: 'Boosters and antisemites agree: Jews have been prominent and predominant in all phases of the [motion picture] business: production, distribution and exhibition.' He noted that, at the time, 'Of the 100 most powerful people in the industry according to a recent survey by Premiere, most, including the top 12, are Jewish,' but observed, 'Though individual Jews control Hollywood, Jewishness does not' ... While statistics and studies on the subject are not readily available, the Anti-Defamation League believes that the recitation of numbers and percentages is not the answer to the false charges of Jewish 'control' of the motion picture industry, or, indeed, of similar accusations involving the media, banking, finance and other businesses. Reliance on statistics alone plays into the hands of anti-Semites."


A Call for Media Democracy FAIR,
Bankindex (from FAIR), December 8, 2002
"As the country reels from some of the biggest business scandals in U.S. history, the Federal Communications Commission (FCC) is getting ready to give big media a big gift-- the rollback of some of the last regulatory checks on media consolidation. As part of its 2002 Biennial Review, the FCC is 'reconsidering' many of the rules that have preserved at least some vestige of media diversity ... Among the public interest protections under threat: Newspaper/Broadcast Cross-Ownership Rule. Prevents the owners of a broadcast station from owning daily newspapers in the same market, and vice versa. National Broadcast Ownership Cap. Is meant to prevent one company from owning broadcast stations that reach more than 35 percent of U.S. households. The courts have asked the FCC to provide a fuller justification of the rule, but the FCC seems ready to give it up. Local Radio Ownership Rule. Caps the number of radio stations a company can own in a single listening area to eight or less, depending on the area's size. Duopoly Rule. Limits a company to owning two broadcast TV stations in a given market. Dual Network Rule. Bars the major TV networks-- ABC, CBS, Fox, NBC-- from merging with each other. If these rules are scrapped, big media's gain will be the public's loss. For example, without the newspaper/broadcast cross-ownership ban, many communities may find their only local daily paper has been bought by one of the TV networks." [Who rules the Mass Media?]


[NOTE: USC is one of the top film schools in the country]
Day of the Jewish Trojan. USC's recruitment effort makes significant gains, countering the school's embarrassing history of sometimes alienating Jews,
by Stuart Silverstein, Los Angeles Times, December 11, 2002
"In the University of Southern California admissions office, Jessica F. Pashkow works alongside colleagues who specialize in bringing Latino and black undergraduates to campus, a goal of many universities around the country. Pashkow's job is a rarer sort: She recruits Jews. She urges co-workers — only half jokingly — to alert her to top prospects whose last names end, for example, in 'berg,' 'baum' or 'bloom.' She makes the rounds of college fairs at high schools in Southern California's Jewish neighborhoods. Wherever she goes, she strategically places 'Jewish Life at USC' brochures on the edge of her display table. If someone picks up a copy, Pashkow discreetly mentions her role in Jewish recruitment. Often, parents 'pull back a little bit and say, 'Really'?' said Pashkow, who is Jewish. 'They want to make sure we're doing it for a kosher reason' ... Many people with USC ties privately say the university is trying to win over more Jewish donors too. USC has a long and embarrassing history of offending Jews. Its past includes a longtime president who was rumored to be a Nazi sympathizer, a cross-burning incident on a Jewish fraternity house lawn and an uproar in the dentistry school involving alumni accusations that a dean was 'pro-Jewish' ... One of its important initiatives was to court Jewish Los Angeles, a community known for its success in education, not to mention the arts, sciences, professions and business ... In fact, USC sits amid the second largest Jewish population in the nation — Jews number about 600,000 in Southern California. Sample had an assessment done of USC's Jewish resources, and found they were surprisingly vast: One-third of the faculty was Jewish, as were one-third of the deans and up to 2,000 of the campus' more than 27,000 students, although many were in graduate or professional schools. USC officials knew, too, that a good portion of the university's major donors through its 122 years have been Jewish. And although USC leaders say their outreach isn't intended as a fund-raising ploy, they acknowledge that Jews are giving more money to the university than ever. Sample also determined that USC had an unheralded asset in Hebrew Union College-Jewish Institute of Religion, which is next to USC and offers courses in Jewish studies that USC students can take for credit ... Today, a Jewish touch is evident all over campus. USC's dean of religious life, Susan Laemmle, is a reform rabbi. A cooler in the student center is stocked with kosher food. The campus is home to the 4-year-old Casden Institute for the Study of the Jewish Role in American Life, which organizes academic lectures and conferences, as well as public forums on issues affecting the local Jewish community ... According to the university's informal polling, the percentage of Jews in this year's freshman class is 8.2%, up from 4.6% a decade ago. That's still far below the 20%-plus level estimated for some Ivy League schools, but comparable with UCLA, where the latest available survey showed that 7% of freshmen were Jews. Jews also have become more influential in the leadership of USC. A symbolic breakthrough came in September, when businessman Gold became chairman of the board of trustees. (A Jewish newspaper, Forward, headlined the story: 'Once-WASPy USC Names First Jew as Board Chair.') .... [M]any Jews in Los Angeles were angered by USC's plan to house a Middle East Center that, at the urging of Saudi Arabian officials, was to be funded by American corporations doing billions of dollars of business with the Saudis. The American Jewish Committee charged that the unusual deal threatened the academic integrity of the university, and later the faculty senate and a USC advisory council both condemned the idea. USC ultimately backed away from the deal ... As a lighthearted reminder, Pashkow circulates around the admissions office a three-page memo called 'Jews Clues.' The first piece of advice is to spot names ending in 'baum,' 'berg,' 'burg,' 'bloom,' 'man,' 'stein,' 'thal,' 'vitz' or 'witz.' Another dead giveaway mentioned in the memo: If applicants mention that they have had a bar or bat mitzvah. Her co-workers 'think it's cute, they laugh at it,' Pashkow said. But the memo also prompts her colleagues to put a 'JWSH' coding on applications from Jewish students."

Fascists hijack Lord of the Rings,
Birmingham Post (UK), Dec 18 2002
"Fascists have hijacked Tolkien's Lord of the Rings as propaganda to further their cause. As the second film of the trilogy, The Two Towers, comes out on general release today, a Midland academic has expressed concerns that neo-Nazi groups are interpreting the Birmingham author's epic for their own ends. One Internet website urges 'every white nationalist' to watch the films, which it claims promote white supremacy over ethnic minorities living in the West. Dr Stephen Shapiro, an English expert at the University of Warwick, said the adoption of the literary masterpiece by far right groups was worrying. Tolkien lovers also expressed horror that the books were being used to promote extremism 'There is not a grain of truth in their interpretation and I would ask people to read it for what it is - a very good story,' she said. Dr Shapiro said he could understand why Tolkien's works had been adopted by the far right but he called for loyal fans to confront the extremists' views."

From celluloid to synagogue: Do film fests build Jewish identity?,
Jewish Telegraphic Agency, December 24, 2002
"[A]ccording to a new report by the Jewish Outreach Institute in New York ['Can Watching a Movie Lead to Greater Jewish Affiliation?'] ... the burgeoning Jewish film festival scene holds not only big box-office potential but the possibility of moving unaffiliated Jews 'along the continuum of Jewish involvement.' The institute examined 46 festivals. One-quarter of them are independently run, while the others have some kind of sponsorship Jewish institutions or organizations, such as Jewish community centers or federations. 'Film festivals serve as an entryway into the Jewish community,' institute spokesman Paul Golin says ... The pioneering Jewish film fest, launched in 1980 in San Francisco, has spawned more than 60 similar events annually in the United States, from Fairbanks to Philadelphia. Another half dozen are held in Canada, and about two dozen globally, from London to Hong Kong to Sao Paulo, Brazil. In one sure sign that the festivals have arrived, the National Foundation for Jewish Culture sponsors an annual Jewish Film Festival conference. The third such conference, set for San Diego this February, will explore issues such as curating films about Israel in the Diaspora. The foundation also receives up to 70 applicants each year for the $150,000 it awards annually for Jewish documentary film making. ... In Boston, Rubin says festival officials screened 450 films before picking this year's selections."

Rudeness wins all the marbles. In Hollywood, moguls' bad behavior is rarely punished,
by Patrick Goldstein, Los Angeles Times, December 24, 2002
"Personally, I think most of the people at Endeavor could use a three-week sojourn to charm school," says [DreamWorks marketing chief Terry] Press. 'But this is Hollywood, the only business in the world where people seem to confuse rudeness with power. People think that being rude and demeaning is somehow a show of importance when, to me, it just suggests that you're dealing with a lot of spoiled brats whose mommies didn't give them enough time-outs.' Getting into the Christmas spirit, the industry has been buzzing -- perhaps chortling would be a better word -- over Ken Auletta's barbed New Yorker profile of Miramax czar Harvey Weinstein. The piece that ran in the Dec. 16 issue was highlighted by accounts of Weinstein's nasty showdowns with producer Scott Rudin, Universal Chairman Stacey Snider, filmmaker Julie Taymor (who made "Frida" for Miramax) and volcanic-tempered Vivendi Universal chief Barry Diller, who called Weinstein 'a bully,' which is sort of like Trent Lott attacking David Duke for being a bigot. Of course in Hollywood, a town so competitive that people routinely root for friends to fail, many players thought Weinstein got off easy. Several executives I spoke to last week dismissed the profile as 'a puff piece.' Translation: The Miramax boss is even a worse ogre than portrayed in the story. Only a death sentence would fit his crimes. In fact, the 'hip' Hollywood insult of the moment is for someone, just before slamming down the phone in a fit of rage, to bellow, 'You should die!' The trash talk may have changed, but the sentiments are older than talking pictures. Bad behavior is permanently embedded in showbiz DNA. Since its wild 'n' woolly early years, Hollywood has been a briar patch of feuding moguls, narcissistic movie stars and egomaniacal directors ... Rudin's tantrums with agents are the stuff of legend; many people believe a Rudin showdown with Endeavor's imperious Ari Emanuel would draw a bigger crowd than a Tyson-Holyfield fight. But the hot-tempered producer dotes on his favored writers and actors; he throws potted plants only at his lowly assistants. When Viacom Entertainment Chairman Jonathan Dolgen was an exec at 20th Century Fox, assistants were forbidden to say hello to him in the hallways, since a cheery 'Good morning, Mr. Dolgen!' might disrupt the great man's train of thought ... Everyone has a pet theory about why Hollywood is such a hotbed of boorishness. One explanation: Showbiz is teeming with unhappy, insecure people with a lethal combination of big egos and low self-esteem. 'Show business attracts a lot of borderline narcissists who had unhappy childhoods,' says Arnold Stiefel, a film producer and manager who handles crooner Rod Stewart. 'These are the people who were bullied in school but, now that they've become powerful, they've become the school bully themselves." It's no wonder people describe Hollywood as high school, except with money. But is it money that corrupts? Or were the scariest showbiz monsters just as devilish when they were 22-year-old nobodies? People say Diller was equally fearsome in his youth. 'When Scott Rudin was a young executive at Fox, he'd return my phone calls at 8 p.m.," recalls veteran manager Bernie Brillstein, who was the first person in Hollywood to blow the whistle on ex-power agent Michael Ovitz's noxious behavior ... 'This is a business where, if you succeed, people will allow you to behave badly,' says Revolution Studios founder Joe Roth. 'There are no rules, other than winning' ... The analysts' couches must get quite a beating in this business. I was surprised by how many industry-ites I spoke with -- people with reputations for being mild-mannered -- acknowledged having been in therapy for anger management issues. 'No matter how corporate Hollywood has become, it's still a very emotional business,' says Variety editor Peter Bart, who as a production executive in the 1970s fired a director in mid-argument' ... 'People are often tough on their staff because you're so frustrated by your lack of control of everything else in the filmmaking process that you obsess on the few things you can control,' says Jersey Films partner Michael Shamberg."

Kings of Hollywood in epic battle to film. Alexander Luhrmann and Stone lead race for frank take on conqueror,
Guardian (UK), December 30, 2002
"As armies mass again on the borders of Mesopotamia, film-makers are fighting to be first over the top with a movie about the original and most rapacious western imperialist of them all - Alexander the Great. Four of Hollywood's most prodigious talents have long wanted to measure themselves against the upstart Macedonian who conquered nine-tenths of the known world in his 33 years. But for decades film-makers have shied away from fully portraying the complex personality of the most feared and revered leader in history. Now at last the time seems to have come for the first bisexual action hero - with Alexander hopping, in one script, from the bed of his boyhood friend and lover Hephaestion, to that of the Queen of the Amazons and onward through a host of eunuchs and catamites. Oliver Stone, Martin Scorsese and Ridley Scott have all laboured on pet projects about the messianic king who led a modest army out of his father's Balkan kingdom and brought it to the borders of India, demolishing empires and civilisations in his wake ... Some Greek nationalists have already protested at the mention of Alexander's supposed homosexuality, describing it as a 'disgrace' and a 'slur on Greece' - although the ancient Hellenes had a more relaxed view of these things. [Oliver] Stone has blamed the Greek government for orchestrating the outrage, and its culture minister, Evangelos Venizelos, has withdrawn support from the project. But he has stopped short of condemning it outright. Faced with protests from opposition MPs, he said: 'We cannot censor Hollywood. I don't know what I can do.'"

The Balance of Media Power Is Poised to Change,
New York Times, December 30, 2002
"F.C.C.'s Chief Seeks to Remove Restraints: If all goes according to plan, 2003 will be the most important year in the tenure of Michael K. Powell as head of the Federal Communications Commission. Mr. Powell is preparing to unleash a set of proposals in the next few months that will unshackle the nation's largest broadcasters and telecommunications conglomerates from restraints that have prevented them from growing. He is armed with a broad deregulatory agenda and a series of court opinions that have questioned or struck down some of the agency's most pivotal and longest-lasting rules ... At the top of Mr. Powell's list is his plan to relax or eliminate a variety of restraints on the size of the nation's broadcasters and cable owners. The ownership rules that the commission will reconsider restrict a newspaper from owning a TV station in the same city. They prevent a media conglomerate from owning two television networks. They prohibit a network from owning stations that broadcast to more than 35 percent of the nation's homes. They restrict a broadcaster from owning two television stations in the same market unless there are at least eight other competitors. They restrict a company from owning more than eight radio stations in the same market. And they prohibit a cable company from owning more than 30 percent of the national market."

Poland Examines Media Bribe Allegation,
WIBC (Indiana) (from Associated Press), January 7, 2002
"Prosecutors questioned a newspaper editor Monday about published allegations that a leading film producer sought a $17.5 million bribe to lobby the government for more media-friendly laws. The allegations against Lew Rywin were carried last month by the newspaper Gazeta Wyborcza. It reported he approached its chief editor with the offer last July, claiming he represented Prime Minister Leszek Miller. Rywin, 57, is one of Poland's most prominent media entrepreneurs. His company, Heritage Films, co-produced Steven Spielberg's 'Schindler's List,' which won a 1993 Academy Award for best film. 'The Pianist, [by fellow Jewish filmmaker Roman Polanski] which featured Rywin as an actor, won the Palme d'Or top prize at last year's Cannes Film Festival. Rywin has refused to comment on the bribery allegation ... Warsaw prosecutors began their investigation Monday by questioning Gazeta chief editor Adam Michnik [also Jewish], a communist-era dissident and leading critic of a proposed measure to change to media laws. Private media have protested the bill, saying it would strengthen the monopoly of state television with restrictions on private ownership of television and radio stations."

[Israel Asper is clearly Hell-bent upon giving, all by himself, the Protocols of the Elders of Zion credibility]
Rumours of war Conflict in the Middle East has come to Canada, with Izzy Asper's National Post criticizing the CBC's coverage of the battle between Israelis and Palestinians,
Ottawa Sun, January 12, 2003
"The relentless Israeli-Palestinian conflict is a deep quagmire, and Canadians fear it. A recent polling of readers by the Globe and Mail [in Toronto] named Israel, not Iraq or North Korea, the world's most dangerous hot spot by a goodly margin. Such an apprehension helps explain the federal government's reluctance to discuss it, much less deal with it: Why jump into bottomless antagonism? But the Liberal government, and the other political parties, may be dragged into it if the Asper media empire has its way. In a recent, frank epistle in his National Post, Canwest Global chairman Israel Asper wrote of his love for his namesake. To him, Israel is a moral beacon to the world. So it is not surprising that since he took control of the Post from Conrad Black the paper has taken an ever-tougher line against Israel's enemies and, accordingly, the CBC [Canadian Broadcasting Company] has become one of them. The Post now regularly harries the CBC for its 'biased' Middle East reporting. Leading the charge is Norman Spector, a former chief of staff to Brian Mulroney who was rewarded for this service with Canada's ambassadorship to Israel. Spector's attachment to the Jewish state seems every bit as strong as his employer's, and if his columns are a guide, the Asper campaign against the corporation will continue to escalate. Last Wednesday Spector implied the CBC coverage fuelled anti-Semitism of the sort voiced by David Ahenakew, the former First Nations chief. Asper, Spector, and the Post accuse the CBC of mollycoddling terrorists by refusing to use that word to describe the organizations which back attacks on Israelis ... Asper has previously called for the Chretien government to rein in the CBC, arguing the PM himself was being treated unfairly by the Mother Corp. The Post has just been in front of a successful campaign to have the government ban Hezbollah, the Lebanon-based radical party that sponsors attacks on Israel. If the CBC does not back down, can a demand for Ottawa to make it do so be far behind? ... While Asper is a lifelong Liberal, his agitating on this issue is far from welcome. Hezbollah had few friends here, yet the government was reluctant to act. Why? Because it feared the issue might generate a national concern over the rights and wrongs of the Israeli-Palestinian conflict, with who knows what consequences for our vaunted multicultural diversity. Support for Israel in Canada seems to have been slipping in the last few years as its military might, including nukes, and televised images from the intifada -- slingshots vs. tanks -- have undermined the notion Israel is simply a noble little nation surrounded by relentless, powerful enemies. Those who accuse the CBC are further undermined by their very staunch support for the Bush administration's plans to topple Saddam Hussein -- which Canadians seem to favour less and less. And it seems to me the notion that Canada must support Israel because it is the front lines of the global war on terror is being more and more rejected in Canada as simplistic, and bullying. Finally, and vitally, the CBC, unlike Hezbollah, has many friends. The anger voiced and pressed by Asper and Spector is no sham. For them the issue truly is black and white. In taking on the CBC and insisting theirs is the only legitimate interpretation in line with history and democratic values, they seem to be overreaching. And it may rebound on them and on Israel."

[Aspiring Jewish mini-mogul alienates whole small town by turning its newspaper into his attack base.]
Newspaper for sale at online auction,
Cleveland Plain Dealer, January 12, 2003
"Pssst. Over here. Wanna buy a newspaper? Not a single copy. The whole thing. The Rapids Record in Wood County is for sale on eBay for a suggested opening bid of $35,000. Alan Abrams and his wife, Nancy, bought it last year and want out, he said, because they are being harassed by village officials and local business people who don't like their muckraking attitude. Mike Marsh, solicitor for this village of 900, says it's the officials and business people who view themselves as the victims of harassment. He said that before the Abramses got hold of the paper, 'it was really more of an advertising circular. . . . It became more like a newspaper after. The tone changed, also.' Mayor Judy Keifer said last week that one official in particular, village administrator Chad Hoffman, has been harassed. Keifer believes Hoffman has done a good job and said that in the year she has been mayor, she has received three complaints about him. Two were unfounded, and one had to do with a snow-covered street that wasn't plowed fast enough for one resident, she said. In a telephone interview, Alan Abrams characterized Hoffman as 'a Boss Hogg,' after the town boss on the old 'Dukes of Hazzard' TV series. Hoffman declined comment. Abrams said there was such a backlash against the way he and his wife ran the paper that the Chamber of Commerce even folded ... LaRoe also said he and others shifted their advertising away from the Record after Abrams acquired it because they wanted to be associated with something that was more positive ... Abrams also said his phone line has been cut at least five times and his tires slashed at least that often. Also, he said he has received a threatening anti-Semitic letter, and he accuses Hoffman himself of removing a petition from a bulletin board that had called for the administrator's ouster. Abrams and his wife suspended publication in June."

[Here we have the merger of Jewish preeminence in pornography, Jewish dominance of the movie world, and Jewish celebration of both realms, all rolled into one. ]
Jewish Films To Watch at Sundance,
[Jewish] Forward, January 17, 2003
"Andrew Jarecki brings to this year's Sundance [Film Festival] a new kind of legend — an indie who has already made a million ($388 million, to be exact, which is what AOL paid for his company, Moviefone, in 1999, keeping him on as CEO). The multitalented mogul, who has also penned and performed songs for the WB's late, lamented 'Felicity,' is showing his documentary 'Capturing the Friedmans,' one of several offerings topping the list of must-see films with Jewish themes ... Buzz for 'Friedmans' is strong. In 1987, New York Newsday broke the story of Arnold Friedman, an upper-middle-class high school teacher from Great Neck, Long Island, who was arrested as part of a federal sting operation against mail-order pornography. Friedman's wife ran a childcare center from their home; Friedman was also a buyer of child pornography. As detailed in 'Capturing the Friedmans,' during the arrest agents began to suspect that children who came to the Friedmans' home for day care and after-school computer classes were being abused. Jarecki was given surprising access to the family's home videos, which he uses to sort through the various versions of the truth regarding the charges. The filmmaker also examines the Great Neck community that turned against the Friedmans and the legal system that baffled them. A Friedman figures in another Sundance documentary — Andrei Friedman, who dropped his Hungarian-Jewish name for the more dashing moniker Robert Capa when he immigrated to Paris from Budapest. In 'Robert Capa: In Love and War,' acclaimed filmmaker Anne Makepeace re-creates the life and work of this legendary war photographer. When Friedman first arrived in Paris, 'Robert Capa' was wholly imaginary — a rich American photographer that he and his collaborator girlfriend invented to gain credibility. The ruse was quickly uncovered, but his work was so good that the young photographer took on the persona of Capa and went on to document the Spanish Civil War, the Sino-Japanese War, World War II and Israel's War for Independence."

First 'Jewsploitation' film to debut at Sundance festival,
Jewish Bulletin, January 17, 2003
"At one point in Jonathan Kesselman's 'Jewish exploitation' comedy, 'The Hebrew Hammer,' Mordechai Jefferson Carver strides into a seedy skinhead bar wearing a long leather coat, a black fedora, payot, a tallit and an oversized gold chai. A chalkboard advertises beer on tap, such as Old Adolf, but the titular superhero orders 'Manischewitz, straight up.' Then he crashes a bottle over the bartender's head, whips out two sawed-off shotguns and shouts, 'Shabbat Shalom, Motherf- - - - -s!' In this outrageous world of the Hammer (Adam Goldberg), the Orthodox Jewish hero must battle the evil son of Santa (Andy Dick) to save Chanukah. Call it the Jewish 'Shaft.' The farce is Kesselman's homage to 1970s 'blaxploitation' films ... 'The movie is a love letter to being Jewish,' said the writer-director ... The film -- which also features an organization called The Worldwide Jewish Media Conspiracy -- is part of a new trend of in-your-face ethnicity touted by hip Jewish artists (think Heeb magazine and New York's 'Jewsapalooza' music festival) ... I rented a whole bunch of blaxploitation films to figure out how the genre worked [said Kesselman] I learned that what I needed was some twist on the source of oppression. I asked myself, 'What as a Jew really pisses me off?' It hit me when I was walking around a mall in December: I hate Christmastime ... 'The Hammer celebrates being Jewish,' he said. 'It's a bad-ass Jew kicking ass for the tribe.'"

Media Has Ron Lauder Lost His Touch?,
Forbes, January 24, 2003
"[Ronald Lauder's Central European Media] saga is rife with great ambition, but also greed and betrayal. Lauder grew acquainted with Eastern Europe while serving as U.S. ambassador to Austria in 1986-87. After the Berlin Wall came down in 1989, most post-communist governments were still holding on fast to their airwaves. But Lauder saw an opening when the Czech Republic, one of the wealthier Soviet bloc countries, decided to privatize a TV broadcasting license. However, the government said it would sell only to a Czech citizen. So Lauder teamed up with former Czech dissident Vladimir Zelezny [also Jewish] and put his money behind the man's bid. They won in 1994. The same year Lauder started CME, which provided capital and programming for the new television channel, called TV Nova. Lauder owned 99% of Nova, but Zelezny held the actual permit to broadcast. Nova was glitzy station, serving Czechs with Baywatch and Beverly Hills 90210 in prime time and sex on weekend nights. Lauder put $140 million behind the venture. Nova was soon booking $1 million per week in profit. Lauder's appetite grew, and CME soon expanded to TV markets in Romania, Slovakia, Ukraine and elsewhere. But Lauder's timing was off. Those markets were too green to generate sufficient ad sales. Nova's profit was soon bailing out its sister stations. In 1999, with CME's losses mounting, Lauder decided to merge the company with Sweden's SBS Broadcasting. But old friend Zelezny became Lauder's foe. He wouldn't let go of Nova's profitable broadcasting license. Without Nova, the SBS deal was off. A flurry of international lawsuits and appeals followed, against both Zelezny and the Czech Republic, which Lauder said breached an international treaty by allowing the license to be taken from CME. Lauder bought full-page ads in The New York Times and The Washington Post urging business to 'think twice' about investing in the Czech Republic, where practices 'fall woefully short of international standards.' (Strangely, Estée Lauder, the cosmetics firm, of which Lauder owns 35% and is a director, kept its Prague store open and recently launched a second one.) ... CME has sued the Czech government for over $500 million, the assumed fair market value of TV Nova in 1999. Courts in the Netherlands, London and Sweden agreed with CME and released a 'partial finder of order' that held the Czech government responsible for the loss of Nova. The damages award should be announced by March 2003. The company also won a $28 million award from Zelezny. The Czechs appealed, but Zelezny, who was elected to the Czech Senate and whom the Czech police reportedly investigated on charges of tax evasion, paid up last fall."

The News the Jews Thought Fit to Print,
by Al Ellenberg, Jerusalem Report, May 22, 2000
[ADOLPH SIMON OCHS: Review of The Trust: The Private and Powerful Family Behind the New York Times by Susan E. Tifft and Alex S. Jones]
"A college friend once remarked to me that my father talked like a New York Times editorial with a Yiddish accent. There was also a touch of pride. Even though this 'shul' looked like a very big church, my father did after all call it a shul, which meant there was something Jewish about the Times. But what was it that I detected in my father's voice, what distance, what pained irony? Well, over the years, the broad answers became evident to me. Those answers encompassed the gulf between the assimilationist Jews of German origin who invented the Reform movement in America and the rough-edged Jews from Eastern Europe, my father's kind. And, specifically in the case of the Times, the answers included the early reluctance to acknowledge that Jews were explicit targets of Hitler's death machine; the answers also included the early editorial opposition of the Times to a Zionist state in Palestine. My father was not only a Zionist, he was a Zionist in the Jabotinsky mold. I have spent pretty much all of my working life in the newspaper business and, to borrow a suspect self-exculpation, some of my best friends work at the Times, but as much as I find the daily appearance of this publication vital to my psychic well-being (particularly the crossword puzzle), I have always felt a bit of an inherited chill about the institution of the Times. It was never my family. But, of course, The New York Times is a family, one of the most powerfully dynastic in American history, up there with the Cabots and Lodges, Rockefellers and Kennedys. The Ochses and Sulzbergers have owned the Times enterprise, now a multi-billion dollar operation, for more than a hundred years, and in all that time the family has maintained day-to-day control of this most prestigious of all daily newspapers ... Adolph Simon Ochs, a Cincinnati-born son of Bavarian Jewish immigrants ... bought the comatose Chattanooga Times with a borrowed $250 ... [H]e bought The New York Times for a patchworked $75,000 by conning its stockholders into believing that he had the money and the expertise to revive the 45-year-old paper ... [H]is wife ... Effie herself was a rather extreme embodiment of Germanic Jewish American anomalies ... Ochs's achievements were shadowed by two major sieges of depression, both tinged by his struggle with his Jewish identity. The first was set off by the appalling case of Leo Frank in 1914; the second was occasioned by the rise of Adolf Hitler in 1933 ... Ochs, always reluctant to play the role of crusader, particularly on behalf of Jews, was persuaded to rally to Frank's defense ... AFTER OCHS'S DEATH, IN 1935, he was succeeded by his son-in-law, Arthur Hays Sulzberger, who was married to the Ochses' only child, Iphigene. Sulzberger was the scion of a wealthy merchandising family with both German and Sephardi roots; his mother, in fact, was extremely proud of the fact that her Sephardi ancestors, themselves descended from Iberian Jews who fled to Holland in 1492 and then immigrated to the New World in the early 1700s, had fought in the American Revolution. Arthur's father Cyrus was very active on behalf of Jewish causes and had served as president of United Hebrew Charities ... Under subsequent publishers, the Times's policy toward Israel has become considerably more accepting and its coverage of Jewish matters far less tentative. Most significantly, the last three executive editors of the paper have been overtly and unapologetically Jewish, a development that Ochs himself would likely have found rankling."

[Note: Joe Farah is THE Arab Zionist sell-out.]
Joe Farah's Impending Insanity and the Demise of WorldNetDaily,
Karen De Coster, February 2, 2003
"I discovered WND on the web in 1998. There were not a lot of good websites out there at that time, other than organization, foundation, or think tank websites, so it certainly became - and quickly so - one of the better sites on the web. When WND was relatively new it was part conservative, part libertarian, part libertarian sympathetic, and included only a smattering of neocons. But one could just ignore the crazy, neocon stuff, and pay attention to what was useful and interesting. All in all, it was a valuable place on the web, for the folks over there tackled PC, relativism, multiculturalism, anti-Westernism, and all the other horrors of left society. Farah always seemed willing to take on all issues without regret. Sometime in about 2000 it started to change. Joe Farah - WND's big kahuna - searched for means of financing the existence and growth of his home on the web. WND, at about this time, started to crack. By paying close attention, you could see the focus shift from libertarian theory, private property defense, and unPCism, to Israel, Israel, Israel, war, war, war. Folks were passing around e-mails, pasting over the WND headlines of the day, where 14 out of the first 16 headings would deal with: Israel good, Arabs bad; Israel this-Israel that; military this-military that; the glory of war; Bush does this-Bush says that; and well, you get the picture. WND had become a neocon, warmongering, statist hell. Following 9/11, WND had become a shill for the government and the U.S.-Israel alliance. After 9/11, Farah and his site jumped on the Bandwagon for War, and kept up a relentless stream of Republican worshipping and 'if you ain't with us, you're against us' horseshit. They dumped Lew Rockwell - one of their few remaining sane columnists - and brought on the pro-war bunch."

Shoah for Sale. Roger Kumble's ends his edgy trilogy with a look at how Hollywood abuses the Holocaust,
Jewish Journal of Greater Los Angeles, February 7, 2003
"In 'Turnaround,' the third play in Roger Kumble's sardonic trilogy about Hollywood, Jewish hack Jeff Pelzman gushes over a sure-fire hit movie. Compiled by combining the plots of Oscar-winners, the fictional script opens as the camera pans down through the worried faces of Jewish Poles 'until we find Moishe, a 12-year-old mentally challenged boy, skipping through the ghetto.' 'A retard in the Holocaust,' Pelzman says. 'That's f—king brilliant!' The cringeworthy scene is typical of the hysterically mordant play, starring 'Friends' star David Schwimmer as a leech who'd swindle his mom (or trivialize the Holocaust) for a 'go' film or a hot babe. Jonathan Silverman, Schwimmer's old pal from Beverly Hills High, plays the equally depraved Jewish producer, Richie Tolchin. Kumble wrote the black comedy for the two actors, who each portrayed Pelzman in the trilogy's first two plays, which have been called a Generation X take on a subject addressed in more mature plays, such as David Rabe's 'Hurlyburly.' Although staging the satire at the Coast Playhouse has been a labor of love for the Jewish artists, each feels nervous about the provocative subject matter. Schwimmer warned underage 'Friends' fans to stay away; Silverman begged a Journal reporter, 'Don't hate me!' while Kumble said he was 'terrified' his motivations could be misconstrued. At a Larchmont Boulevard cafe recently, the edgy but convivial writer-director ('Cruel Intentions,' 'The Sweetest Thing') said he conceived the 'Moishe' script partly as an homage to Mel Brooks' Holocaust spoof, 'Springtime for Hitler,' in 'The Producers." Another motivation was 'noticing that every Holocaust-themed film seemed to get nominated for an Oscar,' he said. 'But I wanted to comment on people who use the Holocaust as a means to an end, not to skewer my own people." Kumble also wanted to continue skewering a real-life, reformed Hollywood creep: himself. He said he invented Pelzman — 'definitely an alter-ego of mine'— for his 1993 comedy-drama 'Pay or Play' (starring Silverman) after a friend suggested, 'write what you know' ... 'Opening night was a little uncomfortable,' said Silverman, whose character calls Steven Spielberg 'Mr. Holocaust.' 'But our parents understand that this is a morality tale. I mean, these kinds of people actually exist. There are people in this town who would kick their grandmother in the tooth to make a movie. I don't think it comes across as a smear of Jews in Hollywood so much as it does on certain people who have just lost their perspective.'"

Report: Zeta-Jones may convert to Judaism,
CNN, Janary 31, 200
"Pregnant actress Catherine Zeta-Jones is considering converting to Judaism before marrying Michael Douglas, according to a report in British newspaper The Mail on Sunday. The British tabloid reports the 30-year-old Welsh beauty is 'fascinated' by her future husband's Jewish faith and has spoken to a rabbi about converting. 'Michael and his family are very proud of their Jewish heritage,' an unnamed source said to be close to Zeta-Jones told the paper. 'In Judaism, the mother pays a pivotal role in raising the children to honor their faith.' The Mail on Sunday reported that the couple, who announced their engagement on January 6, had agreed to raise their child Jewish. Douglas's father, movie legend Kirk Douglas, last month reaffirmed his faith with a second bar mitzvah ceremony."

Vivendi suitor Davis beckons Bronfman,
New York Daily News, February 20, 2003
"Marvin Davis wants Edgar Bronfman Jr. The oil tycoon who's made a $20 billion bid for the show biz assets of hobbled media empire Vivendi Universal recently tried to hire Bronfman to run the show. But the Seagram scion turned him down, sources told the Daily News. Davis called and told him he could 'play any role,' at Vivendi Universal Entertainment, sources close to Bronfman said. But Bronfman, who is vice chairman of Vivendi and whose family is its largest shareholder with a nearly 5% stake, said he'd stay 'on the Vivendi Universal side of the table,' sources said. Davis already has hooked up with ex-Universal exec Brian Mulligan, but he's been scouring the market for a marquee Hollywood name to help bolster his bid for the entertainment divisions, which include Universal Pictures and Universal Music Group. Bronfman ran these units before selling Seagram to Vivendi - watching his family lose billions in the process. Sources said Bronfman, a one-time songwriter, is eager to get back to the front lines of the entertainment business. In September, he offered to 'help' Vivendi out of its cash crunch by acquiring Universal Music. Vivendi chief Jean-Rene Fourtou said he wasn't ready to sell. Industry sources said they expect Bronfman to make a run at AOL Time Warner's Warner Music Group, which appears to be in play as the troubled media giant looks to pare down its $26 billion debt load "

[Walt Disney, declared by the Jewish community to have been an "anti-Semite," is probably rolling over in his grave because of what the Disney "world" has become" from Disney's Jewish CEO, Michael Eisner, on down.]
Disney's Shamrock mulls $100 mln Israel fund,
Forbes, Feberuary 24, 2003
"Shamrock Holdings of California Inc, the investment arm of Disney heir Roy Disney, is examining the possibility of setting up a $100 million investment fund in Israel, a financial sector source said on Monday. The fund could eventually reach $250 million with part of the money coming from abroad, the source said, adding that Shamrock Chairman Stanley Gold was planning to meet Israeli institutional investors this week. Potential investors include insurers Migdal Insurance Holdings , which is controlled by Italy's Generali , and Israel's Phoenix Insurance ... . Shamrock's other main investments in Israel are mobile phone service provider Pelephone and Tadiran Communications."

Georgia senator lashes out at proposed hillbilly reality television show,
Yahoo! News, (from Associated Press), February 25, 2003
"A proposed hillbilly reality show has struck a nerve with Sen. Zell Miller, who hails from the North Georgia mountains and contends poor rural residents are America's last acceptable target of bigotry. Miller lashed out at CBS executives in a Senate speech Tuesday for their plans to air 'The Real Beverly Hillbillies,' which would chronicle a rural, lower-middle-class family that moves into a luxurious Beverly Hills mansion. The program is modeled after the hit 1960s sitcom. The Georgia Democrat, a former two-term governor, called the proposal a 'minstrel show' and 'Cracker Comedy' at the expense of hardworking Americans. He said he doubted CBS Television chief executive Leslie Moonves [Jewish] would dare try such a spoof featuring a black or Latino family. 'I plead with you to call off your hillbilly hunt,' Miller said. 'Make your big bucks some other way. Appeal to the best in America, not the worst. Give bigotry no sanction.' As criticism built in January over the prospect of such a show, Moonves apologized and said the network meant no offense. On Tuesday, CBS spokesman Chris Ender also stressed the network wasn't trying to offend anyone and said it's not clear when — or even if — the proposed show, which did offend Miller, will air."

Disney Company. A Grim Shadow Of Walt's Dream,
rense.com, March 3, 2003
"It was brought to my attention, in the course of a recent exchange, that the 'Disney' Company has come out with a 'new and improved' telling of the story of the Alamo... one that is 'multicultural' in tone, and not 'offensive to Mexican-Americans'. I almost lost my supper. You know, it's hard for me to see even an old Disney movie, when they play on television... and they do, here, quite a bit ... They used to be so good. I remember the pre-Eisner Disney [Michael Eisner, the Jewish CEO of Disney] with a certain fondness, and it's hard for me to watch what that company has become. Walt Disney devoted his life to making films that were clean, positive and wholesome. I know that sounds 'preachy', and that's not typical of me, at all, but it's true. They were, when I was growing up, and well into my adulthood, one of the only 'sure bets' for a film that you could take your kids to see, without any concern over the 'content' or language used ... That is what is lacking in the 'Disney' Company now: a conscience...or 'soul' (or whatever word you chose to call it). People like Eisner...to me, the Anti-Christ incarnate...do nothing but pervert, corrupt and destroy. I won't waste the price of a ticket to see any Disney movie, now. I won't even rent the old ones. It simply makes me ill to see what has happened to the Company, but more importantly, to the ideals and standards that Walt Disney spent his life to develop."

Michael Jackson Put 'Curse' on Spielberg-Magazine,
Reuters, March 3, 2003
"Embattled pop star Michael Jackson wears a prosthetic nose and once paid $150,000 for a 'voodoo curse' to kill director Steven Spielberg despite being deep in debt, Vanity Fair magazine reported on Monday ... Vanity Fair reported in the article that in 2000 Jackson attended a voodoo ritual in Switzerland where a witch doctor promised that Spielberg, music mogul David Geffen and 23 other people on the entertainer's list of enemies would die ... In addition to the lawsuit by Lee, Jackson is also enmeshed in a $21 million court battle with German concert promoter Marcel Avram over canceled Millennium concerts and has been sued by Sotheby's auction house for $1.6 million."

[The careful Jewish monitoring of history. For years Jewish groups have lobbied against any examination of Adolf Hitler, except as a demonic mass murderer of Jews. The issue is not just that Jews -- functioning always as a censorship board -- have total control of the boundaries in analyzing/depicting Adolf Hitler, it is that they truly control the history of World War II (Holocaust, Holocaust, Holocaust) and -- for that matter -- ANY history that has anything to do with Jews. All contexts that don't fit the complete Jewish victimization model and the social and political reasons -- per Jews -- for the rise of an Adolf Hitler are categorically discarded.]
Moonves: No Sympathy for Hitler,
Virtual Jerusalem
"President and CEO of CBS Television Leslie Moonves came in for a good deal of flak last year following news that the network was planning to make a two-part miniseries from British history professor Ian Kershaw's book, 'Hitler: 1889-l936: Hubris' (W.W. Norton & Company, 2000), which covers the prewar life and times of the Führer. Some Jewish leaders worried that a too-sympathetic portrayal of the early life of the man responsible for the murder of 6 million Jews would feed into today's current wave of anti-Semitism and that a prime-time portrait of the youthful Hitler might paint him as a misunderstood youth rather than an evil madman to millions of young viewers with scant knowledge of Hitler's terrible legacy. This month, CBS, along with the producers, Alliance Atlantic, began shooting the miniseries in Prague and might air the show as early as the May sweeps. Scottish actor Robert Carlyle — best known for 'The Full Monty' and 'Trainspotting' — plays Adolf Hitler, while Stockard Channing (first lady Abby Bartlet on 'The West Wing') portrays his mother. The cast also includes Julianna Margulies, Peter O'Toole, Liev Schreiber and Matthew Modine. The Jewish Journal read an early script — which CBS now says has been totally junked in favor of a completely new version by Jewish playwright-screenwriter John Pielmeier ('Agnes of God') ...
Leslie Moonves: Clearly the whole thing ends when Hitler has taken over total power of the country in 1938 on the eve of World War II. We will also be showing a postscript. That's very important. Once again, we do take some of the comments we've received very seriously. And one comment I took to heart: if you are showing the rise to power — and part of why we're doing this is that everybody knows how the story ended but few people know how it began — some people said, 'Well you're not showing the atrocities that this man committed. And you may be giving an incorrect impression of him.' So it's important to know where this led seven or eight years later ...
Jewish Journal: We heard CBS is making a donation to a Holocaust charity? Moonves: Yes, to the Shoah Foundation or something like that. It's not quite pinned down yet ...
Jewish Journal: Many critics worried that Hitler as the protagonist of the story has to be shown as a human being. But by doing that you automatically make him sympathetic.
Moonves: In no way, shape or form is this man in this film a sympathetic figure. He is a monster. And it's how he got to be that way. At no point do you feel sympathy for this man and just say, 'Oh, I understand, I feel bad this is why he did what he did.' That emotion should never occur.
Jewish Journal: Has Rabbi Harvey Fields from Wilshire Boulevard Temple vetted the script?
Moonves: He read the first two hours and gave us extensive notes. Those notes have been incorporated into some of the changes and he's reading the second part as we speak. He's an unofficial friend in court, but once again, certainly he's amongst the most widely respected religious leaders in ours or any community ...
Jewish Journal: Wasn't your own wife opposed to the project?
Moonves: I don't want to talk about my personal situation. There has been a lot of discussions with friends and relatives. It certainly is a lightning rod for a lot of people.
Jewish Journal: Did you lose family members in the Holocaust?
Moonves: I lost many relatives on both sides of the family. My grandparents are both from Poland and they lost a number of siblings and cousins, a great many family members during the Holocaust. They escaped from Poland before the war began. But there were some who did not escape ... I really want your readers to know that this is something we are not treating lightly. It's one of the most important projects we've been involved in and we are trying to do it with great care and great thought."

[The never-ending theme of growing Jewish dominance of the major means of public communication may be found echoed in Canada, the U.S., Russia, Great Britain, Poland, Brazil, and on and on.]
Anti-semitism fear as Italian TV chief under attack,
Guardian (UK), March 10,. 2003
"Jewish leaders in Italy have expressed concern at an outbreak of anti-semitism after a rightwing newspaper yesterday made a thinly-veiled attack on the state broadcaster RAI days after a distinguished journalist of Jewish origin was chosen to lead its board of directors. Paolo Mieli, the former editor-in-chief of Italy's leading daily Corriere della Sera, was chosen for the job on Friday. Yesterday a front-page editorial in the rightwing Rome daily Il Tempo said that Italian television was being dominated by 'non-Catholic culture and sensibility', making direct reference to Mieli and two other journalists of Jewish origin. 'The entire TV system is dominated now by professionals of excellent quality, but with non-Catholic culture and sensibility, like the new president of RAI and the directors of the two major news programmes,' the editorial said."

[Gil Cates is Jewish, as is the war against Iraq.]
Oscars blacklist stars in bid to prevent peace protest speeches,
The Scotsman (Scotland), March 11, 2003
"The backlash against prominent stars opposing any attack on Iraq has impacted on this year's Oscars, with organisers drawing up a blacklist of people who will not be allowed a platform to air anti-war views. Meryl Streep, Sean Penn, Vanessa Redgrave, George Clooney, Dustin Hoffman and Spike Lee are among those who will not be speaking, amid fears they could turn the ceremony into an anti-war rally. In a move denounced by some as a return to McCarthyism, star presenters have been ordered to stick to scripts, while winners, who the producers have no control over, could find their acceptance speeches cut if they say anything much more than a brief thank you. Officially, executives say that politics is a turn-off for the show's television audience. But in the wake of a public backlash against actors such as Martin Sheen, from the West Wing, who have voiced opposition to war, producers do not want to upset advertisers who have paid more than £50 million for adverts ... Gil Cates, one of the ceremony's producers, wants the ceremony, which takes place on 23 March, to celebrate the Oscars' 75th anniversary rather than the anti-Bush/Blair movement. And he admitted he thought it 'inappropriate' for stars to use their slots to spotlight world problems. But Tom O'Neil, an Oscar historian, said: 'Political tantrums are inevitable. You're dealing with a class of people who have unchecked egos and who are invited on talk shows to be experts on everything from high art to pop culture.' Top of the loose-cannon list this year is the Bowling for Columbine director, Michael Moore, a favourite to win the documentary feature award. Last month, Moore thanked the French for not supporting the proposed Iraqi invasion while accepting an award in Paris. And on Saturday, he used the Writers Guild of America awards in Los Angeles to voice his opinions of George Bush, the US president. Worryingly, for the Oscar producers, Moore won loud applause after telling the audience: 'What I see is a country that does not like what's going on. Let's all commit ourselves to Bush removal in 2004.' If Moore does not win an Oscar, insiders claim Hollywood will be reverting back to the witch-hunting 1950s, when Senator Joseph McCarthy and his cohorts destroyed the careers of supposed Communist sympathies."

[Incredible! Jewish domination returns to Germany. Israeli-American Haim Saban is set to take over Germany's largest media conglommerate! This article doesn't mention the fact that Saban is both Jewish and Israeli -- and THAT is the real news. And look who's banking both ends of the deal -- the Jewish German Rothschild-Warburg banking firm, big time survivors of Hitlerism.]
KirchMedia hopes to ink Saban deal by Monday,
Reuters, March 14, 2003
"Insolvent German media group KirchMedia said on Friday it hoped to sign a deal to sell its television assets to U.S. billionaire Haim Saban by Monday at the latest, ending a year-long auction. Saban has arrived in Munich to help put the final touches to a two-billion-euro ($2.2 billion) deal that would open up Germany's clubby media industry to a Hollywood figure -- teamed up with French TV group TF1 -- for the first time ... After a year of sometimes high drama, Saban has trumped an offer by German publisher Heinrich Bauer Verlag for a stake in Germany's largest commercial broadcaster ProSiebenSat.1 Media and a vast library of film rights. Saban, who made his fortune with children's TV figures such as the 'Mighty Morphin' Power Rangers" is now the sole contender for KirchMedia after Bauer, teamed up with Germany's No. 2 bank HVB Group, pulled out of the deal on Wednesday. ... Saban jumped back into the bidding this year, overtaking Bauer with a spruced-up offer. N.M. Rothschild & Sons is advising Saban. UBS Warburg is advising KirchMedia."

[Hollywood IS politics. Who runs Hollywood? And who runs American foreign policy?]
Hollywood and politics have been in bed for a long time,
New Zealand Herald, March 31, 2003
"Go Michael Moore, the maker of Bowling for Columbine, who on Oscar night took his first statue and his umpteenth risk with the words 'Shame on you , Mr Bush, shame on you'. The awards crowd was astir, the orchestra struck up, Titanic-like, with a chirpy ditty amid the booing, and Michael waved, smiled warmly and took his golden man off stage. His 55-second speech included an accusation that Bush was a fictitious president who had brought his country to war for fictitious reasons. Go Michael Moore. That speech was never going to go down easy, and Moore knew it. He would have walked to that podium with the same relish most of us walk into a chocolate shop. Controversy is his fix. It's why he gets up in the morning ... We're talking about Hollywood here. The idea that the film industry isn't about politics is exactly the sort of deceptive myth-making Moore loves to rip wide open. Hollywood and politics have been in bed together since Adam and Eve. Well almost. Since the late 1890 ... During World War II, Germany made 1300 films commissioned by the Nazis. Hollywood was in on the same game and made 300 World War II movies that were essentially propaganda films. They showed bold and brave American soldiers fighting a heinous enemy. Every note the government wanted hit was struck on cue ... The White House had a meeting with movers and shakers in Hollywood in November 2001 asking their co-operation in the message that needed to go out post-September 11. Remember Laura from Little House on the Prairie? In real life she's Melissa Gilbert [also Jewish], the president of the American Screen Actors Guild, and according to E! Online she was at that meeting, with the chiefs at Paramount and Walt Disney among others ... So for someone to say the Oscars are no forum for politics is just another of those grand deceits on which Hollywood prides itself, and our only defence is to be smarter than they think we are. They think we believe Punch hits Judy, but we know Punch doesn't hit Judy, the puppeteer does."

[The compiler -- Jeffrey Blankfort of the material below -- is Jewish. Note: this list is just a fraction of the full story of Jewish influence in the mass media. But note also: there are a few mistakes in this list.]
JEWS IN THE MEDIA,
(Appendix to Invading Iraq: Converging U.S. and Israeli Agenda)
Compiled by Jeffrey Blankfort, Demographic, Environmental and Security Issues Project, April 2003
MORTIMER ZUCKERMAN, owner of NY Daily News, US News & World Report and chair of the Conference of Presidents of Major Jewish American Organizations, one of the largest pro-Israel lobbying groups.
LESLIE MOONVES, president of CBS television, great-nephew of David Ben-Gurion, and co-chair with Norman Ornstein of the Advisory Committee on Public Interest Obligation of Digital TV Producers, appointed by Clinton. JONATHAN MILLER, chair and CEO of AOL division of AOL-Time-Warner
NEIL SHAPIRO, president of NBC News
JEFF GASPIN, Executive Vice-President, Programming, NBC
DAVID WESTIN, president of ABC News
SUMNER REDSTONE, CEO of Viacom, "world's biggest media giant" (Economist, 11/23/2) owns Viacom cable, CBS and MTVs all over the world, Blockbuster video rentals and Black Entertainment TV.
MICHAEL EISNER, major owner of Walt Disney, Capitol Cities, ABC. RUPERT MURDOCH, Owner Fox TV, New York Post, London Times, News of the World (Jewish mother)
MEL KARMAZIN, president of CBS
DON HEWITT, Exec. Director, 60 Minutes, CBS
JEFF FAGER, Exec. Director, 60 Minutes II. CBS
DAVID POLTRACK, Executive Vice-President, Research and Planning, CBS
SANDY KRUSHOW, Chair, Fox Entertainment
LLOYD BRAUN, Chair, ABC Entertainment
BARRY MEYER, chair, Warner Bros.
SHERRY LANSING. President of Paramount Communications and Chairman of Paramount Pictures' Motion Picture Group.
HARVEY WEINSTEIN, CEO. Miramax Films.
BRAD SIEGEL., President, Turner Entertainment.
PETER CHERNIN, second in-command at Rupert Murdoch's News. Corp., owner of Fox TV
MARTY PERETZ, owner and publisher of the New Republic, which openly identifies itself as pro-Israel. Al Gore credits Marty with being his "mentor." ARTHUR O. SULZBERGER, JR., publisher of the NY Times, the Boston Globe and other publications.
WILLIAM SAFIRE, syndicated columnist for the NYT.
TOM FRIEDMAN, syndicated columnist for the NYT.
CHARLES KRAUTHAMMER, syndicated columnist for the Washington Post. Honored by Honest Reporting.com, website monitoring "anti-Israel media."
RICHARD COHEN, syndicated columnist for the Washington Post
JEFF JACOBY, syndicated columnist for the Boston Globe
NORMAN ORNSTEIN, American Enterprise Inst., regular columnist for USA Today, news analyst for CBS, and co-chair with Leslie Moonves of the Advisory Committee on Public Interest Obligation of Digital TV Producers, appointed by Clinton.
ARIE FLEISCHER, Dubya's press secretary.
STEPHEN EMERSON, every media outlet's first choice as an expert on domestic terrorism.
DAVID SCHNEIDERMAN, owner of the Village Voice and the New Times network of "alternative weeklies."
DENNIS LEIBOWITZ, head of Act II Partners, a media hedge fund KENNETH POLLACK, for CIA analysts, director of Saban Center for Middle East Policy, writes op-eds in NY Times, New Yorker
BARRY DILLER, chair of USA Interactive, former owner of Universal Entertainment
KENNETH ROTH, Executive Director of Human Rights Watch
RICHARD LEIBNER, runs the N.S. Bienstock talent agency, which represents 600 news personalities such as Dan Rather, Dianne Sawyer and Bill O'Reilly.
TERRY SEMEL, CEO, Yahoo, former chair, Warner Bros.
MARK GOLIN, VP and Creative Director, AOL
WARREN LIEBERFORD, Pres., Warner Bros. Home Video Div. of AOL- TimeWarner
JEFFREY ZUCKER, President of NBC Entertainment
JACK MYERS, NBC, chief….NYT 5.14.2
SANDY GRUSHOW, chair of Fox Entertainment
GAIL BERMAN, president of Fox Entertainment
STEPHEN SPIELBERG, co-owner of Dreamworks
JEFFREY KATZENBERG, co-owner of Dreamworks
DAVID GEFFEN, co-owner of Dreamworks
LLYOD BRAUN, chair of ABC Entertainment
JORDAN LEVIN, president of Warner Bros. Entertainment
MAX MUTCHNICK, co-executive producer of NBC's "Good Morning Miami"
DAVID KOHAN, co-executive producer of NBC's "Good Morning Miami" HOWARD STRINGER, chief of Sony Corp. of America
AMY PASCAL, chair of Columbia Pictures
JOEL KLEIN, chair and CEO of Bertelsmann's American operations ROBERT SILLERMAN, founder of Clear Channel Communications
BRIAN GRADEN, president of MTV entertainment
IVAN SEIDENBERG, CEO of Verizon Communications
WOLF BLITZER, host of CNN's Late Edition
LARRY KING, host of Larry King Live
TED KOPPEL, host of ABC's Nightline
ANDREA KOPPEL, CNN Reporter
PAULA ZAHN, CNN Host
MIKE WALLACE, Host of CBS, 60 Minutes
BARBARA WALTERS, Host, ABC's 20-20 .
MICHAEL LEDEEN, editor of National Review
BRUCE NUSSBAUM, editorial page editor, Business Week
DONALD GRAHAM, Chair and CEO of Newsweek and Washington Post, son of CATHERINE GRAHAM MEYER, former owner of the Washington Post
HOWARD FINEMAN, Chief Political Columnist, Newsweek
WILLIAM KRISTOL, Editor, Weekly Standard, Exec. Director Project for a New American Century
RON ROSENTHAL, Managing Editor, San Francisco Chronicle
PHIL BRONSTEIN, Executive Editor, San Francisco Chronicle,
RON OWENS, Talk Show Host, KGO (ABC-Capitol Cities, San Francisco) JOHN ROTHMAN, Talk Show Host, KGO (ABC-Capitol Cities, San Francisco)
MICHAEL SAVAGE, Talk Show Host, KFSO (ABC-Capitol Cities, San Francisco) Syndicated in 100 markets
MICHAEL MEDVED, Talk Show Host, on 124 AM stations
DENNIS PRAGER, Talk Show Host, nationally syndicated from LA. Has Israeli flag on his home page.
BEN WATTENBERG, Moderator, PBS Think Tank.
ANDREW LACK, president of NBC
DANIEL MENAKER, Executive Director, Harper Collins
DAVID REZNIK, Editor, The New Yorker
NICHOLAS LEHMANN, writer, the New York
HENRICK HERTZBERG, Talk of the Town editor, The New Yorker SAMUEL NEWHOUSE JR, and DONALD NEWHOUSE own Newhouse Publications, includes 26 newspapers in 22 cities; the Conde Nast magazine group, includes The New Yorker; Parade, the Sunday newspaper supplement; American City Business Journals, business newspapers published in more than 30 major cities in America; and interests in cable television programming and cable systems serving 1 million homes.
DONALD NEWHOUSE, chairman of the board of directors, Associated Press.
PETER R KANN, CEO, Wall Street Journal, Barron's
RALPH J. & BRIAN ROBERTS, Owners, Comcast-ATT Cable TV. LAWRENCE KIRSHBAUM, CEO, AOL-Time Warner Book Group

[Media monster Comcast is controlled by the Jewish Roberts family.]
The Comcast shakedown. Flush with its purchase of AT&T Broadband, the biggest cable company on the block intends to make size matter,
by Chishen Wei, Salon.com, April 8, 2003
"Now that the Comcast-AT&T Broadband merger has wrapped up its final stage of system migration, Comcast cable subscribers are beginning to feel the weight of the FCC-approved 800-pound gorilla. The acquisition of AT&T Broadband last November gave Comcast control over 21 million cable homes (roughly one in five TV homes). The media-communications giant wasted little time flexing its newfound market muscle. On April 1, Comcast forced its cable Internet subscribers to adopt a new pricing scheme that toes the boundary of antitrust law. Current customers face a $15 (33 percent) monthly increase -- unless they subscribe to Comcast's cable TV service. Reaction to the move has been sharp, especially in California, where former AT&T Broadband cable subscribers have found themselves bombarded in recent weeks by a ubiquitous Comcast marketing campaign aimed at boosting Comcast's cable Internet subscriber numbers. Before the price hike was even official, Sen. Barbara Boxer, D-Calif., sent a letter to Michael Powell, the chairman of the Federal Communications Commission, decrying what she called Comcast's 'monopolistic practices./"

Breaking News: Seinfeld to honor Israel,
Jewish Telegraphic Agency, April 10, 2003
"Jerry Seinfeld and Tony Bennett will highlight next month's celebration in Washington for Israel's 55th anniversary. The '[email protected] 'gala, scheduled for May 19, also will feature singer Norah Jones and Israeli singer Achinoam 'Noa' Nini. Other performers will be announced soon, and both Israeli Prime Minister Ariel Sharon and President Bush are expected to attend."

[Head of CBS: Jewish mogul Leslie Moonves].
'Hitler' Exec Producer Fired Over Remarks Thu,
TV zap2it.com, Apr 10, 2003
"The executive producer of a CBS miniseries about Adolf Hitler's rise to power has been fired after giving an interview in which he compared the current mood of Americans to that of the Germans who helped Hitler rise to power. According to The Hollywood Reporter, Ed Gernon was fired Sunday (April 6) from Alliance Atlantis, the production company making 'Hitler: The Rise of Evil' for CBS. He had worked there 11 years and was head of the firm's long-form programming division. Neither Gernon nor Alliance Atlantis is commenting on the matter. 'Hitler' has caused controversy ever since CBS announced its intentions last summer. In an interview with TV Guide about the four-hour film, scheduled for May, Gernon compares many Americans' acceptance of a war in Iraq to the fearful climate in post-World War I Germany, of which Hitler took advantage to become its ruler. 'It basically boils down to an entire nation gripped by fear, who ultimately chose to give up their civil rights and plunged the whole nation into war,' Gernon said in the interview. 'I can't think of a better time to examine this history than now.' Gernon's remarks reportedly didn't go over well at CBS, which has tried very hard to frame 'Hitler' as a historical piece that in no way sensationalizes or offers excuses for Hitler's actions."

[Unspoken context: Jewish dominance of Hollywood and the omnipresent Jewish Lobby:]
Shooting the Arabs. They're the studio's villains of choice when comes to depicting terrorists, arms dealers or torturers. And after September 11, it looks like getting worse. Author Jack Shaheen escorts Sean Clarke through the shabby history of the Hollywood Arab,
The Guardian (UK), April 17, 2003
"If Hollywood does take up the story of blonde, blue-eyed Private Jessica Lynch, there's at least one man who won't be optimistic about the film's treatment of her Iraqi captors. Professor Jack Shaheen has spent 20 years cataloguing Tinseltown's portrayal of Arabs in over 900 movies. He's found that, with very few exceptions, Arabs are presented in the movies as 'subhuman' and destable to a degree that the studios would no longer dare with any other ethnic group. Shaeen's new book, Reel Bad Arabs, compares the case of Pocahontas - Disney's Native American animation, on which Native American groups were widely consulted in order to produce an acceptable portrait - with that of Aladdin, one of the Arab and European world's most cherished folk tales, which features 'hook-nosed Arabs' singing of their milieu: 'it's barbaric, but hey, it's home.' This, as Shaheen doesn't point out, in a story set in the Baghdad Caliphate, the most culturally powerful and one of the most enlightened polities of its time. 'The tragedy' he admits, 'is that we've begun to unlearn other stereotypes' - about Blacks, Jews, Native Americans. 'But we haven't with this one. And 9/11 took it to another level' ... Shaheen even thinks the dehumanisation of Arabs in Hollywood can affect the US public's attitude to war in Iraq. 'For instance,' he says, 'we hardly ever see Arab suffering. Look at the war coverage - it's almost invisible. It's almost as if the bombs are falling on empty buildings. And that's been true historically, when every news report that comes out of Israel rightly shows Israeli suffering, but wrongly passes over Palestinian suffering. We have not allowed ourselves to empathise with Arabs or see them as being like us' ... But when asked who's to blame for Hollywood's prejudices, he identifies a less obvious culprit: the Arab American community itself. 'Hollywood can villify anything and everything Arab without getting any pressure not to do that. There's no lobby in Hollywood. There are two power centres in the US; Washington DC and Hollywood. One influences policy, and the other influences perception. No Americans of Arab heritage have recognised the importance of lobbying those who impact perception.'"

Our Humanity in the Balance,
By Carel Moiseiwitsch, Gordon Murray and Drew Penland, Winnipeg Free Press, May 4, 2003
"We recently returned from the Occupied Territories of the West Bank and Gaza where we volunteered with the International Solidarity Movement (ISM). Upon returning to Vancouver, we were shocked by the disconnection between our experience of Palestine and its portrayal in the Canadian media. During our stay there, we accompanied and supported people whose daily lives were being interrupted, interfered with and strangled by the Israeli military. We saw humiliation, pain and death inflicted on ordinary Palestinians. Back in Canada, we saw newspaper stories about the heroic Israeli victims of barbaric Palestinian terrorists. Our point is not that Israeli suffering is irrelevant or that Israeli deaths are inconsequential, but that the North American media treat Palestinian suffering and death as irrelevant and inconsequential. In the West Bank and Gaza, we observed soldiers beating medical personnel and using them as human shields, taunting young children to throw rocks at their tank so they could respond with live ammunition, forcing women with infants to stand for hours in the cold a few metres from their homes, destroying food and water systems, and firing heavy machine guns into residential streets and buildings. In short, the Israeli military did not seem to view Palestinians as human beings. Soldiers at checkpoints gave us dire warnings that all Palestinians would kidnap or murder us. On the contrary, the Palestinians we met were incredibly warm, hospitable and generous, and many Israelis work bravely to uphold human rights, including some who join ISM in Palestine. The Israeli military claims many Palestinians they kill are "armed militants" or at least "suspected militants". The vast majority have not been tried or convicted of anything, but we are expected to trust this instant justice. The logic seems to be that since the army doesn't target civilians, all dead Palestinians somehow deserved their fate -- even a kid throwing stones at a tank that could withstand an artillery shell. According to human rights groups, 85 per cent of the Palestinians killed in the Occupied Territories are civilians ... The Israeli army is killing and wounding obvious non-combatants such as medical workers, journalists and international human rights activists with increasing frequency ... The Israeli occupation army's "policing" has killed more than 2,000 Palestinian civilians (including more than 450 children) and demolished more than 3,000 Palestinian houses since September, 2000. That's taking police brutality to a whole new level. A stunning media imbalance is revealed by studies of U.S. coverage of the Palestinian uprising. Analysis of the San Jose Mercury News by Alison Wier, a former Sausalito editor, showed that it covered 73 per cent of Israeli deaths on its front page from April to September, 2001, compared to just five per cent of Palestinian deaths. Cursory readers of the paper would be left with the impression that 500 Israelis -- but only about 100 Palestinian civilians -- had been killed in the current uprising, when the real figures are 700 Israelis and 2,000 Palestinian. According to the media watchdog organization, Fairness and Accuracy in Reporting (FAIR), National Public Radio (NPR) in the U.S. fared somewhat better, reporting 34 per cent of Palestinian deaths and 81 per cent of Israeli deaths in the first six months of 2001. However, the distortion was much worse in the emotionally-charged category of dead children. Only 20 per cent of the killings of Palestinian children were reported, compared to 89 per cent for Israeli children. In other words, being less than 18 years old makes your death more newsworthy to NPR if you are Israeli, but less newsworthy if you are Palestinian. Our experience in the Occupied Territories bears this out ... Portraying one side's suffering as more tragic or important than the other's -- or some deaths as justified by a simplistic "truth" that serves one side -- just facilitates violence. The media must support the search for shared truths and not merely reiterate the formulas of fundamentalist ideologues -- on either side of the Mideast conflict -- that serve a single interest. All of us are responsible for helping find a humane solution. To be silent is to be complicit in the ongoing oppression."




Not Enough? There's much, much more about the MASS MEDIA.