BOYCOTT ISRAEL CAMPAIGN
THE A TO Z OF PICKETING
EVERYTHING YOU NEED TO KNOW ABOUT PICKETING
More and more individuals are beginning to take direct action against companies that support Israel. This page is a guide to what you need to know about organising and sustaining pickets, legal considerations as well as details about existing pickets and how to join them.
Picketing is a united effort involving various Muslim and non-Muslim groups, as well as individual activists not affiliated to any organisation. The focus of this page is on the picketing rather than on the participating groups and organisations.

---
WHO TO PICKET
| | | |
| --- | --- | --- |
| Arguably the most loyal supporter of Israel, (See the Boycott Marks & Spencer page for detailed information) Marks & Spencer stores are unsurprisingly the most popular location for the majority of the picketing activity around the country. | | |
| With the launch of the campaign against the sale and fraudulent labelling of illegal settlement goods, stores guilty of stocking these items have been targeted. Selfridges has been the main target, although at times Sainsbury's and Tesco's have also been picketed for selling goods produced on illegal Israeli settlements on the West Bank, Gaza and the Golan Heights. | | |
---
PICKET LOCATIONS
Listed below are the venues for the already established pickets in parts of the country. Local contact numbers where available of those organising the pickets are also included for new comers in order to give them an idea of what to expect.

If you are attending or have organised a picket that is not currently listed please email [email protected] with venue, contact name, number and or email. Ideally we would like two contacts for each location - a Muslim and a Muslimah to welcome those interested in attending or wanting more information. If you have attended or are currently attending a picket either listed or unlisted, we would also like to hear from you - is the picket regular? What's the attendance like? Is it conducted within an Islamic framework or are picket meetings held in pubs, etc? Please also add any other information which would be useful to someone considering joining the picket.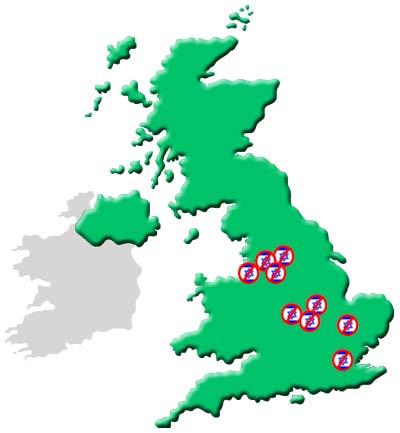 Picket locations in the UK
Birmingham

Target:

Location:

42 High Street
Birmingham
West Midlands
B4 7SS

Time:

Every Saturday 12-2pm

Contact:

Comments:
Bolton

Target:

Location:

35 Deansgate
Bolton
Lancashire
BL1 1HQ


Time:

Every Saturday 12-2pm

Contact:

Comments:

An entry from this picket is available in the Picket Diary.
Coventry

Target:

Location:

The Precinct
Coventry
West Midlands
CV1 1DE


Time:

Contact:

Comments:

An entry from this picket is available in the Picket Diary.
Huddersfield

Target:

Location:

21 New Street
Huddersfield
West Yorkshire
HD1 2AZ


Time:

Sat 31st Aug, 12:30 onwards

Contact:

Comments:

An occasional picket - not regular yet
Leicester

Target:

Location:

18 Gallowtreegate
Leicester
Leicestershire
LE1 1DA

Time:

Every Saturday 12-2pm

Contact:

Comments:
Liverpool

Target:

Location:

35 Church Street
Liverpool
Merseyside
L1 1DF


Time:

Saturday 12-2pm, every two weeks
( 24/8, 7/9, 21/9 5/10, 19/10 ..)

Contact:

Comments:
London

Oxford Street

Target:

Location:

173 Oxford Street
London
W1D 2JR

Tube: Oxford Circus

Time:

Every Saturday 12-2pm

Contact:

Sister Alaa
Email: [email protected]

Comments:

Regular well established picket, good attendance. Picket Diary entries available for this picket.

Marble Arch

Target:

Location:

458 Oxford Street (M&S)
London
W1C 1AP

Tube: Marble Arch

Time:

Every Saturday 12-2pm

Contact:

Sister Alaa
Email: [email protected]

Comments:

Selfridges and M&S pickets near each other.

Edgeware Road

Target:

Location:

258 Edgware Road
London
W2 1DU

Tube: Edgeware Road

Time:

Every Saturday 12-2pm

Contact:

Sister Alaa
Email: [email protected]

Comments:

Excellent picket for Arabic speakers to join as the location draws more Arab customers than the other stores. Picket Diary entries available for this picket.
Manchester

Target:

Location:

7 Market Street
Manchester
M1 1WT

Time:

Every Saturday 12-2pm

Contact:

Bob
Email: [email protected]

Comments:
Cambridge

Target:

Location:

6 Sidney Street
Cambridge
Cambridgeshire
CB2 3HH

Time:

Every Saturday 12-2pm

Contact:

Comments:
---
PICKET DIARY
So what's it like to be on a picket? Read the diaries of activists on the picket line and be inspired in to action.
---
ORGANISING YOUR OWN PICKET

If you're frustrated by the lack of action in your own local area, why not organise a picket yourself? It's not as difficult as it seems. Below is a step to step guide on how to organise and sustain an effective campaign inshallah.
What is a picket?
Picketing is a form of public protest and aims to draw attention to -in this case the realities of Palestinian suffering by exposing those that help to sustain it. It embarrasses those shoppers that know they shouldn't be shopping there, informs those shoppers that are not aware of the moral objections as well as irritating supporters of Israel generally. The companies themselves become aware of the protests and news of pickets goes all the way to the top.
Before deciding to organise a picket it is important to remember that it demands effort and determination. Picketing a store is based on long term objectives; you cannot expect a picket to persuade its shoppers to choose an alternative in only a few weeks or months. If you are unable to ensure commitment or if you are in a location where a picket is easily accessible then it is advisable to join the already existing picket rather than starting your own.
1. Team effort
Before even thinking about choosing which store to target, the most important requirement is a group of committed people. It's advisable to form two teams of reliable individuals (small groups of about 5 or 6 people) to take turns in holding the picket every week or for the picket to be held every other week to ensure sustained attendance into the future inshallah. In all cases it is important to prepare for the unexpected. This does take co-ordination and organisers should have back up plans if more volunteers come forward to help or if volunteers cannot attend when expected.
2. Choosing the venue
In deciding which store to picket, there are initial considerations that need to be made other than which company to choose. Location is a key factor in measuring effectiveness, for example a store in a quiet area that doesn't get many visitors would be less preferential to a store in the centre of town where almost every shopper would be aware of your presence. However if a store is inside a shopping mall then your rights to give out leaflets, etc are greatly reduced because the area directly in front of the store is no longer viewed as public space but private property belonging to the company who own the shopping mall. Permission from the owners is required before anything can be handed out, and this seems unlikely as you would be proposing to leaflet against one of their clients.
For obvious reasons M&S is the favourite company to picket- it seems that almost everything they do is designed to benefit the Zionist state. As part of the campaign against the sale of illegal settlement goods you can also picket Sainsbury's, Selfridges, Harrods, Tesco's or any other store which is giving shelf space to these goods (please see the list of illegal settlement goods and their producers.)

3. Choosing a time
All the pickets tend to run from 12 noon to 2pm on a Saturday. Its not a bad idea to follow this - its in line with peak shopping periods (especially for M&S) and two hours duration means your picketers aren't going to be dropping out due to exhaustion. Picketers of grocery stores like Sainsbury's and Tesco's have in the past selected early Friday evenings for an effective picket (people after work on Fridays tend to go food shopping). It is also recommended to visit the venue at peak hours to asses' suitability for a picket beforehand.
4. Be Consistent
It is crucial to stick to the agreed times and dates even if they are not publicised so that people get use to your presence and feel comfortable joining the picket - the biggest off put is for someone to turn up with their Palestinian scarf, giant Hizbullah flag and drums only to learn that the picket isn't on this week.
5. A Presence
For a picket to be effective people have to be able to see you - you must stand out from the shoppers to form a visible presence outside the shop. This is where placards, banners and flags come in to play. Under the boycott resource section there is a selection of posters you can download and print out to form A1 size posters. The two most suitable for a store picket are shown below: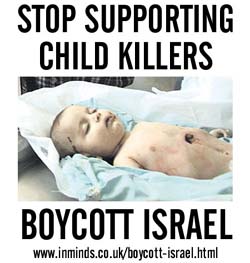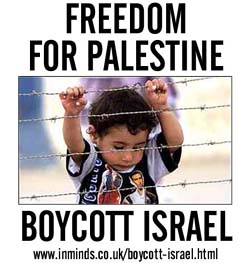 Clear visibility on its own is not enough to make the kind of impact that is possible. The presence of a drummer and loud speaker along with the posters and banners make for a powerful combination. However if you don't have access to these materials then the human voice is just as important in getting the message across, explaining why its morally wrong to buy from M&S or Israeli goods. On the whole it is important however to remain approachable.
6. Leaflets
You need leaflets. Luckily you dont have to make your own. For the M&S boycott everyone is using the leaflets produced by the Islamic Human Rights Commission, some have resized them or removed the IHRC logo but basically they are all the same. The leaflet in its original form is shown below: It was initially produced in year 2000 when the M&S pickets started. The leaflet has been regularly updated since then.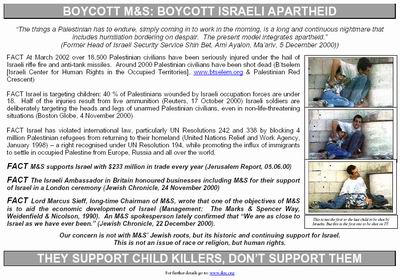 You have two choices, you can either download the leaflet and print it out and make copies yourself, or otherwise IHRC are kindly providing pre-printed leaflets to any pickets in the UK. The pre-printed ones have the added advantage that the reverse side shows a translation in both Arabic and Urdu.

The contact details for IHRC are as follows:
Islamic Human Rights Commission

Web: http://www.ihrc.org/
Email: [email protected]
Tel: 0208 902 0888
The numbers of leaflets you need depend very much on how many picketers there are and their temperament - some people can give out a leaflet every 30 seconds, others chat with the people more and only manage one leaflet every 10 minutes. Most shoppers are in a hurry so please be patient if few people are taking the time to speak to you or want to take the leaflets in the first place. Also try to avoid aggressive leafleting as it results in many people throwing away the leaflets only a few meters from where they were handed them. Take 500 leaflets the first week and make a note of how many are left or if you run out make a note of how long it took to run out to help prepare better for the next picket.
7. Method of Picket
Remember the purpose of the picket isn't to obstruct people or physically prevent them from entering a store. Talk to the people, truth is on our side, they will listen. The zionists may try and prevent you and heckle you when you talk. They are the side of deceit and falsehood so their only weapon is to silence the truth. No matter how vile their words, always reply with courtesy and truth - follow your Islamic tradition. Read the picket diaries for pointers.
---
PICKETING & THE LAW
It's essential to know what your rights are when picketing. Here we pose a few questions to the experts at the Islamic Human Rights Commission:
1. Where are you allowed to picket?
You can picket anywhere on a public highway; street pavements, pedestrian only areas in town centres for example.
2. What about open pedestrianised shopping areas or shopping malls?
Open pedestrianised shopping areas in some city/town centres are still public highways. A shopping mall however constitutes private property and is usually run by a private company with private security. In order to picket you need their permission.
3. Where are picketers allowed to stand - is there a minimum distance you have to stand from the entrance?
You can stand anywhere you want as long as you're on the pavement and not on the stores property and also that you do not obstruct the highway.
4. What constitutes obstruction?
Preventing people from passing and re-passing
5. Are you allowed to set up a table and long banners?
A table is usually considered to be an obstruction; banners however depend on its size and nature and also on the size of the highway (pavement). These issues need to be negotiated with the police. Remember it is important that you build a good relationship with the police.


6. What is the law on giving out flyers?
A person is free to distribute information as long as it does not breach the peace, lead to the threat of violence, threat to property or incite racial hatred.
7. Are members of the council allowed to stop you giving out flyers?
No


8. What authority under the law does store security have?
Nothing outside the store
9. If you are outside the store can they tell you to move on or harass you?
They can remove obstruction to the entrance
10. What about the police - can they tell you to move on if you are picketing on the pavement?
They can tell you to move if you are obstructing the highway. If you don't move, they can charge you with obstructing a police constable. However you can move further along the street or negotiate where the picket would not constitute an obstruction, the key thing is not to obstruct and this is all the police are interested in. Above all the police are there to uphold your rights which include the right to leaflet, but again remember it is vital to build a good relationship with the police. They are not your opponents.


11. If you enter a shop and stick boycott stickers on products for sale, what's the worst that can happen - can they arrest you for that or just throw you out of the shop?
They will throw you out of the shop, they can't arrest anyone unless there is criminal damage. However if paint comes off or fruit and vegetables are damaged, it would be considered as criminal damage. Please also remember that your main concern is to further the cause by recruiting as many people in support of your campaign rather than to damage it.


12. What do you do if you are arrested?
Get a solicitor and report the incident to IHRC. If you are not sure of which solicitor to contact you should get help and advice from IHRC - Tel: 0208 902 0888.

We would like to thank the Islamic Human Right Commission for their help in putting together this page, parts are © IHRC 2002.
URL: http://www.inminds.com/picket-page.html
www.boycottisrael.org
www.stopthewall.org
www.bigcampaign.org
www.boycottisraeligoods.org
www.inminds.co.uk/boycott-israel.html