Jewish terror, massacres, torture




•

Jewish terrorism and terror groups

•

JDL, Betar-Tagar...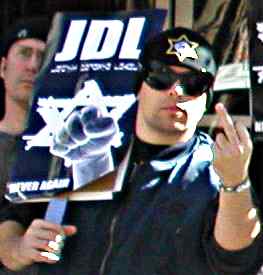 The Zionists are leading a war of terrorism against their opponents, using organisations such as Mossad, Betar-Tagar, the Jewish Defense League, and the Anti-Defamation League.


Jewish terrorgroups/networks, JDL, Betar-Tagar

Jewish terrorism against Internet!
The campaigns against Radio Islam. JDL uses threats in its quest to silence Radio Islam.


Jewish Defencee League Canada block pro-Palestinian British MP George Galloway from visiting Canada
Meir Weinstein, national director of the Canadian branch of the Jewish Defence League threatens...
The decision to ban George Galloway from Canada seems odd, but now it emerges that the Jewish Defence League (JDL) pressured the Canadian Government to do so.
The action takes on very sinister connotations for Canada as the Jewish Defence League, according to the FBI, is a Terrorist Group! In its report, "Terrorism 2000/2001", FBI referred to JDL as "a violent extremist Jewish organization". This "violent extremist Jewish organization" now has power and influence over the Canadian Government.


Ahmed Rami has received a Jewish death threat!
"... you will die a horrible death!!!" Threat from Jewish terror group Betar, based in France.
These death threats are no joke:
In 1993 Radio Islam and Ahmed Rami hosted a lecture by Robert Faurisson in Stockholm, Sweden, that was attacked by 32 armed Jewish psychopaths from Betar, under leadership of former Israeli military, Moshe Cohen!
Note: In 2016 Francis Kalifat, a former Betar militant, attained the top position of Jews in France, becoming the President of CRIF (Conseil représentatif des institutions juives de France). This proves that these fanatics and hoodlums are not a fringe tendency, but actually represent the Jewish majority!


Mossad terror and assassinations

Jewish death threats against ex-Mossad agent
By former Mossad agent Victor Ostrovsky


Ex-Mossad agent speaks out
Interview with Victor Ostrovsky (New Dawn 10-11/1995)


Mossad's Punishment: When Israel's Mossad Set Out to "Break" Me, It Found Its Helpers Here at Home
By Victor Ostrovsky (Washington Report 10/1997). An ex Mossad's experience after blowing the whistle on his organization's dirty work. Plus, an article openly appealing to the murder of Ostrovsky in the Israeli newspaper Ma'ariv (includes some revelations of Mossad's assassination of western experts who helped Arab nations.)


Mossad's Record
Excerpts from Ostrovsky's book "By Way of Deception: A Devastating Insider's Portrait of the Mossad"


Shabak Elements Eliminated Rabin Argues Ex-Mossad Agent By Victor Ostrovsky


Sayanim - Israel's and Mossad's Jewish helpers abroad - updated!
On the Jewish system of sayanim, katsas, bodlim.
Includes the article "Sayanim — Israeli Operatives in the U.S." (Veterans Today, July 19, 2010).


Capture of Kurdish Leader Ocalan Recalls Mossad's Cooperation with Both Turkey, Kurds By Victor Ostrovsky (Washington Report 04/1999)


Israel's To Blame for Distancing Libya from the U.S. By Richard Curtiss (Washington Report 10/1999)


Mossad plot to assassinate Saddam By Uzi Mahnaimi (London Times 01/17/1999)


Mossad Agent on Trial in Switzerland Admits Charges By Amnon Barzilai (Ha'aretz 07/04/2000)


Mossad Assassinations: The End of Israeli Liquidation of Commanders of Terrorist Organizations
By Nahum Barnea (Yediot Ahronot 11/08/1996). Translation and Comments by Israel Shahak in the Washington Report 03/1997 issue.


Israel/Mossad Assassinations
Zionist Assassination Operations (a list from Baheth for Studies).


Significance of Mossad's Attempted Assassination of Meshal By Israel Shahak (Washington Report 01/1998)


Netanyahu's Mossad Mess in Amman By Charlie Reese (10/16/1997) After the bungled Mossad assassination attempt against Khaled Mash'al in Jordan.


Paris Fingers Mossad Killer By Dov Alfon (Ha'aretz 03/16/1999)


Fury at Israeli Assassination Threat (BBC 03/16/1998).


Mossad terrorism and crimes against Palestinians and others in Europe and the Middle East - parts 1 - 2
From the Encyclopedia of the Palestine Problem, by Issa Nakhleh, Chapter Thirty-two.


Israeli Hollywood mogul Arnon Milchan - "Mr. Israel" and 9/11
By Christopher Bollyn. Israeli secret agent Milchan's 1978 movie "The Medusa Touch" includes imagery just like the jetliner WTC attack... in 2001!


Israel and the Panamanian project: Noriega
On Manuel Noriega's right hand, Michael Harari, Israeli Mossad agent.


Israel, the Golden Triangle, and the Kennedy Assassination The book "Opium Lords", by Salvador Astucia


Iran Is Not Our Enemy, Let's Make This Israel's Last Attempt to Start a War
On the U.S. assassination in 2020 of Iranian Major General Qasem Soleimani: "Trump has now fulfilled the wishes of Mossad..."
It's the U.S. that is the "proxy force" in the Mid-East, its Airforce now used for assassinations on Israel's behalf!


Journalist and former Mossad agent Herbert Pundik turns 90 – and Denmark celebrates
By Jonathan Ofir, Mondoweiss, October 4, 2017.


The Maxwells: Mossad's First Family of Spies
By Philip Giraldi, The Unz Review, December 8, 2020. Who was running whom in the Epstein espionage ring?
On orthodox Jew Robert Maxwell, British media mogul and fanatic Zionist, personal friend of Israel's butchers Ariel Sharon and Yitzhak Shamir.
Maxwell's burial ceremony at the Mount of Olives, Israel, was attended by six serving and former heads of the Israeli intelligence community!


Epstein: The Mossad Connection
Includes very interesting statements by Israeli-born Jew and former CBS executive producer, Zev Shalev.


Head of the Snake: Epstein, Wexner, Maxwells, Mossad & Mega Group Exposed (2020)
Jeffrey Epstein was not the head of the snake, he was only mid management and was assigned by Israeli Intelligence to work for Ghislaine Maxwell, who reported to billionaire Zionist Les Wexner.
Alternative video links: here and here


Epstein Pedoscandal Mossad-Timeline
By Marco de Wit, The Unz Review, September 27, 2019 - with additions.



Other Mossad ops
Settler terror

Israel's State terror and terrorist leaders (Begin, Shamir, Rabin...)

Terror - The Double Standard
A chapter from Alfred Lilienthal's famous book "The Zionist Connection II". (Includes the introduction to his book)

Israel's Assassination Policy
More on Jewish assassinations of political opponents can be read in the chapter above on Jewish Terrorism.
Anti-Defamation League (ADL)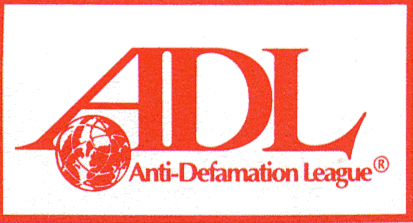 Intellectual terror is also a main weapon in the Jewish arsenal. These modern inquisitors label political opponents as "anti-Semites" - a term equalled to "devil-worshipper" in Medieval times - and then want them stripped of their legal and human rights, invocing media harassment, imprisonment, loss of property and employment.
The ADL is a prime instrument in this Jewish apparatus of "thought control". As described by Noam Chomsky in his book "Necessary Illusions" (1989):
The leading official monitor of anti-Semitism, the Anti-Defamation League of B'nai B'rith, interprets anti-Semitism as unwillingness to conform to its requirements with regard to support for Israeli authorities.... The logic is straightforward: Anti-Semitism is opposition to the interests of Israel (as the ADL sees them). ...
The ADL has become "one of the main pillars" of Israeli propaganda in the U.S., as the Israeli press casually describes it, engaged in surveillance, blacklisting, compilation of FBI-style files circulated to adherents for the purpose of defamation, angry public responses to criticism of Israeli actions, and so on. These efforts, buttressed by insinuations of "anti-Semitism" or direct accusations, are intended to deflect or undermine opposition to Israeli policies.
Ashahed M. Muhammad from Nation of Islam speaks on the Jewish Anti-Defamation League.
"Through its 31 offices across the country, the ADL monitors school curricula, library acquisition lists, and public conferences and symposiums, working behind the scenes to stifle intellectual freedom."
-- Robert Friedman, The Jewish Thought Police: How the Anti-Defamation League Censors Books, Intimidates Librarians, and Spies on Citizens, The Village Voice, July 27, 1993.
ADL is all the time writing "upset" press releases on how shocked they are of what they call "anti-Semitism" spreading around the world. So what is this phenomena - "anti-Semitism" - that enrages them so? To learn more, please visit our special section on this subject.
The land of Palestine could never have been conquered by the Zionist war criminals, had it not been for the long series of massacres they perpetrated.

Deir Yassin Massacre
See also articles on the Palestinian exodus (Nakba) as a result of the 1948 massacres.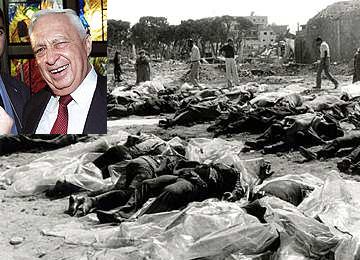 Sabra and Chatila refugee camp massacres (Beirut)
See the Lebanon section for the massacres of Sabra and Chatila (1982).



Hebron Massacre
Qana massacre 1996
See the Lebanon section for more on the massacres of Qana.



Misc. on massacres

More on Jewish terror and massacres...
- For information on Israeli agents' bombing of U.S. institutions in Egypt, see the Lavon Affair.
- For articles on Israel's 1967 attack of the U.S. warship the USS Liberty and the deliberate massacre of 34 American sailors (and wounding 171), please see our section on the U.S. cost of Israel.
- For articles on Israel's connection to the 9/11 attacks in 2001, please see our section on the U.S. cost of Israel.



The reasons behind Jewish terror, massacres and the Jewish state's constant atrocities:
See also:
Israel Murders Prisoners of War

The remainings of an Egyptian officer.
These modern atrocities just follow a historical pattern:

"When the subject is torture, there can be no "middle-of-the-road" policy, no compromise, no putting our head in the sand, no flexible and lenient formulas. The considerable experience that has been accumulated on this issue clearly demonstrates the need for a vigilant and uncompromising moral stance."
-- Ha'aretz Editorial, 12/13/1999, on Israel's attempt to find ways to allow torture under "special circumstances".


The Jewish version of "justice"
"This justice minister should be reminded that murder is murder and bloodshed is bloodshed, and one absolutely cannot give preference to one murderer over another or one terrorist over another just because the murderer 'is one of ours,' as it were."
-- Meretz MK (Knesset Member) Yossi Sarid quote-of-the-day on Jerusalem Post Internet Edition of 02/04/1999.

Ha'aretz on Israel's Human Rights Record
Historical Documents and Chronologies
---
Other archives on Zionism and the occupation of Palestine:

• Zionism - history, background, Apartheid

• Israeli Wars, Nukes

• Palestinian Uprising

• "Peace Process"

• The U.S. Cost of Israel