Jerusalem to Japan: Join the War on Terror!
By Etgar Lefkovits
The Jerusalem Post, August 09, 2007
A group of Israeli politicians and academics on Monday sought the support of Japan's small but influential Christian community, part of an increasingly global Judeo-Christian alliance against radical Islam.
The fourth annual "Jerusalem Summit Asia," which was held in a Parliament-owned building in central Tokyo, brought Israeli Tourism Minister Yitzhak Aharonovitch, lawmakers from the Knesset's Christian Allies Caucus and conservative Israeli academics and thinkers together with Japan's tiny but growing evangelical Christian community, who are concerned by the rise of Islamic extremism, but who have until now maintained their distance on the issue in a predominantly secular country.
"Here in Tokyo, we are building a bridge of partnership and friendship to save our basic freedoms based on shared Judeo-Christian values," said Likud member Gideon Sa'ar. "Our battle against the forces of Islamic extremism must end with a clear and moral victory, like the victory over communism."
Monday's event, which was attended by several hundred evangelical Christians from Japan and elsewhere in Asia, as well as Israeli ambassador to Tokyo Eli Cohen, was held as Japan marked the 62nd anniversary of the bombing of Hiroshima, and amid growing persecution of Christians throughout Asia and Africa.
"You can try to be politically correct, but don't be biblically wrong," said Benny Elon of the National Union-National Religious Party, who spearheaded Israel's ties with the evangelical world during his tenure as tourism minister.
Elon urged Japanese Christian parliamentarians to carefully monitor their country's massive financial assistance to the Palestinians to ensure it was not being channeled to terrorist organization such as Hamas and to stop contributing to UNRWA, the United Nations Relief and Works Agency, which he said had only exacerbated the Palestinian refugee problem.
He said the decision to enlist the support of Japanese Christians in the struggle against Islamic extremism followed marked success in working with the evangelical Christian community in other Asian countries, including the Philippines and South Korea, which, along with Singapore, had hosted such conferences in the past.
About 1 percent of Japan's 127 million citizens are Christians.
Aharonovitch called on the Christian leaders to show support for Israel by visiting "the country where the Bible is your calling card and guide book" in the coming year, as Israel marks the 60th anniversary of statehood.
He said that only 7,000 Japanese tourists visited Israel last year, and that he was working with Japanese officials to speed up the planned inauguration of direct flights between the two countries, tentatively scheduled for 2010.
The Jerusalem Summit Asia was organized by the Jerusalem Summit, a conservative NGO that debuted more than four years ago, funded by Russian Israeli tycoon Michael Cherney.
The organization's executive director, Dmitry Radyshevsky, urged Christians and Jews to unite "politically and spiritually" in the face of radical Islam, which he called "the reincarnation of fascism and Nazism."
"Jews and Christians are one tree, with the Jews forming the roots and the Christians the branches; when it is united, it is unbreakable," he said.
"Especially in these difficult times, only the biblical path can be the light to our feet," said Marisa Albert, the executive director of Jerusalem Summit Asia and chairwoman of the Jerusalem East Gate Foundation, a Jerusalem-based evangelical ministry that works with the Asian world.
"The issue of Israel today is most of all an issue of faith," she added.
Speaking Out Against Persecution
The two-day conference was scheduled to conclude earlier this week, on April 7, with a discussion among religious leaders on how to focus world attention on persecution of Christians in Asia, particularly in Indonesia and Malaysia -- a subject that most Japanese Christians in the audience said they knew little or nothing about.
Indonesian Pastor Fransiskus Irwan Widjaja said that it would be beneficial if governments throughout Asia -- especially those with larger, more active Christian populations than Japan -- spoke out against the persecution of Christians in an effort to pressure other states to intervene on the issue.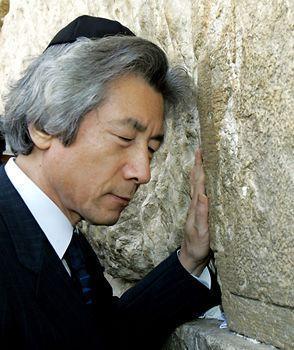 Koizumi in Israel