How "Jewish" Zionists Fuel Hostility to Muslims
Posted By: Christopher Bollyn
Monday, 2-Jan-2006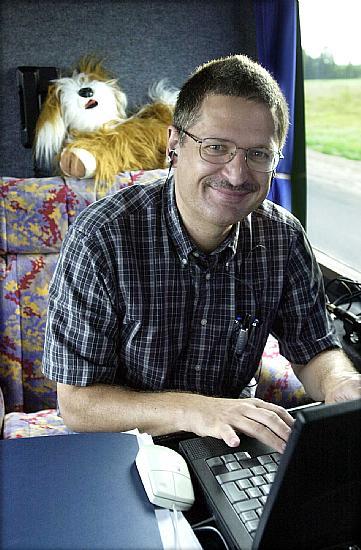 Flemming Rose, the "cultural editor" of the Danish newspaper Jyllands-Posten decided to publish 12 provocative and inflammatory cartoons of the Prophet Muhammad - including one in which the Prophet is shown wearing a turban shaped as a bomb with a burning fuse, the International Herald Tribune reported on December 31, 2005.
The Danish newspaper was unprepared for the global furor which was provoked by the cartoons. The offensive cartoons resulted in demonstrations in Kashmir, death threats against the artists, condemnation and rebukes from 11 Muslim countries and the United Nations.
"The cartoons did nothing that transcends the cultural norms of secular Denmark, and this was not a provocation to insult Muslims," Flemming Rose, cultural editor of Jyllands-Posten, Denmark's largest newspaper, said, rather disingenuously.
Rose and the paper have refused to apologize for publishing the drawings.
"But if we talk of freedom of speech, even if it was a provocation, that does not make our right to do it any less legitimate before the law," Rose said in an interview from Miami, where he has fled to escape the publicity after living under police protection in Denmark.
But Rose acknowledges that even his liberalism has its limits. He said he would not publish a cartoon of Israel's Ariel Sharon strangling a Palestinian baby, since that could be construed as "racist." He would, however, publish a cartoon poking fun at Moses or one of Jesus drinking a pint of beer.
Now why would Rose refuse to publish a cartoon depicting Ariel Sharon, a known war-criminal and genocidaire, strangling a Palestinian baby?
Why would such a cartoon, correct and accurate in its depiction, be considered "racist" by Flemming Rose? Sharon has certainly been responsible for the murder of thousands of Palestinians during his time on this planet. He is a well-known war criminal. So, why would an Israeli war criminal be protected by Mr. Rose?
Are we likely to see cartoons in Jyllands-Posten calling into question the force-fed Zionist myth of the Holocaust, which has become the new "Holy Cause" of Europe?
Why should the criminal history of a Zionist leader or outstanding questions about the the Second World War be more protected than the worshipped prophet of one of the world's major religions?
Take a good look at the non-Danish "cultural" czar of Jyllands-Posten and ask yourself.


Photo: Flemming Rose, the Zionist gatekeeper and cultural czar of Jyllands-Posten, sitting in the "chairman's" seat during a trip to Estonia. Photo by Lone Jurgensen of Jyllands-Posten.
---
Flemming Rose - A Ukrainian Jew Working for Mossad?
Posted By: Christopher Bollyn
Monday, 27-Feb-2006
In Response To: How "Jewish" Zionists Fuel Hostility to Muslims (Christopher Bollyn)
Two authors named James Petras and Robin Eastman-Abaya have written a very interesting article on Flemming Rose, the "cultural editor" who commissioned the insulting and provocative anti-Muslim cartoons on a website called La Haine.
The Caricatures in Middle East Politics
Petras and Eastman-Abaya claim that Rose is an Ukrainian-born Jew who is working with the Mossad. If this is true, this confirms my suspicions and would prove that Rose has lied to me about his ethnic origin. It would also confirm my description of Rose as having a foreign agenda which has done immense damage to Danish prestige in the world.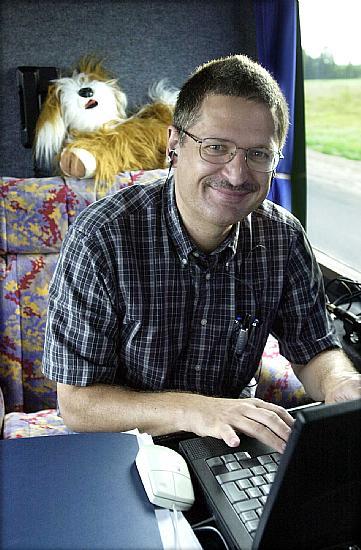 When I first became aware of this clearly contrived provocation and who was behind it, I wrote this to the editors of Jyllands-Posten:
"From the online photos by Lone Jurgensen of Mr. Rose, I can see that Mr. Rose certainly appears to be more of a Jew than a Dane. I suspect that he is an Ashkenazi Jew of Russian ancestry, i.e. from the Pale of Settlement or Russia proper."
Now these two authors have apparently found that this is indeed the case.
Here are a couple key paragraphs from the Petras article:
"The story, presented with straight faces, by television news-people, is of, Mr. 'Flemming Rose', a crusading cultural editor of a widely read Danish daily newspaper who wanted to counter the growing 'political correctness' of Europeans about criticizing Moslems and which he compared to the 'self-censorship' he had witnessed in his native Soviet Union.
"The oddly named Ukrainian-born editor of the culture page of the Jyllands-Posten commissioned Danish cartoonists to submit a series of cartoons depicting the Prophet Mohammed as they (the Danish cartoonists) might imagine him. However four of the twelve cartoons selected for publication were illustrated by 'Rose's' own staff including the most controversial 'bomb in the turban' one. Braving Denmark's anti-blasphemy laws Mr. Rose published the cartoons on September 30, 2005 and the rest is history..."
"Given Mossad's long-standing penetration of the Danish intelligence agencies, and their close working relations with the right wing media, it is not surprising that a Ukranian Jew, operating under the name of "Flemming Rose" with close working relations with the Israeli state (and in particular the far right Likud regime) should be the center of the controversy over the cartoons. "Rose's" ties to the Israeli state antedate his well-know promotional "interview" with Daniel Pipes (2004), the notorious Arab-hating Zionist ideologue. Prior to being placed as a cultural editor of a leading right-wing Danish daily, from 1990 to 1995 "Rose" was a Moscow-based reporter who translated into Danish a self-serving auto-biography by Boris Yeltsin, godchild of the pro-Israeli, post-communist Russian oligarchs, most of whom held dual citizenship and collaborated with the Mossad in laundering illicit billions."
I have send another email asking the editors of Jyllands-Posten if this is true - and if they were aware of Flemming's foreign agenda and origin all along. I will be speaking with them in the next day or two.
If this is indeed the case, it would confirm what I wrote to the editors of Jyllands-Posten, the essence of which was posted in my first posting on this subject on RMN:
"I must ask," I wrote to the editors on Jan. 2, "Why have you let your newspaper be dragged into this ridiculous and provocative situation? Do you truly wish to antagonize the Muslim people? Did you not see what happened when Salman Rushdie wrote his anti-Muslim book? Don't you have any respect for any culture outside of tiny Denmark?
"Or have you let a wild a crazy Zionist run amok and wreck things for your newspaper?
"I suspect the latter."


Photo: Daniel Rose, the culprit of the cartoon scandal on a bus trip in Estonia. It now appears that he is indeed NOT Danish but a Jew of Ukrainian birth doing the dirty work of the Israeli Mossad. His outrageous cartoons have caused great damage to Denmark and European relations with the Muslim world - solely to advance the Zionist Neo-Con's contrived "Clash of Civilizations."



---
Please also read the very informative article:
The Caricatures in Middle East Politics