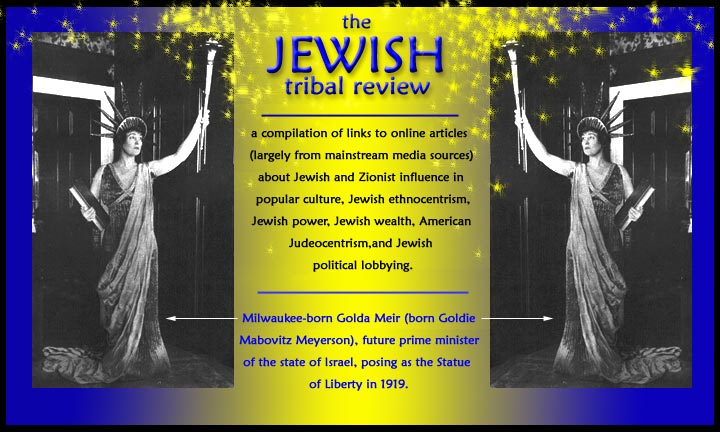 ---

"TELLING THE TRUTH IS NOT ANTISEMITIC. AM I RIGHT?"
-- Joe Wood, (African-American author),
in Berman, Paul. Blacks and Jews: Alliance and Arguments,
Delacorte Press, NY, 1994, p. 112


"TO SEE WHAT IS IN FRONT OF ONE'S NOSE
REQUIRES A CONSTANT STRUGGLE."
-- George Orwell, 1946


"THERE IS NOTHING MORE FRIGHTENING THAN ACTIVE IGNORANCE."
-- Goethe



---


The following sections contain brief excerpts from articles (over 2,975 so far) with links to the original online sources. If any links are broken, the original source has changed it; simply search the archive at the host organization (its address is viewable in the link at your URL address line). A few media sites, however, charge a fee for access to their articles after a few days. (Also, if a host web site uses a design structure called "frames," a direct link from here to the article isn't possible. Again, the host site's archives must be negotiated). Even if an article has been taken off the Internet since it was posted here, it can often be found by doing a google.com search, using a phrase from the article, finding the correct result, and then clicking the "cached" selection. [Other ways to find articles: from a correspondent].


TABLE OF CONTENTS:

New! The Culture of Critique: An Evolutionary Analysis of Jewish Involvement in Twentieth-Century Intellectual and Political Movements (preface to the first paperback edition), by Kevin MacDonald

New! The Jewish Century, by Henry Makow

New! Rogue Web Site (REPORTERS NOTEBOOK)
Steals Jewish Tribal Review Material

NEW! Modernity Has Been Good to the Jews, by Stygniev O'Donnell

NEW! Waylon Feinstein, may I introduce Lakeesha Shapiro and Vernon Ginsberg!, by Stygniev O'Donnell

NEW! The Shadow of ZOG, by Israel Shamir


NEW! Is Israel Shamir an anti-Semite?

NEW! The Israeli Murder and martyrdome of American Rachel Corrie
(Corrie's letters to her mother, and excerpts from articles about her death)

NEW! Truth and Action, by Winston Smith

NEW! Jews at the Head of Non-Jewish Organizations
An on-going list of Jews heading Left and Right think tanks, lobbying organizations, universities, etc.

NEW! Midas Ears, by Israel Shamir

New! Support Congressman Moran as the Jewish Lobby tries to destroy him for daring to note the Jewish roots of the impending Iraq war for Israel

NEW! Anti-War Petition to the United Nations at moveon.org
Also: Campus Anti-War Network
Also: Vote to Impeach (George Bush)


New! When Victims Rule. A Critique of Jewish Pre-eminence in America, now in pdf format.

New! One-time Zionist Henry Makow joins (at his own web site and at Etherzone.com) the discussion about the Jewish Tribal Review's "When Victims Rule," Jewish/Zionist power, and the looming war with Iraq. (Maskow's article is entitled "When Victims Rule. War Could Create Resentment Against Jews.")

New! Understanding Jewish Liberalism and Support for Israel

New! A critique of the Jewish Tribal Review, by Israel Shamir, and replies by Chad Powers. 1, 2, 3, 4,

New! Jews and the Left

New! The Jewish Question, by professor Stygniev O'Donnell

New! Jewish Power: An email exhange with Jewish philosopher professor Michael Neumann. Also, a rebuttal ("In Defense of the Jews") to his "Jewish Power" article

NEW! Welcome to Amerisraelistan, by Chad Powers

NEW! Original Articles by Chad Powers, and others

NEW! Cartoon Series

NEW! St. Cloud State University: An experiment into the nature of censorship, the "sheep herd" syndrome, the "Great Taboo," and Campus Thought Control




---

THE RESEARCH:

* The Terrorist Attack

* The War with Iraq
The War with Iraq, pt. 2

Jewi$h Power

Jews and Government, part 1
Jews and Government, part 2

Jewish Influence in Popular Culture

Jewish Media Moguls in Action

The Art World

Jewish Influence in Sexual Morality

Jewish Dominance of the Political Left/Communism

Jewish Dominance in the Capitalist Takeover of Today's Russia

Anti-Semitism

Political Correctness

The Holocaust

Crime and Punishment:
-- History
-- Rabbis/Chasids/Jewish Officials
-- 'Russian' Mafia (and General Drugs)
-- Sex/Prostitution/Pornography
-- Israel
-- Art
-- Government
-- Hollywood/Mass Media
-- International
-- Miscellaneous
-- Non-Criminal Fraud Category

Israel and Zionism
Israel and Zionism, pt.2
Israel and Zionism, pt.3
Israel and Zionism, pt.4

Spies, Spies, Spies

Judaism

Against the Pope (and other articles about Jewish activism against Christian society)
Against the Pope, Part 2

The Jewish War with Islam

Jewish Exploitation of African-Americans:
-- Jewish Slum Lords
-- Jewish Exploitation of Black Ghettos
-- Jewish Dominance and Exploitation of the
Black Civil Rights Movement
-- Exploitation of Black Politicians
-- The Mass Media
-- The Music World

Jewish Exploitation of Other Minorities
(Latinos, Native Americans, Japanese-Americans)

Jewish Influence in $ports

Jews and Real Estate

Jews and the Fashion Industry

Las Vegas

Jews and the Computer World

NEW!Jews at the Head of Non-Jewish Organizations
(including universities)

Censorship

Jewish Ethnocentrism, Racism and Resistance to Assimilation

Humor

Miscellaneous Jewish Propaganda Department

* Issues in Context




---


The Jewish Tribal Review is merely a sampling of a much greater story. A 2,000 page online scholarly work featuring approximately 10,000 citations from about 4,000 bibliographic sources (mainly from the mass media, scholarly books, and Jewish ethnic media sources) addressing the above subjects -- and much more -- may be read at:

* WHEN VICTIMS RULE. A CRITIQUE OF JEWISH
PRE-EMINENCE IN AMERICA.

We believe this to be the most extensive investigation anywhere into this subject.



---

This site exists for non-profit educational purposes only. Its purpose is to elicit public discussion about the issues above. It is against all forms of bigotry. Criticizing the wealthiest ethnic group in America and any expression of its ethnocentrism, in-group solidarity, racism, unethical behavior, dual moral standards, political influence, dedication to a foreign nation, and exertion of power is not bigotry. It is one of our most elemental rights in a free society: to expose the bias, hypocrisy and injustice of influential power elites that affect all our lives.

(The Jewish Tribal Review has been defamed by a web site called "The Hate Directory" as an example of "hate." That defamation is fraud. Read our

email exchanges

with that Hate site's proprietor and decide for yourself which web site -- that one or this one -- holds the higher moral ground). Also,

why does google.com automatically classify this web site as "antisemitism?"

---

---


OTHER NOTABLE SITES
REGARDING JEWS AND/OR ZIONISM:



AMERICANS FOR MIDDLE EAST UNDERSTANDING

WASHINGTON REPORT ON MIDDLE EASTERN AFFAIRS


POLISH-AMERICAN PUBLIC RELATIONS COMMITTEE

UKRAINIAN ARCHIVE

UKRAINIAN CANADIAN CIVIL LIBERTIES ASSOCIATION

LA VOZ DE AZTLAN

NASZA WITRYNA

USS LIBERTY

USS LIBERTY
(a second web site on this subject)

COUNCIL FOR THE NATIONAL INTEREST

HOLOCAUST FORGOTTEN

KEVIN MACDONALD HOME PAGE
(and his important work: The Culture of Critique)
Preface to The Culture of Critique
Part One, Chapter One
Concluding chapter to C of C
Chapter 5
(Some MacDonald books in their entirety at questia.com)

ADL WATCH

ADL WATCH (at zpub)

NORMAN FINKELSTEIN HOME PAGE

COUNCIL ON AMERICAN-ISLAMIC RELATIONS

CATHOLIC LEAGUE FOR RELIGIOUS AND CIVIL RIGHTS

ISRAEL SHAMIR WEB SITE

B'TSELEM
(The Israeli Information Center for Human Rights in the Occupied Territories)

MID-EAST REALITIES

GORDON THOMAS HOME PAGE

HOLY LAND TRUST

FILM INDUSTRY REFORM MOVEMENT

TRUTH ESTABLISHMENT INSTITUTE

THE WARSAW GHETTO UPRISING AND THE POLES
(Canadian Polish Congress)

THE BLOODY STORIES OF LITHUANIA:
LITHUANIAN-JEWISH RELATIONS
(Global Lithuanian Net)

CHRISTIAN PEACEMAKER TEAMS

SPYTALK
(Online radio with former Mossad agent and whistleblower Victor Ostrovsky)

REDS- DIE ROTEN. ISRAEL AND PALESTINE
(Marxist critiques of Israel)

INDICT SHARON
(the lawsuit against Israeli Prime Minister Ariel Sharon for war crimes)

NEITHER ARYAN NOR JEW
(Peter Myer's web site)

WE HOLD THESE TRUTHS

THE LAST DITCH

JEWISH QUESTION
(Louis Proyect -- Marxist perspective)

THE GHASTLY YEAR
(Latvian history)

HUMAN RIGHTS WATCH

AMNESTY INTERNATIONAL

"HOLOCAUST REVISIONISM" / "HOLOCAUST DENIAL" SITES

IS ISRAEL REALLY AMERICA'S FRIEND?

AMERICANS FOR MIDDLE-EAST NEUTRALITY

FREE OUR WOMEN

DEIR YASSIN REMEMBERED

THE AMERICAN COUNCIL FOR JUDAISM

NATIONAL ORGANIZATION OF CIRCUMCISION INFORMATION RESOURCE CENTERS (See: "Circumcision and Religion" heading)

WHAT REALLY HAPPENED

PAPUREC
(Polish Rights Organization)

HOOZAJEW

ZPUB.COM
(Critical of the ADL, American Jewish Congress, & Simon Wiesenthal Center)

VIVA!
(The Reality of Religious Slaughter)

WHAT'S HAPPENING IN ARMENIA
(Union of Councils for Jews in the Former Soviet Union)
(Note: this is an Judeocentric web site. But if you get past
the usual "anti-Semitic" accusations here, there are some
interesting articles posted here about Armenian views).

ALFRED LILENTHAL HOME PAGE

JUDAISM TIMELINE

THE HIDDEN HISTORY OF ZIONISM

JEWHOO
( http://www.jewhoo.com )

MORDECHAI VANUNU: NUCLEAR WHISTLE BLOWER

CAMPAIGN TO FREE VANUNU AND FOR A
NUCLEAR FREE MIDDLE EAST

U.S.-ISRAEL RELATIONS (by state)

FAITS & DOCUMENTS (French)

ISRAEL SHAHAK PAPERS
(Middle East Policy Council)

ISRAEL CIA-STATE DEPARTMENT FILES

OVERTHROW.COM
(Libertarian Socialist News)

WHEN KOSHER ISN'T KOSHER
(Slaughterhouse issues)

THE JEWISH CONNECTION
(Jewish domination of the diamond business)

TIES THAT BIND
(Israel and the Kurds: The Kurdish Library)

THE PEOPLE'S REPUBLIC OF HUNGARY
(Jewish dominance of Hungary's communist revolution in early 1900s)

UNIVERSITY OF TORONTO FRAUD
(Grad student gets shafted by Jewish professor, then is called "antisemitic")

AVOTAYNU CONSOLIDATED JEWISH SURNAME INDEX

OZNIK

JEWS TO ISLAM
(Web site of Brooklyn-born Joseph Cohen, former chassid, now
Yousef al Khattab, a Muslim in Palestine)

RABBI WATCH

THE AWARENESS CENTER
(Abusive rabbis and Jewish clerical officials)

STALIN'S ETHNIC CLEANSING
(Jewish dimensions to this, here)

ISRAEL WATCH

PUBLIC COMMITTEE AGAINST TORTURE IN ISRAEL

WHO OWNS WHAT
(Columbia Journalism Review's list of media monopolies)

BOYCOTT ISRAEL CAMPAIGN

PRAVDA
(Russian journal; sometimes has interesting articles about Jewish influence)

AN EYE FOR AN EYE

TAKE BACK THE MEDIA

INDYMEDIA ISRAEL

LUDWIG WATZAL

RESEARCH GUIDE TO THE PALESTINAN-ISRAELI CONFLICT

TRUTH ABOVE ALL

CHARLEY REESE

ROUNDTABLE TEXTS
(Israel and the Muslim World)

JOHN PILGER

KAPPAROT 'BROILER' CHICKENS
(Protest)

GILAD ATZMON
(anti-Zionist singer)

OPPOSE WAR ON IRAQ
(American Friends Service Committe)

THE ZIONISTS' RISE TO WORLD DOMINATION

A List of Anti-War Web Sites
(largely compiled by The Guardian newspaper, Great Britain)

AL-JAZEERAH
(the famous Arab news organization)

AL-JAZEERAH
(Same namesake as above, but smaller web site)

IRAQ WAR
(A Russian analysis of the ongoing invasion of Iraq)

The Jewish Question. A Marxist Interpretation,
(1946), by Abram Leon

THE BIRDMAN (THE JEWISH QUESTION)

INTERNATIONAL MIDDLE EAST MEDIA CENTER

---

"Communal responsibility is based on the fact that each of us is born into a community and shares its history, memories, identities, achievements, and failures. We are not simply human beings who can retreat behind a Rawlsian 'veil of ignorance,' secure in our universal rights and historical innocence. We are also members of specific families and communities ... We are all coresponsible for that which our community has perpetrated or condoned, for both sins of commission and omission."
-- Amitai Etzioni, 'Kristnallnacht' Remembered. History and Communal Responsibility. Commonweal, February 12, 1999, p. 12-16

---


"If we understand the mechanisms and motives of the group mind, it is now possible to control and regiment the masses according to our will without their knowing it ... The conscious and intelligent manipulation of the organized habits and opinions of the masses is an important element in democratic society. Those who manipulate this unseen mechanism of society constitute an invisible government which is the true ruling power of our country ... In almost every act of our daily lives, whether in the sphere of politics or business, in our social conduct or our ethical thinking, we are dominated by the relatively small number of persons ... who understand the mental processes and social patterns of the masses. It is they who pull the wires which control the public mind."


-- Edward Bernays,

the "Father of Propaganda"

(and nephew of famed Jewish psychoanalyst Sigmund Freud).


The Father of Spin: Edward L. Bernays & the Birth of PR

,

PR Watch

, 2nd Quarter, 1999

---

One of the foundations of this web site is to take the likes of the
following quote by Jewish author Alfred Kazin and shine it back
-- as from a mirror's reflective beam -- into the Jewish collective face, a "symbol of authority" for which there are few equals in modern culture:

"And the Jewish writer, with his natural interest in the social fact, has
been particularly quick to show the lunacy and hollowness of so
many present symbols of authority."

Kazin, Alfred. Introduction. The Jew as Modern American Writer. [In: Pohoretz, Norman; Editor. The Commentary Reader. Two Decades of Articles and Stories. Atheneum, New York, New York, 1966], p. xv-xxv




Please contact the JTR
WEBMASTER
for additions, suggestions,
subtractions, or criticism.
(All e-mails with an attachment will be deleted unopened).